Black Panther: Wakanda Forever's Lupita Nyong'o Details What A Leader Chadwick Boseman Really Was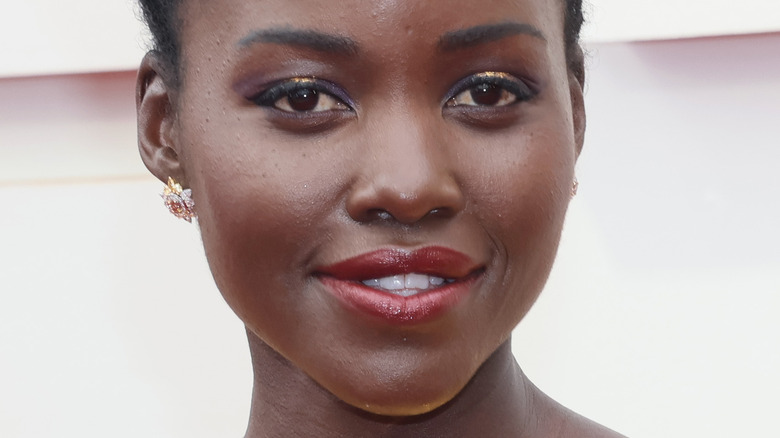 David Livingston/Getty Images
The 2018 Marvel film "Black Panther," directed by Ryan Coogler (who co-wrote the screenplay with Joe Robert Cole), became an instant hit, with both critics and fans raving about it. The late Chadwick Boseman (who died of colon cancer in 2020) stars as T'Challa, who becomes King of Wakanda after his father's death, but soon finds himself facing off against Killmonger (Michael B. Jordan), who disagrees with how the nation is ruled. Lupita Nyong'o co-stars as Nakia, an undercover spy for Wakanda who fights for enslaved women and is the love interest to T'Challa.
Four years later, the sequel, "Black Panther: Wakanda Forever" (which Coogler returned to direct and co-write, teaming up with Cole for the screenplay), is nearing its release date of November 11, 2022. It's certainly a bittersweet moment for the cast and fans alike, as it's difficult not to think of Boseman's tragic death as the sequel he didn't get to be a part of makes its way to theaters. Naturally, Boseman has come up in interviews with the cast, with Nyong'o being the most recent former co-star of the late actor to talk about Boseman's legacy.
Nyong'o praised Boseman's ability to lead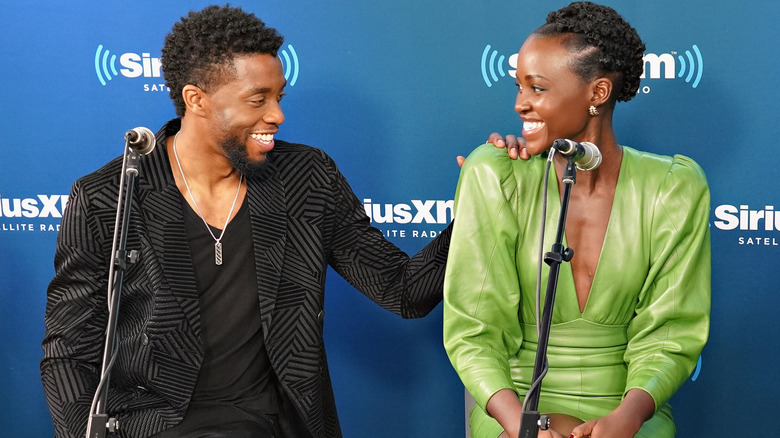 Cindy Ord/Getty Images
In an October 2022 interview with The Hollywood Reporter, Lupita Nyong'o discussed all things "Black Panther: Wakanda Forever" — including the loss of Chadwick Boseman. Nyong'o had nothing but praise for the late actor, including his ability to act as a leader to the cast and crew while filming. Nyong'o began, "He had an aura. He was the leader, and we were all good with it." One thing about his leadership skills that she respected about him, even if it irked her at times, was his ability to set boundaries for himself — no matter how much she pushed him.
Nyong'o said, "There were moments when Chadwick said no to me, and I was not happy with him. I fought tooth and nail to change his mind, and he would ever so quietly be like, 'I know, but no,' with love." She gave an example of when she wanted Boseman to travel with her to South Africa to promote the film, stating that she thought it would be meaningful for Boseman, an African American playing an African king. Still, Boseman refused to agree to go and, instead, sent her with a message to relay from him. Now she understands it was likely medical reasons that stopped him from going, as Boseman kept his illness a secret from the cast.
Even though his boundaries caused them to disagree, Nyong'o respected — and still respects — Boseman. Nyong'o continued, "He affected how I move in the world," Nyong'o says. "But that's the thing about Chadwick. Chadwick wasn't trying to have everyone be like him. What he inspired was you to be your best self."
Coogler has also praised Boseman's leadership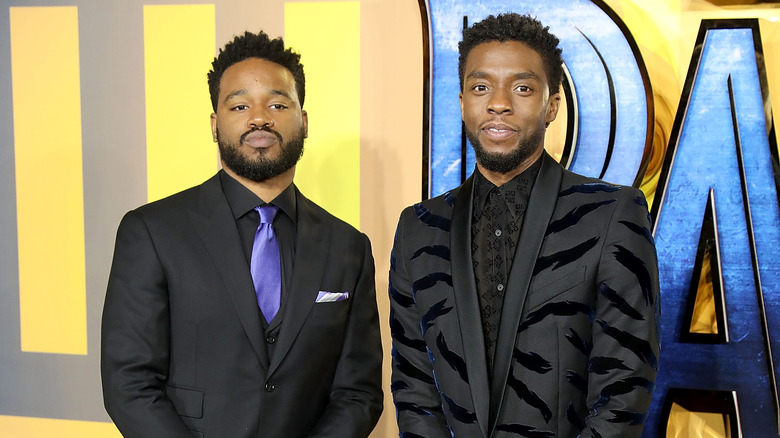 Tim P. Whitby/Getty Images
In his interview with The Hollywood Reporter in March 2021, director Ryan Coogler discussed what it was like to lose Chadwick Boseman, his friend, as much as a collaborator, and have to move on with "Black Panther" without him. He admitted that the sequel was difficult, but he knows that Boseman would have wanted them to keep going with the story.
Coogler then praised Boseman's presence on set, saying, "On that set, he was all about everybody else. Even though he was going through what he was going through, he was checking in on them, making sure they were good. If we cut his coverage, he would stick around and read lines off camera [to help other actors with their performances]."
Because of Boseman's ideology — that the film was about everyone involved, not just him, even though he was the star —, Coogler is certain that Boseman wouldn't want anything to stop on his account. Coogler concluded, "So it would be [hard] for me to stop [making the films]. Truthfully. I'd feel him yelling at me, like, 'What are you doing?' So you keep going."