Enola Holmes 2's Henry Cavill Discusses Improvising With Millie Bobby Brown - Exclusive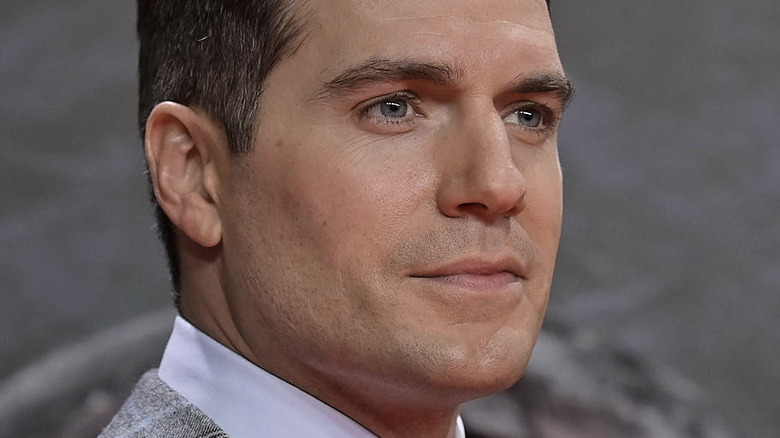 Juan Naharro Gimenez/Getty Images
Netflix always snags a powerhouse of talent when casting its original movies, and the "Enola Holmes" franchise is no different. Millie Bobby Brown (Enola Holmes) and Henry Cavill (Sherlock Holmes) are back as the mildly competitive Holmes siblings in the film that shines a light on the real women of the 1888 Matchgirls Strike. Enola takes the lead, but Sherlock is available to give his sister an assist or two as she's solving her first major case — that is, when he's not hitting the bottle a little too hard in pursuit of his own case.
While Cavill was present during the first film, the sequel gives us a much deeper look into his character and his relationship with Enola. Cavill and Bobby Brown's comedic scenes in the movie are brilliant, but how much of that was improvisation verses taken directly from the script? Looper spoke to Cavill during an exclusive interview, where he discussed improvisation with Bobby Brown, why he likes to keep the film's focus on Enola and Bobby Brown, and he even teased his favorite scenes.
Ad-libbing on Baker Street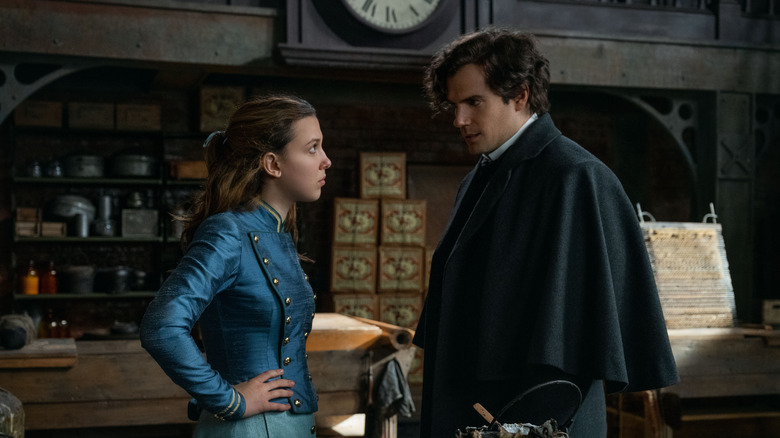 Netflix
When it comes to describing Enola Holmes, Cavill said, "Enola Holmes — she is bombastic, driven, and irrepressible." We see those characteristics play out more than ever in the sequel, where Enola even manages to pull a fast one on Sherlock himself.
The duo also has a highly comedic scene where an exasperated Enola takes care of a very inebriated Sherlock. On what that sequence was like to film with Bobby Brown and whether either of them improvised in the moment, Cavill recalled, "Yes, there was plenty of improvising. There [are] things that don't make the cut sometimes, and there was plenty of stuff done there which was a lot of fun to do but not fitting for the pace or the moment and how they want to present it. But lots of improv. The script was very much a shell which we worked from, and Millie's a wonderful actor to improv with." 
While there was plenty that didn't make it in, Cavill likes to focus on the final product. He noted, "I'd prefer never to talk about those kind[s] of things. The movie is wonderful as it is." Well, he's not wrong there.
Over a century of Sherlock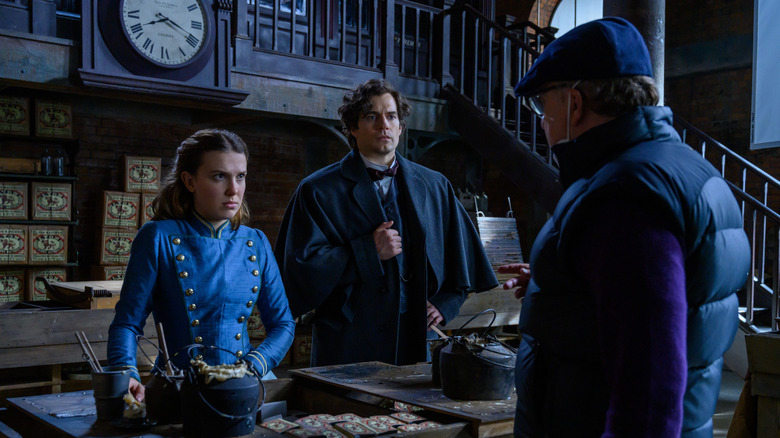 Netflix
Given that Sherlock Holmes has existed since the 1800s, there have been countless renditions of the character both on and offscreen. Speaking about whether or not any of the Sherlocks that have come before helped inspire his iteration of the detective, Cavill was more than happy to shine the focus on Enola and Bobby Brown.
He explained, "No. I try to stick to my job as a supporting character and a supporting actor. And that is to collaborate with Harry [Bradbeer] and Millie and make sure that whatever I'm doing, whatever decisions I'm making, are conducive to the story which they want to tell and conducive to the arc of Enola."
However, you can't have Sherlock Holmes without the classic 221B apartment on Baker Street. Unsurprisingly, those scenes stand out to Cavill. He said, "The scenes in Baker Street are my favorite. They're wonderful [on] that set, which I enjoy."
"Enola Holmes 2" is now streaming on Netflix.