Everything We Know About T'Challa's Death In Wakanda Forever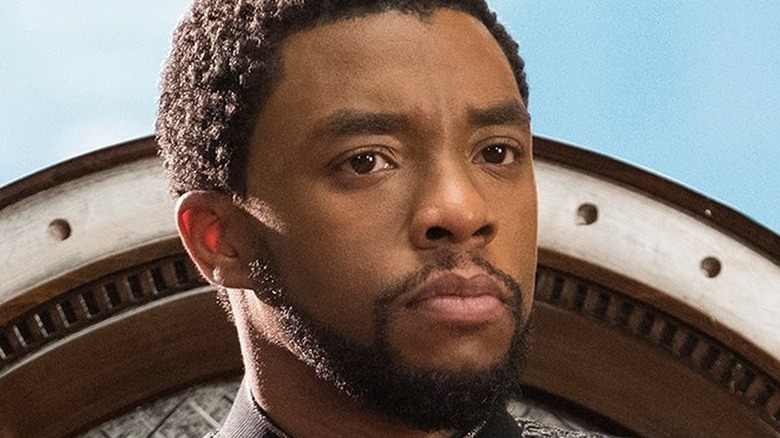 Marvel Studios/Disney
Warning: Spoilers for "Black Panther: Wakanda Forever" ahead.
Chadwick Boseman's death at only 43 years old was a devastating loss to the world, and the loss rippled through so many different spheres. In a piece she penned for Andscape in 2020, WNBA star Chiney Ogwumike said that the actor's role in "Black Panther" had a lasting cultural legacy for Black people. "In many ways, 'Black Panther' helped normalize African heritage and style in popular culture by truly celebrating it," the athlete said. Ogwumike talked about using the "Wakanda Forever" salute before games in 2018 something which, according to an article in Vidette Online, is common in sports, and some sports stars like Lebron James and Lewis Hamilton used the salute in tribute to Boseman following his death.
In an interview with Inverse, writer and director Ryan Coogler talked about the original draft he had written for the sequel to "Black Panther" and how it would have focused on T'Challa grappling with the fallout of "the blip" in "Avengers: Endgame." "The character was going to be grieving the loss of time, you know, coming back after being gone for five years," Coogler explained. "... He was grieving time he couldn't get back. Grief was a big part of it." While the script was rewritten to pivot around the real-life death of Boseman, some things remained the same from the first draft, such as Namor (Tenoch Huerta) being the antagonist.
Boseman's real-life death also inspired the manner of death of the character T'Challa.
T'Challa dies of an unspecified illness in the movie
At the beginning of "Black Panther: Wakanda Forever," fans see Shuri (Letitia Wright) in a race against time to find a cure for her brother's illness which is never disclosed. We know from the film that he hid it from Shuri, mirroring Boseman's own private fight with cancer in real life (via NME). In the opening scene, Shuri is trying to recreate the heart-shaped herb plant which gives the Black Panther his powers, following Killmonger's destruction of all of the remaining heart-shaped herbs in the first "Black Panther" movie. In "Wakanda Forever," it's implied that, had Shuri managed to recreate the heart-shaped herb properly in the lab, it would have saved T'Challa.
In the mid-credits scene of the film, Nakia (Lupita Nyong'o) introduces Shuri to T'Challa's son (Divine Love Konadu-Sun), whom the Black Panther had time to prepare for his coming death. It's revealed that T'Challa did not want Nakia or his son to come to his funeral, prompting the two to have their own private ceremony in Haiti to honor the fallen hero. Thus, we know that T'Challa had time to make some preparations for a death that he saw coming, even as he seemed to hide some of those preparations from Shuri.
T'Challa's death was kept so close to Boseman's real-life cause of death that fans found themselves mourning the death of the actor all over again.
How Shuri replaces T'Challa in the comics
A number of fans on social media commented on the way that T'Challa's death was handled in the film. In the r/marvelstudios subreddit, u/OswaldCoffeepot said "I'm still in shock that T'chala died of an illness that he kept secret." Another user, u/GeckoRoamin, praised the film for the approach it took toward the death. "I'm glad they did that. I think anything else would have felt uncomfortable — either a character who died 'weak' or a character who died in a 'more badass' way than the actor who portrayed him," the user explained. "He died in a sad, realistic, and understandable way that lets the audience mourn both Chadwick and T'Challa."
It's notable that there is a precedent in the comics for Shuri taking over the role of the Black Panther, not due to T'Challa's death, but due to severe injury. In "Black Panther" Vol. 5 #2, T'Challa nearly dies after a battle with someone he thinks is Doctor Doom but is only a robot, only to then fall in a battle with the real Doctor Doom. The battle comes after Namor offers T'Challa a chance to join a cabal composed of himself, Norman Osborne, Loki, Emma Frost, the Hood, and Doctor Doom. With T'Challa near death, Shuri takes up the mantle of Black Panther.
Obviously, the movie stayed far away from this plot as most of those characters have yet to be introduced in the MCU, but this alternative route allowed T'Challa's death to closely mirror Chadwick Boseman's real-life death, creating a chance for the audience to mourn the late actor.