Elisabeth Moss Lays Out The Chaos Behind The Handmaid's Tale Train Station Finale Scene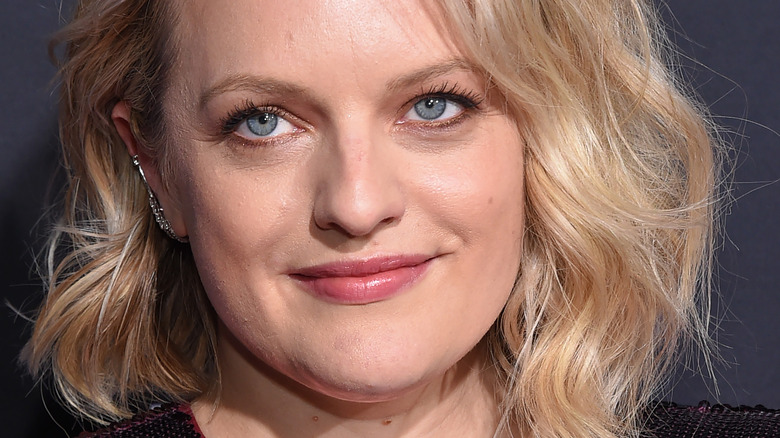 DFree/Shutterstock
Hulu drama "The Handmaid's Tale" recently wrapped up its 5th season in spectacular fashion. The series, based on the novel of the same name by Margaret Atwood, follows the theocratic and authoritarian society Gilead, which places fertile women called "Handmaids" in child-bearing slavery after fertility rates among women have plummeted. The women in Gilead conform to traditional gender roles and their freedoms are strictly curtailed. Lead actress Elisabeth Moss plays June Osborne, a Handmaid who wishes to reunite with her family.
The drama series has won a number of Primetime Emmys and has been nominated for several more. In 2017, Moss took home the Emmy for best actress, Ann Dowd won for best supporting actress, and the series also won awards for best directing, writing, and drama series (via IMDb).
As was the case in other seasons past, Season 5 of "The Handmaid's Tale" was met with critical acclaim (via Rotten Tomatoes). After being accepted into Canada as a refugee in the 4th season, and exacting revenge on her former captor Fred Waterford (Joseph Fiennes), Season 5 saw June reckoning with the consequences of vengeance and her continued quest to be reunited with her daughter Hannah.
In the Season 5 finale, June is once again trying to gain safe passage after it is no longer safe for her and her family in Canada. Moss, who directed the episode, discussed the chaos of those final scenes.
Moss describes shooting the final train station scenes under 'a tremendous amount of pressure'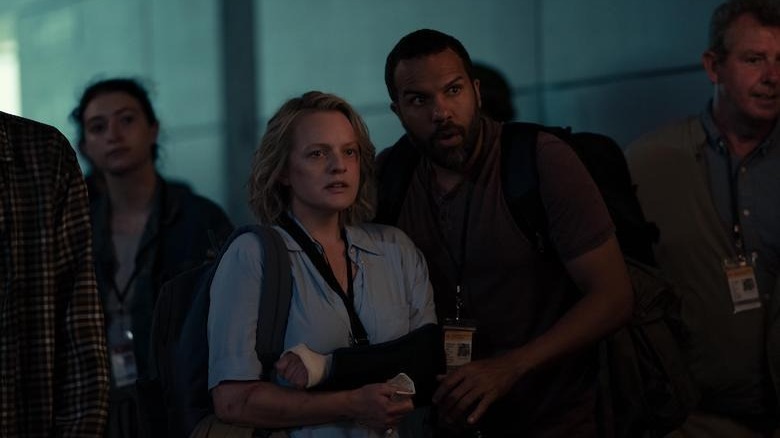 Russ Martin/Hulu
At the end of the Season 5 finale, June and her family attempt to escape to Vancouver via train after her husband Luke (O-T Fagbenle) kills someone who was targeting her. Luke ends up staying behind and is arrested.
Elisabeth Moss discussed with TV Line the monumental task of shooting those chaotic train station scenes, which had over 500 background extras. "​​Yeah, it's a hell of a lot, especially when all of those people have to be tested for COVID, protocols have to be followed ... it's a huge, huge operation," she said. With reportedly only seven hours to film the scenes, Moss said that they storyboarded everything beforehand and used multiple cameras. On top of it all, it was Moss' birthday on the day of the shooting.
Elaborating on why there were so many extras, she said that she did not want to add any people in VFX post-production. "I wanted to make sure that we could actually film their faces, that we could actually feel their emotion, that we could actually see them tired, that we could actually see real children," Moss added.
Looking forward to the 6th and final season, Moss said she is planning on directing more episodes. "Yeah, I think I will be directing. I'm not sure which ones yet. We're still working out all the scheduling and timing of everything and who can do what. We want to get our best team of directors together, if possible," she said.