The Handmaid's Tale Star Elisabeth Moss Teases The Epic Showdown We've All Been Waiting For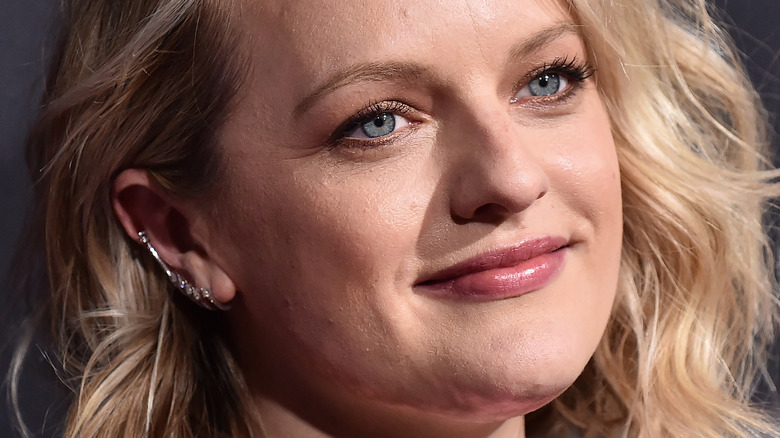 DFree/Shutterstock
Margaret Atwood's famous critique of the patriarchy in her book "The Handmaid's Tale" has in recent years hit a little too close for comfort. Instead of a cautionary tale that seemed to just be a warning should women get too complacent in society, the book and respective series seem to be inching closer and closer to reality. Early on in "The Handmaid's Tale" timeline, audiences are privy to the relative calm before the storm in flashbacks. As America dissolves into a theocratic state, June (Elisabeth Moss) endures the descent into madness, such as being forced to sign her bank account over to her husband. 
It is a small leap before the nation of Gilead is born, and women are categorized due to their reproductive ability. With "The Handmaid's Tale" Season 5 underway, the stakes are higher than ever. Although June has finally killed her master Fred (Joseph Fiennes), she is far from safe. With two daughters she is desperate to protect from this waking nightmare, June will embark on a showdown that all fans have been waiting for.
Serena and June will finally face off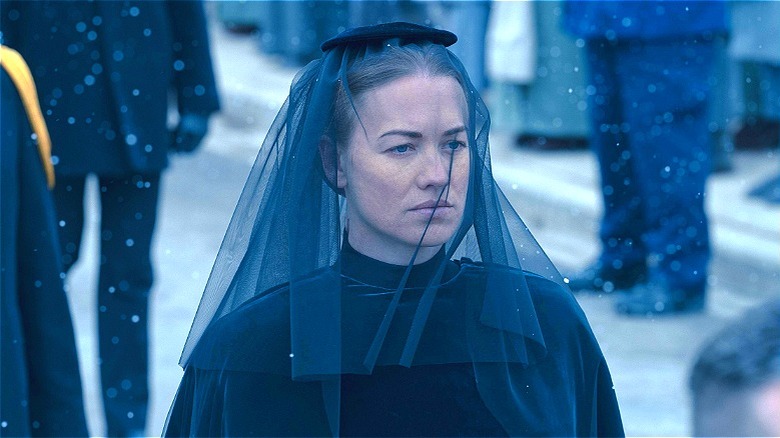 Sophie Giraud/Hulu
Fred may have been the ultimate face of the patriarchy in "The Handmaid's Tale," but the wild machinations of his wife Serena (Yvonne Strahovski) cannot be discounted. Complicit in Gilead's crimes against women, as well as June and countless other women's sexual assaults at the hands of their masters, Serena may be even more of a threat to female liberation. 
"The June v. Serena concept is not going to be as simple as you may think," Elisabeth Moss told The Hollywood Reporter. "We set it up in a really big way — in the biggest way you possibly could on that jumbotron. Where it goes is actually really personal, intimate, and complex." Things certainly get personal between the two in the wake of Fred's funeral. Serena is aware that June is responsible for Fred's death and uses the former's daughter in retaliation. Using Hannah (Jordana Blake) as a hostage, Serena parades June's daughter with Luke during the funeral, essentially uttering a battle cry of sorts. After speaking to The Hollywood Reporter separately, Strahovsky agreed with Moss' sentiment.
"They're trying to one-up each other. It's, 'Oh, you're going to take Fred? Well, I'm going to remind you that I can take your daughter, again.' And it goes from there."
If you or anyone you know has been a victim of sexual assault, help is available. Visit the Rape, Abuse & Incest National Network website or contact RAINN's National Helpline at 1-800-656-HOPE (4673).