Andor's Andy Serkis Would Love To Direct An Episode Of The Star Wars Series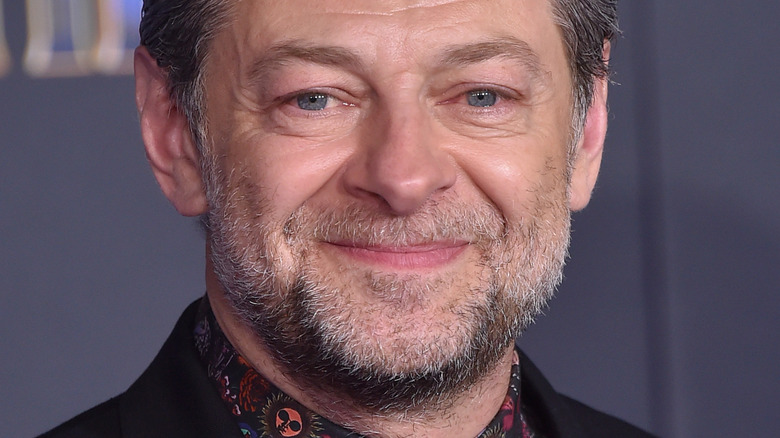 DFree/Shutterstock
Andy Serkis might be one of the busiest men in the movie business. His acting career is, at this point, legendary. Having established himself as the go-to for motion capture work with roles like Gollum in Peter Jackson's "The Lord of the Rings" trilogy and Caesar in Matt Reeves' "Planet of the Apes" trilogy, he's since made his way to the Marvel Cinematic Universe and "Star Wars" in live-action roles.
Serkis is no stranger to the "Star Wars" universe, having played Supreme Leader Snoke in "The Force Awakens" and "The Last Jedi," but he now appears in "Andor" as Kino Loy, an inmate in an Imperial prison alongside Cassian Andor (Diego Luna). His three-episode arc culminates in Episode 10 with Kino leading a prison riot and breakout that ends when all the prisoners leap into the ocean below and swim to freedom. Kino, who cannot swim, stays behind; presumably, he will be executed.
But whether it's the end of the road for Kino or not, Andy Serkis would love to remain a part of "Andor," this time from the director's chair.
Serkis may be best known for character acting, but he's no stranger to directing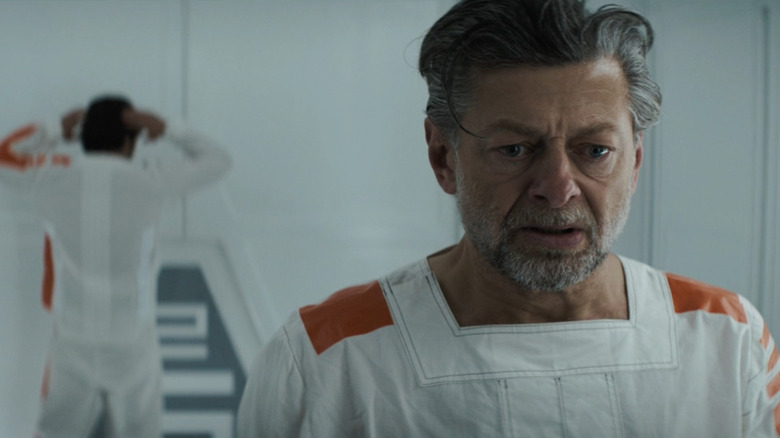 Disney+
Speaking to Collider about Kino Loy's triumphant sacrifice in "Andor" Episode 10, Andy Serkis expressed interest in directing an episode of the Disney+ "Star Wars" show. Asked whether he wanted to direct a future episode, Serkis was on board. While clarifying that he hadn't been in any official talks, the actor said, "Even if Kino Loy goes no further, the short answer to your question is yeah, that would be a thrilling thing to do; to be a part of the other side of it, on the other side of the camera for this world would be amazing."
Serkis has been on the other side of the camera frequently of late, most recently taking the reins for the Tom Hardy vehicle "Venom: Let There Be Carnage." However, his first directing experience came when Peter Jackson, who had previously given Serkis his most well-known role as Gollum in the original "The Lord of the Rings" trilogy, made him the second unit director for all three "Hobbit" films.
There's likely to be a large contingent of fans who would love to see what Serkis can do with an episode of "Andor," and now that the multihyphenate artist has signaled interest, it would be a good idea to keep an eye on the directing credits if and when Season 2 rolls around.