Angela Bassett Feared Developing A Complex After Learning Of Ramonda's Larger Role In Wakanda Forever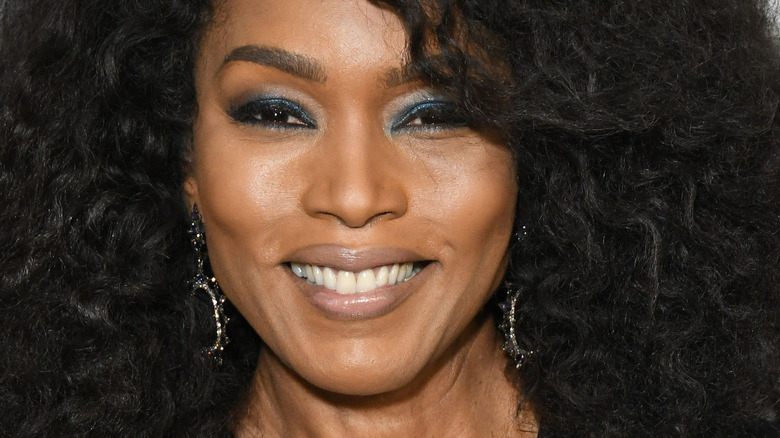 Quinn Jeffrey/Shutterstock
"Black Panther Wakanda Forever" has the enormous task of juggling multiple ambitious goals. The upcoming sequel is already following one of the MCU's best solo superhero efforts with "Black Panther," which both impressed many critics and smashed box office goals. Eyes are looking for the sequel to repeat or exceed a similar type of success. The upcoming film is also attempting to introduce some new characters, notably Namor and Riri Williams, while concluding Marvel's Phase 4 of movies and TV series.
That is enough to make anticipation so high for "Wakanda Forever." But in addition, the film is also aiming to serve as a heartfelt tribute to the late actor Chadwick Boseman, who tragically died in 2020. The loss of Boseman leaves a noticeable hole within "Wakanda Forever." And the sequel will explore that aspect of processing grief from the death of a loved one, mainly through its cast. The supporting actors from the previous film are forced to step into expanded roles for "Wakanda Forever." This is especially true for Angela Bassett's Queen Ramonda. Trailers have already shown Ramonda powerfully addressing people with an emotionally charged speech and mourning the death of her son T'Challa. Ramonda plays a bigger role this time, which initially caused some concerns for Bassett. In fact, the actor was concerned about potentially developing a complex after learning of Ramonda's larger part in the sequel.
Director Ryan Coogler asked for a lot from Angela Bassett
Angela Bassett is an Academy Award-winning actor whose impressive career includes films such as "What's Love Got to Do with It?," "Waiting To Exhale," and "Akeelah and the Bee." When she appeared in "Black Panther," it was evident director Ryan Coogler made the perfect casting choice. Bassett brought a regal presence and powerful air to the role of Queen Ramonda. And she perfectly complemented Chadwick Boseman in their scenes together. But unlike the first film, Bassett explained to Variety that Coogler required so much from the actor because her character plays a more prominent role in "Black Panther: Wakanda Forever." Bassett got a little concerned.
"Almost to the point that I was going to get a complex, 'Am I going to be able to deliver what you're asking for?'" she told Variety. "She had to be strong. She had to be a mother. She had to be a leader. He was just throwing all of this at me. And then on top of that: 'Can you swim? Can you put your head in water?'"
It sounds like "Wakanda Forever" may have served as one of Bassett's most challenging roles. However, based on the early buzz of the actor's performance in "Wakanda Forever," she shook off any self-doubting fear and more than delivered. In the Variety piece, she further explained that she tapped into the genuine grief of losing Boseman for some of the film's most emotional moments. And she also worked with a dialect coach to better handle her character's accent during pivotal scenes.
Queen Ramonda plays a significant role in the comics
We never get to see or learn too much about Queen Ramonda in the first "Black Panther" movie as it's more focused on T'Challa. This might give the impression that Ramonda doesn't play any significant role in the comics. However, that's simply not true. The character has a complex and intriguing history within Marvel Comics that shows off how dedicated and loyal she is to family and country. That last fact is already astounding, considering that Ramonda isn't a native of Wakanda or the biological mother of T'Challa. Via Marvel Fandom, Ramonda is a South African who found a young and lost T'Challa and returned him to his kingdom. Afterward, she fell in love with his father, T'Chaka, and they married.
Ramonda's bond with Wakanda is so strong she even becomes a spy on its behalf. Per Marvel, in one comic story, she fakes an alliance with an enemy of her country to give information to Black Panther. Trailers for "Black Panther: Wakanda Forever" show Ramonda as a fearless leader ready to speak to the rest of the world on behalf of her country. But perhaps we'll also see her mirror her comic book counterpart in other ways.