Black Panther: Wakanda Forever Previews The End Of MCU Phase 4 With Jaw-Dropping New Trailer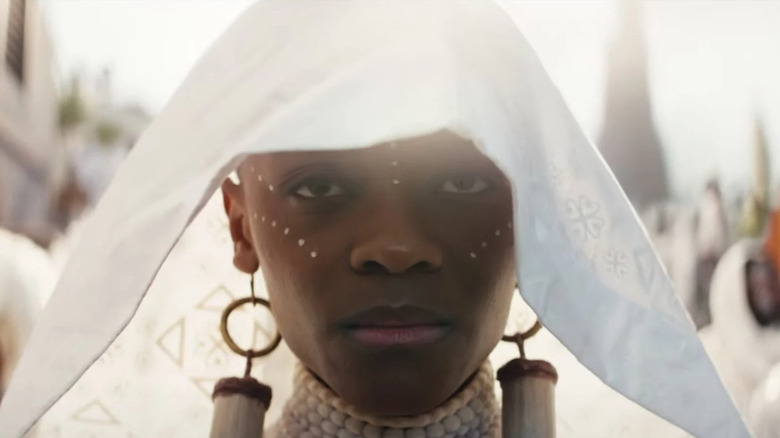 Marvel Studios/Disney
The first trailer for "Black Panther: Wakanda Forever" was an emotional rollercoaster. Debuting at San Diego Comic-Con in July, the teaser provided the first footage of the film, which had everyone on stage, in the audience, and at home in tears. Serving as the last movie in Phase 4 of the MCU, "Wakanda Forever" has a lot of weight on its shoulders, but from everything we've seen so far, it certainly looks like it's going to exceed expectations.
The second full-length trailer for the film has dropped, and it's giving us a much different approach than the first. While the first was about the aftermath of losing T'Challa (Chadwick Boseman) — which we still don't know how that'll be explained — this second trailer shines an even bigger light on Namor (Tenoch Huerta) and the battle between Wakanda and Talocan. It still packs an emotional punch, but the second trailer highlights Ryan Coogler's signature style, and this might just be the best Phase 4 movie.
Namor makes his presence known in the second trailer for Black Panther: Wakanda Forver
If this trailer is any indication, "Black Panther: Wakanda Forever" is going to give "Avatar 2" a run for its money in terms of underwater filmmaking. We get a better look at Talocan, a stunning oasis in the sea with citizens just as powerful as those on land. We also get a bigger helping of Namor in the second trailer and a second take on whoever is wearing that new Black Panther suit. Ok, it's pretty much confirmed at this point which is taking on the mantle thanks to a "Black Panther: Wakanda Forever" Lego set leak, but it's fun to pretend to be in the dark.
Starring in the sequel is Letitia Wright as Shuri, Angela Bassett as Queen Ramonda, Lupita Nyong'o as Nakia, Winston Duke as M'Baku, Dominque Thorne as Riri Williams,  Martin Freeman as Everett K. Ross, Danai Gurira as Okoye, and Tenoch Huerta as Namor.
"Black Panther: Wakanda Forever" premieres on November 11.