Elizabeth Debicki Describes The Honor Of Wearing Diana's Revenge Dress On The Crown As 'Powerful'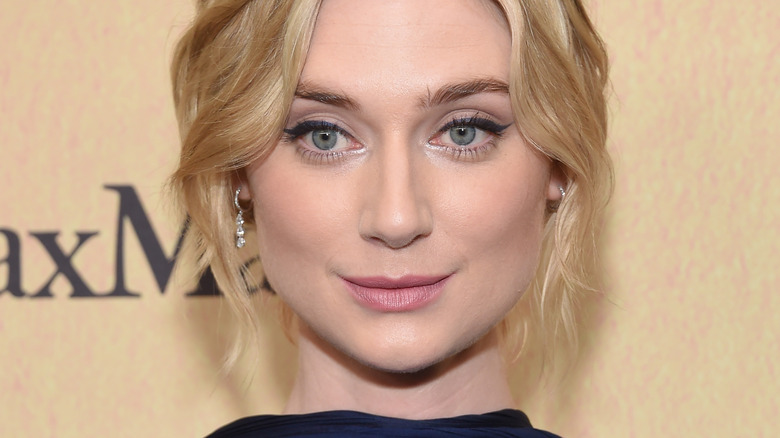 DFree/Shutterstock
In its most recent seasons, the dramatization of the modern British monarchy in "The Crown" has aired alongside several dramatic events in the real royal family. Season 5 of the award-winning show will debut shortly after Queen Elizabeth II's death. Meanwhile, Season 4 of the Netflix hit aired around the same time that Meghan, Duchess of Sussex, was drawing modern-day comparisons to Princess Diana's tragic story.
Perhaps for these reasons, "The Crown" has been the subject of intense discourse among those who believe it hasn't been responsible in its portrayal of the royal family. Recently, Dame Judi Dench wrote a letter to The Times accusing Netflix of being "willing to blur the lines between historical accuracy and crude sensationalism" (via BBC), arguing that the streaming platform needs to make clear that its show is a fictionalized account of the British monarchy.
This outcry comes on the heels of Season 4's account of the marriage of Prince Charles and Princess Diana and its very public dissolution. The upcoming Season 5, based on the recently released trailer, promises to maintain focus on their personal drama. Emma Corrin, who played the young Diana Spencer in Season 4, passes the proverbial crown to Elizabeth Debicki in "The Crown" Season 5.
Debicki will undoubtedly have some great material to work with, particularly regarding a specific famously photographed dress that Princess Diana wore in the aftermath of revelations about Prince Charles' adultery.
Elizabeth Debicki will get to wear Diana's iconic Revenge Dress in Season 5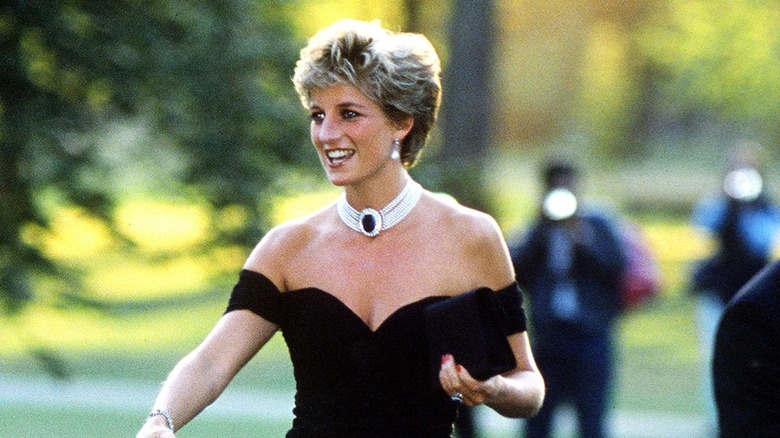 Jayne Fincher/Getty Images
As seen in the trailer, Elizabeth Debicki, who is leaving fans buzzing over her portrayal of Princess Diana, dons a copy of the black "Revenge Dress" that Princess Diana notably wore in November 1994. Considered one of Princess Diana's most memorable looks, she wore it to a Vanity Fair party on the evening Prince Charles revealed his affair on national television. With public opinion of him already at a low, the revelation had the unintended effect of making him even more unpopular. Though the princess had commissioned the dress three years earlier, she considered it too daring to wear — until that evening.
When Entertainment Weekly asked what it was like to wear "The Crown's" reproduction of the dress, Debicki described it as "Very significant and quite powerful, but also it provoked something in me as an actor," she told the outlet. "I can't really explain it. It's pretty incredible that a dress would represent a moment in history or that this human's life would represent so much and become so iconic. So that was a big day on set for me!"
According to Debicki, friends were immediately curious about whether she would get to wear the Revenge Dress after her casting announcement. "It fascinated me how entranced people were with that dress ... When it became known that I had the part, I received these text messages saying congratulations, [but] there was also a huge amount of text messages about the Revenge Dress. 'Do you get to wear the Revenge Dress?' 'Oh my God, you get to wear the Revenge Dress!'"
Debicki says that Diana's final days are 'being handled with sensitivity' in Season 6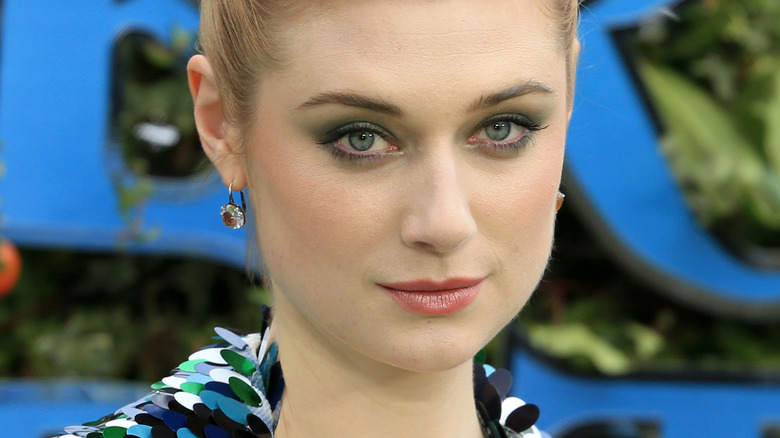 Fred Duval/Shutterstock
With Season 6 still filming, several are curious about how Princess Diana's death will be portrayed on screen. The princess died in a car crash in Paris in 1997, alongside her boyfriend, Dodi Fayed, and their driver Henri Paul. Addressing potential worries that the death could be sensationalized or inaccurately portrayed, Elizabeth Debicki told Entertainment Weekly that great care was being taken with the storyline.
"I'll say that Peter and the entire crew of this job do their utmost to really handle everything with such sensitivity and truth and complexity, as do actors," she said. "The amount of research and care and conversations and dialogue that happen over, from a viewer's perspective, something probably that you would never ever notice is just immense."
Dominic West, who plays Prince Charles in the upcoming season, spoke on the gravity it brings to the show. "It's a hell of a season because it deals with Diana's death and appalling scenes, like having to break that news to your sons," he said, referring, of course, to Prince William and Prince Harry.