The Crown Season 5 - What We Know So Far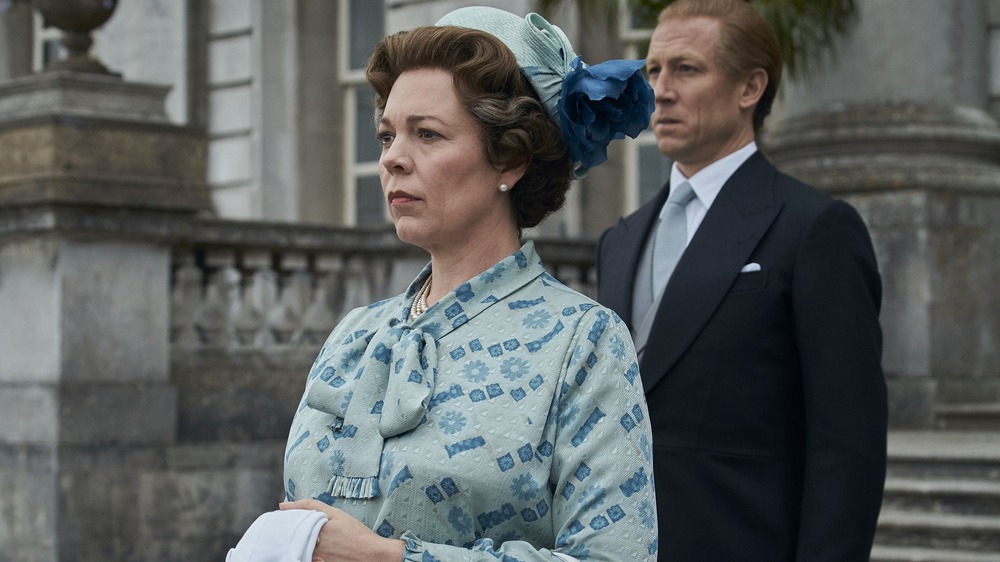 Netflix/Liam Daniel
As most of the past few years have come to a close, watching a fictionalized account of another decade or so of British royal family history has become something of a tradition for fans of Netflix's "The Crown."
Season 4 of the acclaimed drama began with Great Britain getting its first woman prime minister, Margaret Thatcher (Gillian Anderson), and ended with a Windsor family Christmas portrait that was smiles on the outside, and torment on the inside. After the season's conclusion, fans began another tradition: waiting for the next installment of the series.
"The Crown" was always meant to be a six-season affair (even though creator Peter Morgan briefly toyed with the idea of parring it down to five seasons). This means that the upcoming fifth season will be its penultimate, and fittingly, it will see the royal family entering one of its darkest periods. But what exactly does that mean for us watching at home? Thankfully, Netflix hasn't been too coy about details for the upcoming season. So, without further preamble, here's what we know so far about Season 5 of "The Crown."
Updated September 29, 2022: This article has been updated to reflect Season 5's currently-announced cast, release date, and other pertinent information.
What is the release date for The Crown Season 5?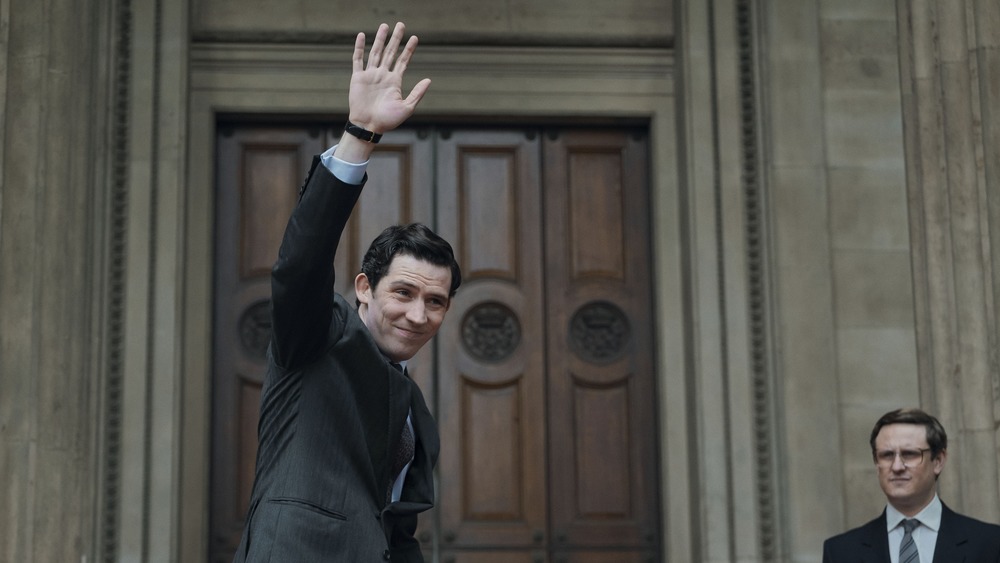 Netflix/Des Willie
After every two seasons, "The Crown" switches up its central cast to reflect its aging characters. In the past, that changing of the guard has also necessitated an extended two-year break, whereas seasons that retain their central actors typically air during back-to-back years. Now that the Olivia Colman era has come to a close, the show will once again take a little extra time away before it returns.
According to Variety, filming for Season 5 began in July of 2021, in advance of a planned 2022 premiere date, keeping it on track with the pace established by prior seasons. Furthermore, every season thus far has premiered in November or early December, and "The Crown" Season 5 will be no different. According to a Deadline report published shortly after Queen Elizabeth II's death, Netflix is planning on releasing "The Crown" Season 5 on November 9, 2022.
Who will star in The Crown Season 5?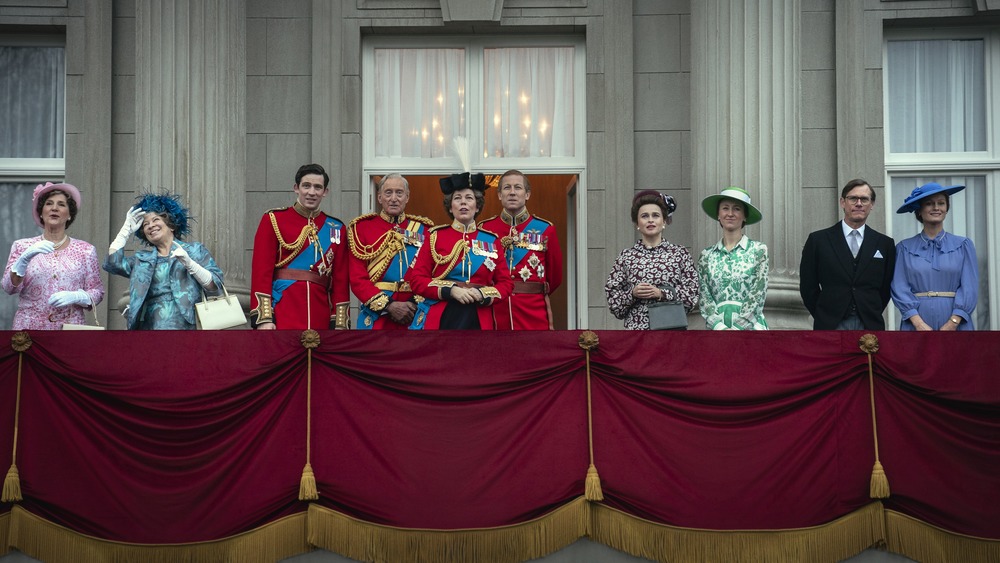 Netflix/Des Willie
Way back when the first cast change up for "The Crown" was announced, fans responded with a flurry of excitement. They were excited to see the ways that Olivia Colman, Tobias Menzies, and Helena Bonham Carter, among others, would build on the excellent work done by Claire Foy, Matt Smith, and Vanessa Kirby in the first two seasons. In January, Netflix confirmed some of the new actors who will be taking on principal roles come Season 5, and once again, it was cause for celebration.
Oscar-nominated actress Imelda Staunton, best known to some as Dolores Umbridge in the "Harry Potter" films, will be taking over the part of Queen Elizabeth. Her husband, Prince Philip, will be played by "Game of Thrones" and "The Two Popes" actor Jonathan Pryce. And stepping into the formidable shoes of Princess Margaret is Lesley Manville, who recently scored an Oscar nomination for her performance in 2017's "Phantom Thread."
They will be joined by "Tenet" and "Widows" star Elizabeth Debicki as Princess Diana. Dominic West of "The Affair," meanwhile, will be stepping into the role of Prince Charles, while his real-life son will play the character's son Prince William (via Variety). Rounding out the cast are Jonny Lee Miller as Prime Minister John Major (via Deadline), Bertie Carvel as Prime Minster Tony Blair (via inews), Khalid Abdalla as Princess Diana's partner Dodi Fayed, and Salim Daw as his father Mohamed Al-Fayed (via Variety).
What historic events will The Crown's fifth season cover?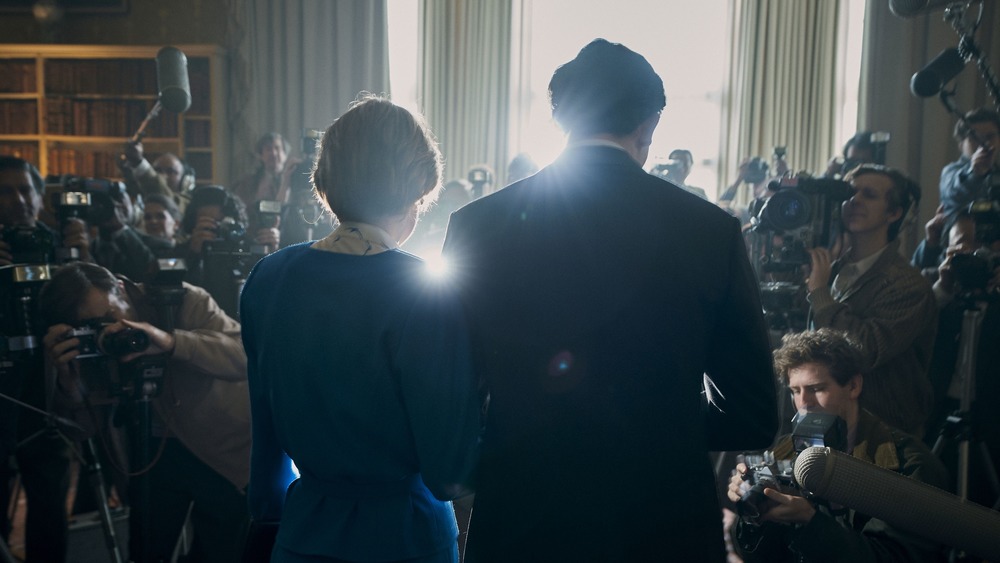 Netflix/Des Willie
The 1980s were a rocky period for Great Britain and the royal family, due largely to the controversial reign of Margaret Thatcher and friction in the marriage of Prince Charles (Josh O'Connor) and Princess Diana (Emma Corrin). And the 1990s and early 2000s weren't much better. While Netflix has confirmed few of its plot details, there are a few events likely to be covered in Season 5 of "The Crown." Spoilers, for history, to follow.
In 1992, Elizabeth gave a speech to mark the 40th anniversary of her ascension to the throne, via Royal.uk, in which she referred to the time as "annus horribilis," or, "the horrible year." It was marked by the breakdown of the marriages of three of her children and a fire at Windsor Castle, among other unpleasantries (via Reuters). Things remained tense as the years rolled on. Charles and Diana eventually finalized their divorce in 1996. Just one year later, Diana was killed in a car crash in Paris, and five after that, both Princess Margaret and the Queen Mother also passed away.
The period likewise saw the rise of two prime ministers: John Major, who unseated Thatcher, and Tony Blair, who saw the country enter the ongoing wars in Afghanistan and Iraq.
Ultimately, after four excellent installments, one thing feels certain: fans of "The Crown" are in for another gripping story when Season 5 premieres in November of 2022.
Is there a trailer for The Crown Season 5?
On September 25, during Netflix's annual Tudum event, the streaming service announced "The Crown" Season 5's November 9, 2022 release date after premiering its first teaser trailer for the upcoming season. Interested viewers can watch this footage within Netflix's entire, two-hour-long archive of its Tudum stream, as Netflix has yet to release it as a stand-alone video.
This brief teaser consists entirely of scenes taking place in the aftermath of Princess Diana (Elizabeth Debicki)'s divorce from Prince Charles (Dominic West), as the two take to the media to discuss their lives in their marriage's wake. For what it's worth, present-day members of the royal family are reportedly unhappy about the content of this trailer, which one source described as exploitative (via The Telegraph). While Netflix has yet to release any more than this brief footage, it's likely fans will get at least one more preview of "The Crown" Season 5 as its November, 2022 release date draws closer.
Will there be a Season 6 of The Crown?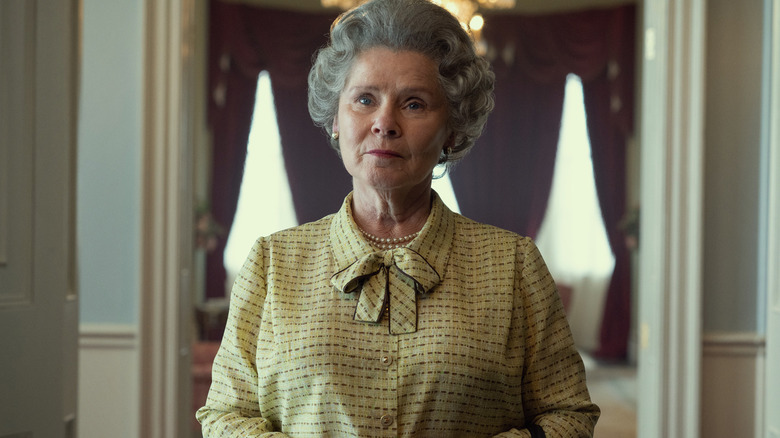 Alex Bailey/Netflix
Though "The Crown" Season 5 has yet to premiere, Season 6 is, in fact, a sure thing, and is in the midst of production. This shooting schedule increases the likelihood that Season 6 will premiere a year-or-so after the conclusion of Season 5, adhering to the same timeline as past seasons sharing an actor portraying the queen. What makes Season 6 different, of course, is that it's supposed to be the series' last.
Variety's report about the status of Season 6 also notes that the final season of "The Crown" already has two new cast members: Rufus Kampa, who will portray a young Prince Harry, and Ed McVey as the slightly older Prince William.
Season 6 will not, however, cover Prince Harry and Meghan Markle's relationship with the royal family, in spite of its timeline most likely allowing for such a story. Showrunner Peter Morgan confirmed this point in an interview with The Hollywood Reporter. "I'm much more comfortable writing about things that happened at least 20 years ago. I sort of have in my head a 20-year rule," he said, explaining that the fact he doesn't know how their story ends keeps him away from this and other such material.
Where are previous seasons of The Crown available to watch?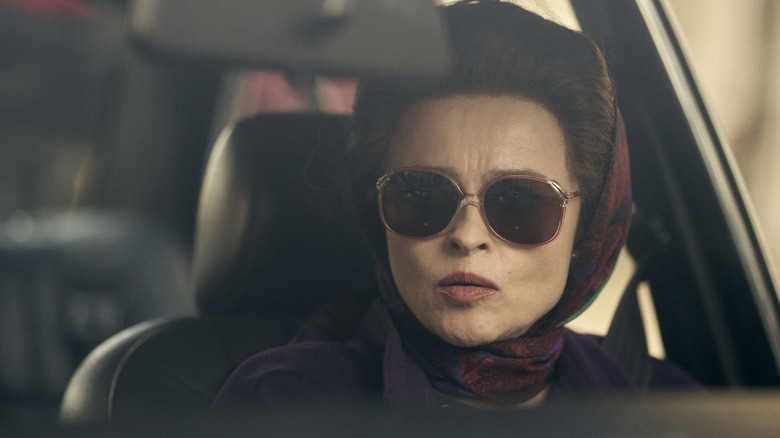 Ollie Upton/Netflix
All four prior seasons of "The Crown" are available to stream on Netflix, just as the forthcoming Seasons 5 and 6 will be upon their respective release dates.
For the uninitiated, each season of "The Crown" covers a particular era in the history of the British royal family, with Queen Elizabeth II as its central character. Season 1 opens with Queen Elizabeth (Claire Foy)'s wedding in 1947 and ends with Winston Churchill (John Lithgow)'s resignation from the post of Prime Minster in 1955. Season 2 spans 1956-1964, and includes events like the retirement of Prime Minister Harold Macmillan (Anton Lesser) and the birth of Queen Elizabeth's first two sons. In Season 3 — which takes place from 1964 to 1977 and introduces Olivia Colman as the Queen — Princess Margaret (Helena Bonham Carter) visits the United States, and Prince Charles (Josh O'Connor) meets his eventual wife, Camilla Shand (Emerald Fennell), among other events. Finally, Season 4 is set between 1979 and 1990, and includes moments like Charles' wedding to Princess Diana (Emma Corrin) and Margaret Thatcher (Gillian Anderson)'s introduction as England's Prime Minster.
Those interested in catching up on this and plenty of other fictionalized accounts of real-life royal drama can do so on Netflix, where Season 5 will premiere on November 9, 2022.