Who Plays Siya Malik On The Blacklist?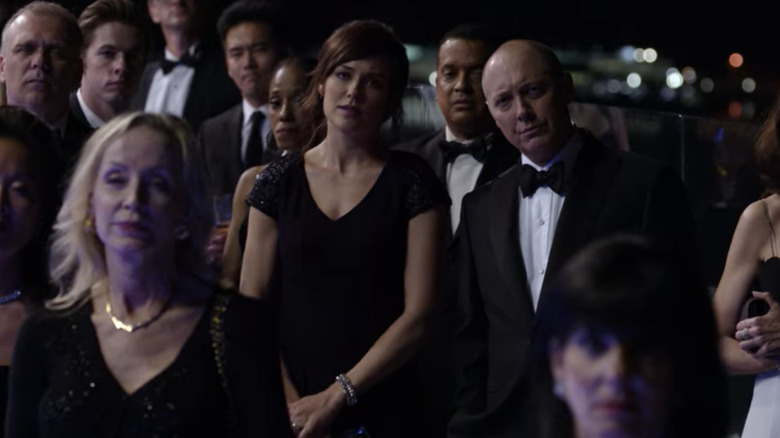 Netflix
In a story that likely continues to surprise everyone from series star James Spader to the network bosses who first green-lit the show, "The Blacklist" is currently charging full-steam ahead into its 10th season on the air. And as with most show's that have been a primetime presence for such a lengthy span, "The Blacklist" is about to celebrate a major milestone by sending its 200th episode to air (per NBC.com). That momentous occasion will arrive in the third episode of Season 10.
The series will understandably cross that milestone sans a few of its original stars because, well, more often than not, folks tend to meet their maker in their dealings with Raymond "Red" Reddington (Spader). New faces have continued to pop in and out of Red's orbit over the years, of course. And when "The Blacklist" hits its 200th episode, it'll do so fronting a major new player in Red's ongoing game — one who has some very specific ties to his past. Said character's name is Siya Malik. Here's who will be playing the character in the 10th season of "The Blacklist." 
The Blacklist role could be a big break for newcomer Anya Banerjee
The name Malik surely jumped out to long-term fans of "The Blacklist," as it was the surname of a major Season 1 player, Meera Malik. Portrayed by Parminder Nagra, the duplicitous CIA agent was indeed a regular ally and occasional enemy to James Spader's Raymond "Red" Reddington throughout. She was, however, viciously taken off the board in the Season 1 finale of "The Blacklist."
Nine seasons later, "The Blacklist" fans will meet Agent Malik's adult daughter Siya Malik via a plot line that'll wink to the past as it drives the action forward. And the character will be played by an actor who's earning her first legit screen credit. Per TVLine, said actor's name is Anya Banerjee, and one look at her IMDb credits will confirm she's never worked on a project as big as "The Blacklist." In fact, prior to her casting, Banerjee had appeared in just a few short films and made one appearance on the New Zealand sitcom "Aukward Love."
Casting agents on "The Blacklist" clearly saw something they liked in her work as Banerjee's Siya Malik (who followed her departed mother into the spy game by way of a posting with MI6) is reportedly set to be a major presence throughout Season 10. It's not yet clear what Brings Malik into Red's world or if she'll play friend or foe to the man. But it's a safe bet she'll be looking for answers about what happened to her mother. And it's just as safe a bet that Red knows more about her mother's murder than previously believed.