What We Know About The New Characters In Spider-Man: Across The Spider-Verse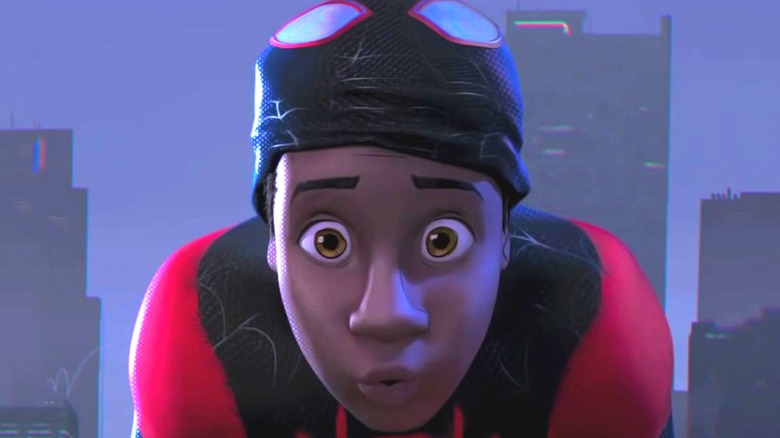 Sony Pictures/YouTube
2018's "Spider-Man: Into the Spider-Verse" was a massive surprise hit from Sony Pictures. Before its release, many fans wrote the movie off, given Sony's less-than-ideal track record with the Web-Slinger, as they were in the middle of Spidey reboot number three. However, animation legends Phil Lord and Christopher Miller delivered an Oscar awarding-winning movie, and Sony quickly greenlit a sequel.
Sony Pictures looks to recapture the magic from the first movie with "Spider-Man: Across the Spider-Verse." Sony initially planned to release the film in 2022, but because of COVID, delays were necessary, pushing it back to 2023. Lord and Miller also decided to split the movie into two parts, with the sequel "Beyond the Spider-Verse" releasing in 2024.
"Across the Spider-Verse" will pick up where "Into the Spider-Verse" left off, with Miles and Gwen exploring the Spider-Man multiverse, featuring the introduction of Oscar Isaac's Miguel O'Hara, aka the futuristic Spider-Man 2099.
One thing that made "Into the Spider-Verse" special was its effortless introduction of multiversal Spider-Mans, bringing in stars like Jake Johnson, Hailee Steinfeld, Kimiko Glenn, Nicholas Cage, and Chris Pine to voice different Spider-people. We know that the sequel will continue this trend thanks to recent news, bringing in even more Spideys from across the multiverse.
"Across the Spider-Verse" will introduce audiences to many new characters, both spider-powered and not. To get you ready for the movie's 2023 premiere, let's break down some of the new characters fans can expect in the film.
Across the Spider-Verse brings in some unique comic book characters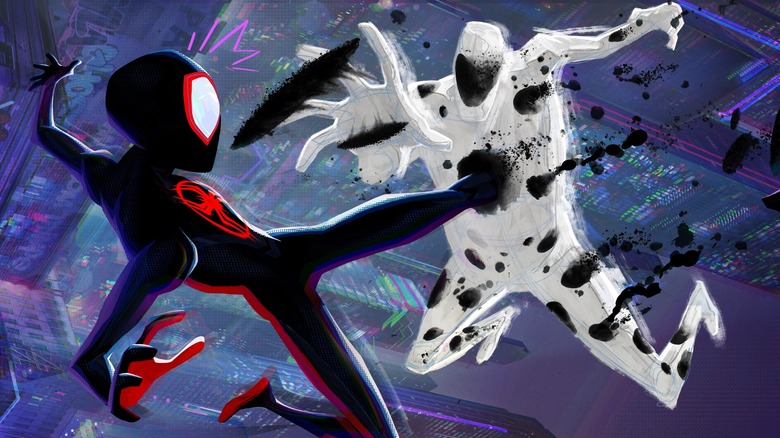 Sony Pictures Animation/Twitter
As Miles, Gwen, and Miguel travel across the multiverse in "Spider-Man: Across the Spider-Verse," audiences can expect to be introduced to many new characters from different worlds.
A fan-favorite character set for introduction in "Across the Spider-Verse" is Jessica Drew, aka Spider-Woman, voiced by Issa Rae. Confirmed through footage shown at CinemaCon, Drew is a friend of Oscar Isaac's Spider-Man 2099. The footage also confirmed that "Saturday Night Live" icon Rachel Dratch will appear in the sequel, voicing Miles' school principal (via Deadline).
During their panel at Annecy Festival 2022, Sony Pictures Animation revealed two new cast members that joined the production, Jorma Taccone and Shea Whigham. Taccone, famous for his work with The Lonely Island, plays a multiversal variant of The Vulture, while Whigham lends his voice to George Stacy, father of Spider-Gwen. Sony revealed Stacy is a determined police officer, while The Vulture, from another Earth, finds himself in Spider-Gwen's universe.
However, the big reveal at Annecy Festival was that The Spot would be the main villain of "Across the Spider-Verse," voiced by Jason Schwartzman. "Spot's whole body is covered in interdimensional portals (made to feel like "living ink") that can send him anywhere he wants to go," Sony Pictures Animation revealed. "He can also make these portals appear out of thin air to transport objects and people at will. This spells trouble for Miles..."
The newest addition to the cast of "Across the Spider-Verse" is Academy Award-winner Daniel Kaluuya, known for his starring roles in Jordan Peele's "Get Out" and "Nope." As reported by The Hollywood Reporter, Kaluuya will play Spider-Punk, a punk rock-inspired Spider-Man who uses his spider powers and electric guitar to fight crime.
"Across the Spider-Verse" hits theaters on June 2, 2023.