10 Movies Like Purple Hearts To Fall In Love With Next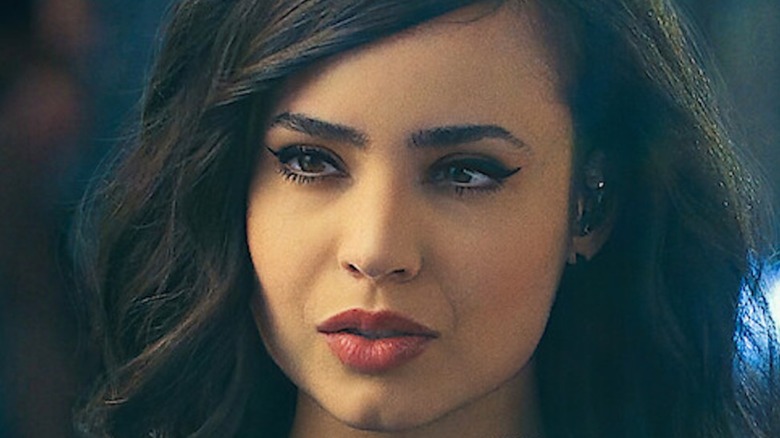 Netflix
The Elizabeth Allen Rosenbaum-directed Romantic drama "Purple Hearts" was an instant success when it dropped on Netflix in July 2022. The film, based on the novel of the same name by Tess Wakefield, follows Cassie Salazar (Sofia Carson), a struggling musician with diabetes who enters a fraudulent marriage with a young marine for the health benefits. Cassie is independent and distrustful by nature, and her new husband Luke Morrow (Nicholas Galitzine) has secrets of his own, crucially withholding the truth about how he benefits from their arrangement. The pair have instant chemistry, as evidenced by their wedding night, but they don't give into it easily. Cassie and Luke's path to falling in love is obscured by injury, loss, and secrets yet to be revealed, never mind the fact that their marriage violates military law.
The twists and turns of their love story and the fact that they overcame all of those obstacles made for a gripping watch and it left movie fans clamoring for a sequel. As of October 2022, there has been no confirmation of another film, and there isn't another novel to draw from. However, that doesn't mean Cassie and Luke's story won't be revisited in the future. In the meantime, though, we've compiled a list of movies like "Purple Hearts" for you to fall in love with next. Each captures the romance and the drama of "Purple Hearts," leaning into similar themes of love, loss, and acceptance. A couple of them have slightly lighter tones too, with movies like "The Hating Game" also bringing some comedy to the screen.
Redeeming Love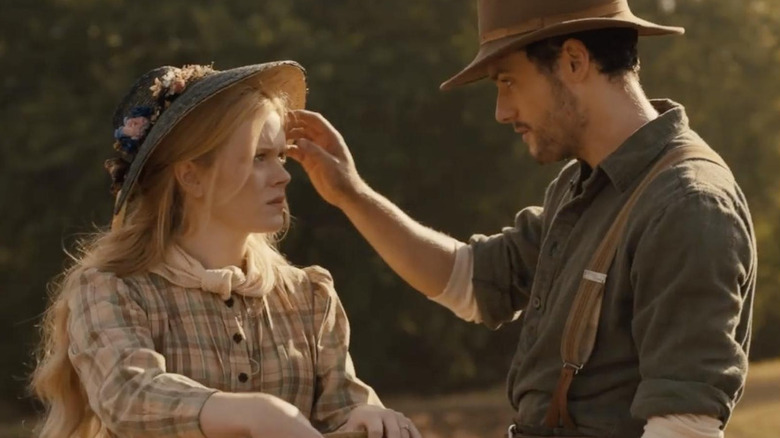 Universal Pictures
First up is the 2022 romantic drama "Redeeming Love," based on the best-selling novel of the same name. Set in the fictional Californian town of Pair-a-Dice in the 1850s, "Redeeming Love" follows Angel (Abigail Cowen) — whose real name is Sarah — a young woman was sold into sex work at 8 years old after her mother (Nina Dobrev) died. The movie has a nonlinear narrative and shows Angel through different periods of her life, with Livi Birch playing the younger version of the character. In the present Angel has run away from her long-time abuser Duke (Eric Dane) but with no way to support herself, she's fallen into prostitution again, this time working at the Palace for a cruel mistress named Duchess (Famke Janssen).
Angel desperately seeks a different life. When kind-hearted farmer Michael (Tom Lewis) meets her, he falls in love and asks for her hand in marriage. He shows her kindness and respect she's never known before and offers her a chance at freedom. But with all the trauma Angel has endured, she struggles to accept Michael's love. It's easy to draw parallels between Angel and Cassie. In "Purple Hearts," Cassie believes she's better off alone. Even as she starts to see Luke in a new light, she doesn't want to let herself love him. Likewise, Angel, who has only experienced cruelty and rejection from men in the past, is distrustful of Michael. However, Michael never gives up fighting for their love.
Time Is Up
Elisa Amoruso's romantic drama "Time Is Up" stars Bella Thorne and Benjamin Mascolo as high school students Vivien and Roy. From the first moment Vivien and Roy make eye contact, it's clear the two are drawn to each other, even though Vivien is with her boyfriend Steve (Sebastiano Pigazzi). However, despite her connection with Roy, Vivien remains committed to Steve. That commitment is not returned, as Steve is having an affair with his older swim coach Dylan (Nikolay Moss).
On the outside, Vivien's life looks perfect, but as the film progresses, everything spirals further and further out of control. She reaches her breaking point when she suspects her mother of having an affair and, as a result, she walks out of her college admissions test, which she should have aced. Believing that Steve is her safe space in all the chaos, Vivien follows him to his swimming competition in Italy, but she finds Roy there first. The connection between them intensifies, but a shocking accident then leads Vivien to lose her memories of that day in Italy, pulling her further away from Roy and back to Steve.
"Purple Hearts" fans will enjoy the dramatic push and pull of Vivien and Roy's relationship, which stops and starts as often as Cassie and Luke's. Neither love story is straightforward, and "Time is Up" has the same dramatic tension as the Netflix film that viewers won't be able to get enough of.
West Side Story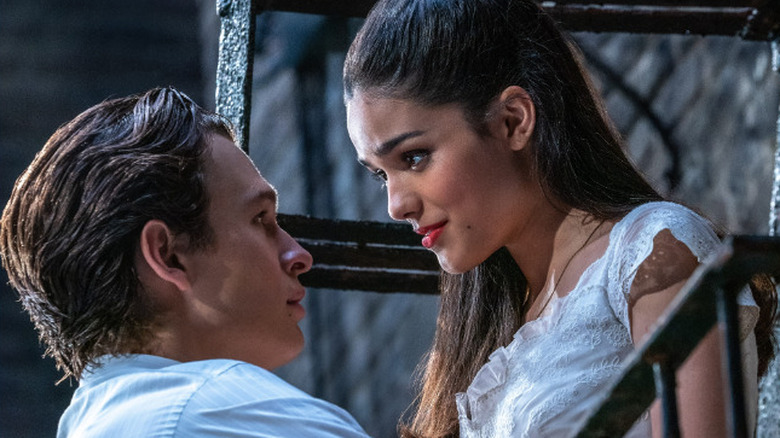 20th Century Studios
If the emotive music that accompanied "Purple Hearts" was a big part of what appealed to you about the film, then look no further than "West Side Story" for your next watch. The Steven Spielberg-directed romantic drama is the second screen adaptation of the classic musical set in 1950s New York, with Ansel Elgort and Rachel Zegler taking on the beloved roles of Tony and Maria. They are star-crossed lovers from rival gangs; Tony is an inactive member of the Jets, while Maria is the sister of Sharks' leader Bernardo. After meeting at a dance, Tony and Maria fall in love — to the anger of Bernardo, who does everything he can to keep them apart. The pair promise to run away together, but the war between the Jets and the Sharks intensifies. Soon manipulation and miscommunication lead Tony and Maria to believe they have lost the other forever.
Along with the film's songs, which are every bit as powerful as Cassie's heartfelt tunes, viewers can draw similarities between Tony and Maria's relationship with Cassie and Luke. In "Purple Hearts," the nature of Cassie and Luke's fake marriage agreement means that they end up confiding more in each other than anyone else. In a touching scene, Luke goes to Frankie's grave and says, "I think Cassie Salazar is my best friend." Similarly, Tony and Maria each have friends and family that they could confide in, but their love pulls them together until it feels like it is them against the world.
Moonshot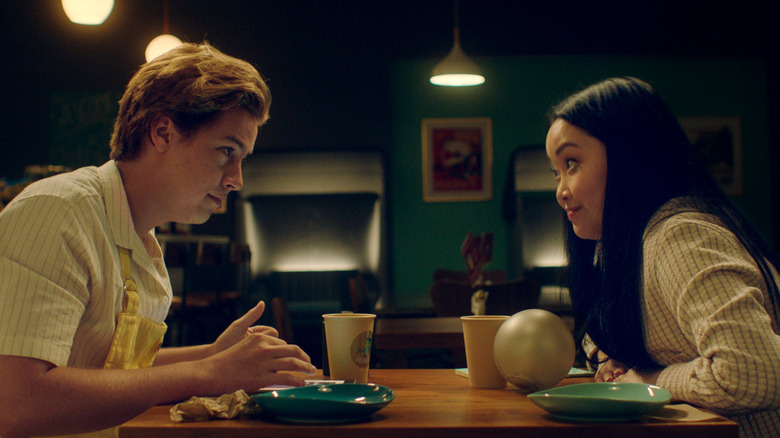 HBO Max
Set in the near future of 2049, "Moonshot" follows college campus barista Walt (Cole Sprouse) and science student Sophie (Lana Condor) as they each navigate their love-hate relationship with Mars. Walt has dreamed of going to Mars his entire life, but has been turned down by Kovi Industries' student program 37 times. Meanwhile, Sophie is deathly afraid of making the journey to Mars, meaning she's been left behind on Earth by her boyfriend and surrogate family. But, when a chance encounter with Walt finally pushes her to face her fear, Sophie starts planning her trip to Mars. When it's time to leave, Walt turns up to say goodbye, using Sophie as his way onto the Mars shuttle. It works until he and Sophie are caught by the captain and mistaken for a couple, a lie which they must keep up for the entire journey, or Walt will be arrested — just like Cassie and Luke in "Purple Hearts."
Sprouse is no stranger to drama as one of the stars of the teen drama "Riverdale," but he also brings a goofiness to his role as Walt, which meshes well with Sophie's more serious side. Through pillow forts and spaceship dance parties, their relationship evolves, but Sophie never forgets her boyfriend is waiting for her at the other end. With a supporting cast that includes Zach Braff, Michelle Buteau, and Mason Gooding, "Moonshot" promises to be a wild ride, with Walt and Sophie's arrival on Mars only marking the beginning of their story.
After Ever Happy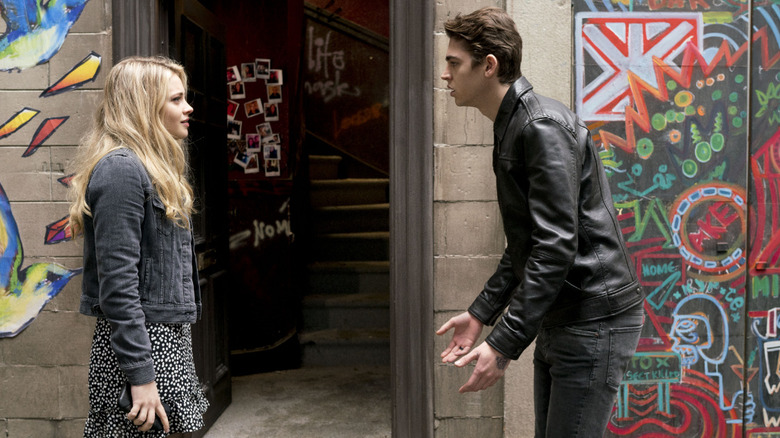 Voltage Pictures
"After Ever Happy" is the fourth installment of the "After" film franchise, based on the best-selling book series by Anna Todd. The movie continues Tessa Young (Josephine Langford) and Hardin Scott's (Hero Fiennes Tiffin) complicated love story. If the story of Cassie and Luke's relationship was set over several installments, we imagine it would look something like this.
The film begins more than two years after they first met in Tessa's freshman year. They have endured more heartbreak, breakups, and makeups than most young couples. As the film opens, the pair are happily reunited and together for Hardin's mom's wedding in London. However, a shocking secret about Hardin's parentage leads him to take drastic (and illegal) action. It's all nearly swept under the rug, but not before Hardin sends Tessa back to the States without him. Already at breaking point, Tessa returns home only to uncover another devastating loss. This leads Hardin to come back to America with their relationship hanging in the balance.
The pair grow up a lot in this film, with each of them taking the time to figure out who they are and who they want to be. However, this is something that they have to do for themselves and not for each other, so when they finally come to reunite, their trust is put to the test. Of course, this isn't the end of their dramatic romance as another sequel, titled "After Everything," promises to conclude Tessa and Hardin's story.
The Year of Spectacular Men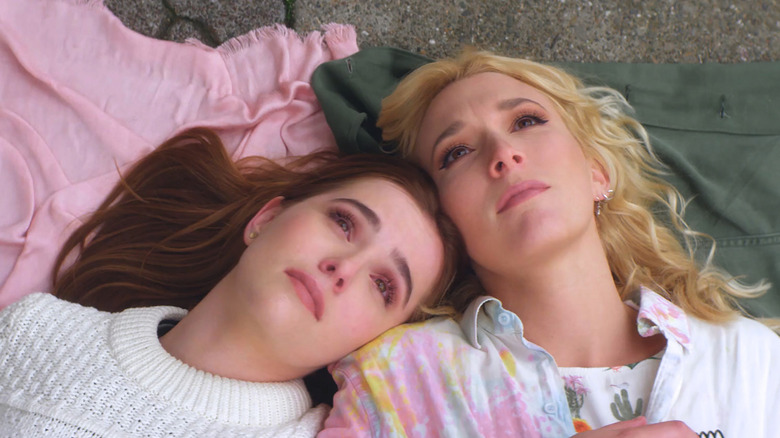 MarVista Entertainment
In her directorial debut, "Back to the Future" star Lea Thompson tells the story of two sisters navigating adulthood and relationships. She appears in "The Year of Spectacular Men" as the mom of her real-life daughters, Madelyn Deutch, who also wrote the screenplay and composed the score, and Zoey Deutch, who produced the feature. 
If you haven't heard of "The Year of Spectacular Men" until now, "Purple Hearts" fans are in for a treat, as Thompson and her daughter weave an intricate and dramatic story about romantic and familial love. Madelyn Deutch takes the lead as Izzy Klein, a college grad who's fresh off a breakup with her live-in partner in New York. With no money and nowhere to go, Izzy packs up her life and moves in with her younger sister Sabrina (Zoey Deutch) — a successful Hollywood star — and her partner Sebastian Bennett (Avan Jogia) in Los Angeles. Still reeling from her breakup, Sabrina encourages Izzy to put herself back out there and experience some fun in her 20s, even if she makes mistakes. Over the next year, Izzy meets several guys who help her move on from her breakup, but none are as spectacular as Sabrina's director Charlie (Nicholas Braun) who might just be what the 20-something-year-old was missing.
Izzy's messy love life may not look much like Cassie's, but both characters experience relatable emotional journeys and discover what it really means to fall in love and trust someone.
Look Both Ways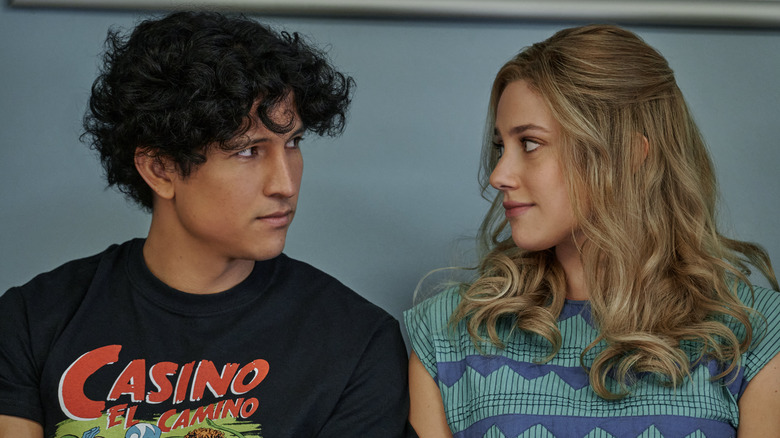 Netflix
Next up on this list is Netflix's romantic comedy-drama "Look Both Ways." "Riverdale's" Lili Reinhart, who stars in the film as Natalie Bennett, executive produced the feature. The film's dual narrative follows the prospective future lives of college student Natalie. It begins on the night of her graduation, a couple of weeks after she has a one-night stand with her best friend Gabe (Danny Ramirez). Feeling sick, she takes a pregnancy test just to make sure. From here, Natalie begins to look both ways. In one reality, she is pregnant and must navigate moving back in with her parents and co-parenting her daughter Rosie with Gabe. In the other reality, where the test was negative, Natalie moves to L.A. in pursuit of an animation career. There, sparks fly with her coworker Jake (David Corenswet). The movie's cast is rounded out by "The Bold Type" star Aisha Dee, "Stargirl"'s Luke Wilson, "Step Brothers" alum Andrea Savage, and "NCIS: Los Angeles" actor Tia Long.
As "Look Both Ways" progresses, viewers will see Natalie living two completely different lives and forging different love stories, a narrative technique which isn't all that common in modern romantic films. The unique approach gives the movie a healthy comedic tone, but it also doesn't shy away from drama, looking at the discord between wanting a family and career — something that Cassie also learns to balance in "Purple Hearts" when her marriage to Luke starts to become real.
The Longest Ride
Based on the best-selling romance novel by "Dear John" author Nicholas Sparks, "The Longest Ride" has a dual narrative, telling the love story of Sophia Danko and Luke Collins in the present, and Ira and Ruth Levinson in the past. The lives of these two couples become inexplicably linked after Sophia and Luke pull Ira from a car wreck and save his life. As Sophia, played by Britt Robertson, hesitantly embarks on a relationship with Luke, she forms a strong bond with Ira, who teaches her a lot about life and love.
Scott Eastwood takes on the role of Luke, who shares more similarities with Nicholas Galitzine's "Purple Hearts" character than just their first name. Like Luke Morrow in "Purple Hearts," Luke Collins is plagued by the threat of injury. His chosen career as a bull rider is dangerous and it places Sophia in a constant state of worry. Luke's marine career does the same to Cassie, which she expresses through her song "Come Back Home." In "The Longest Ride," Luke gets injured and is ordered to stop riding by his doctor. However, Luke is determined to be number one and prioritizes his career over Sophia, who's been putting off making a career move to New York for him. Unable to understand his choice, Sophia pushes Luke away and focuses on her art career. However, despite all these obstacles, the romance between Sophia and Luke isn't totally doomed. This complicated narrative weaves two intricate love stories together, depicting love, loss, heartbreak, and most of all, hope.
The Hating Game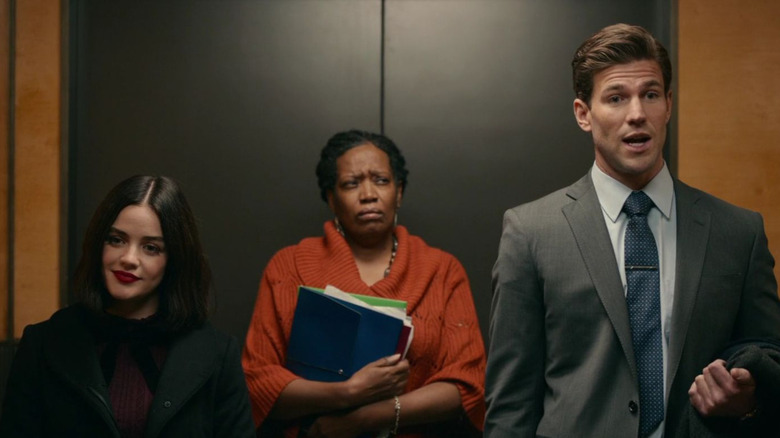 Vertical Entertainment
Lucy Hutton and Josh Templeman hate each other with a passion, but they're forced to see each other every day at work since their desks are right across from each other. They purposely try to torment each other, often playing the copycat game or the staring game, but as everyone knows, it's a fine line between love and hate.
Lucy Hale and Austin Stowell take the lead in "The Hating Game" as the fiery duo Lucy and Josh. Their dynamic takes a turn when their sexual tension leads to a steamy elevator kiss. Things get even more complicated when they both start competing for the same promotion. Neither Lucy nor Josh knows what game they're playing now — all they know is that they want each other and they want to win.
The film has a lighter tone than "Purple Hearts," but like the Netflix film, "The Hating Game" delves into complex familial relationships. As the movie progresses, viewers get to see the deep bond that Lucy and Josh have, and they'll be drawn in by the push and pull of their relationship. "The Hating Game" also exudes acceptance and self-love as Lucy helps Josh stand up to his overbearing father. "Purple Hearts" viewers will undoubtedly enjoy watching Lucy and Josh's relationship go from hate to love as their passion matches Cassie and Luke's.
The In Between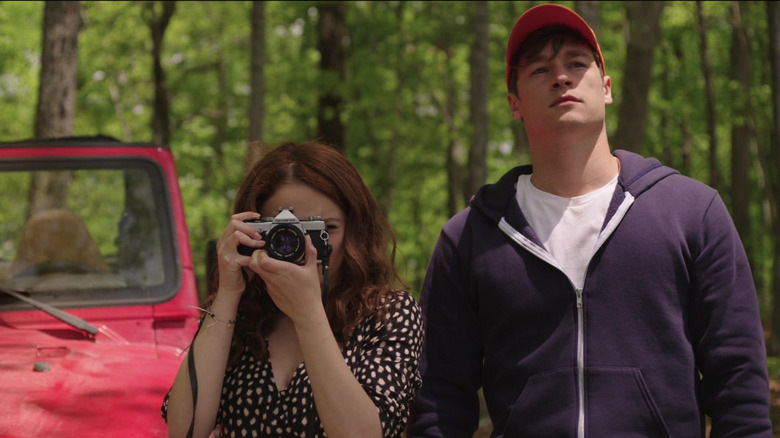 Paramount+
Paramount's romantic drama "The In Between" has a nonlinear timeline that flashes between past and present. In the present, Tessa (Joey King) deals with the aftermath of losing her boyfriend Skylar (Kyle Allen) in a tragic car accident. The nonlinear structure aids the drama and each flashback reveals snapshots of their relationship, showing Skylar deeply in love with Tessa. However, like Cassie in "Purple Hearts," Tessa struggled to trust and share her feelings, not telling Skylar that she loved him too.
After his death, Tessa tells her best friend Shannon (Celeste O'Connor) that she would do anything to see him again, leading her to discover a world beyond death, called the In Between. In the present, Skylar finds ways to reveal himself to Tessa, who is determined to see him again. The further into the world she goes and the closer to Skylar she gets, the more difficult it may be for her to return. Warnings she may be in too deep, don't deter her, but when Tessa's health begins to deteriorate she must make a choice; either she keeps going to Skylar in the In Between, or she returns to the land of the living.