12 Movies Like After That Every Romance Fan Should See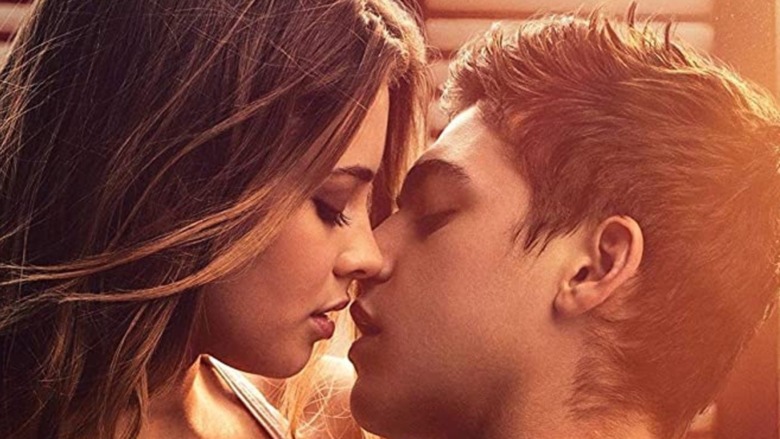 Romance doesn't always light up the box office, yet the best movies in the genre can inspire devoted fanbases. The 2019 romantic drama After is no exception.
After, directed by Jenny Gage, is based on the 2014 novel of the same name by Anna Todd. Although the film received unfavorable reviews, it was a commercial success, grossing $69 million worldwide against a $14 million budget — and it also spawned a sequel, After We Collided.
The film follows Tessa Young (Josephine Langford), a college freshman who rewrites everything she knows shortly after arriving on campus. She becomes roommates with the edgy Steph Jones (Khadijha Red Thunder), which scares Tessa's concerned mother, Carol (Selma Blair). Tessa also meets Steph's friend, bad boy Hardin Scott (Hero Fiennes Tiffin), and in classic romantic drama fashion, she falls for Hardin and inadvertently cheats on her high school boyfriend Noah Porter (Dylan Arnold) — while betraying her mom's wishes — in the process. Unlike other films in the genre, love doesn't necessarily conquer all in After, and Tessa and Hardin's relationship is left open to interpretation at the movie's end.
After, like many other romance stories, is pleasantly far-fetched, yet each of these films has its own unique twist. With that in mind, we've compiled a list of movies like After that every romance fan should see.
After We Collided (2020)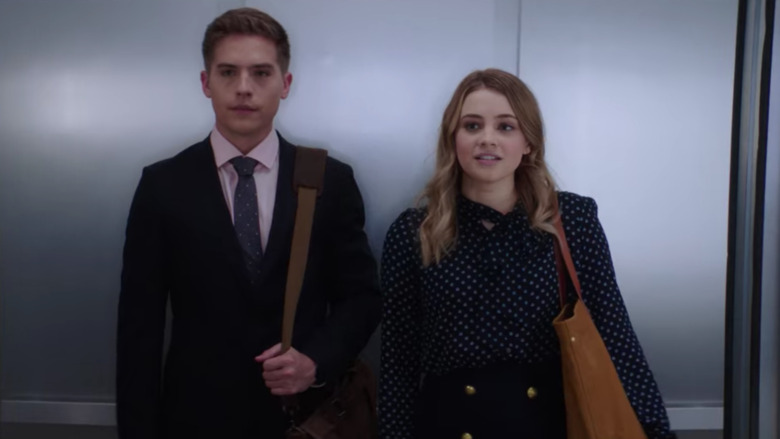 After We Collided is an obvious choice for After fans — after all, it's the sequel to After. The first film ends with Tessa interviewing for an internship at Vance Publishing so she can leave school. Before she embarks on her new journey, Professor Soto hands Tessa a love-confessing essay written by Hardin. After she reads it, Tessa returns to their special place — a deck leading to the lake — to meet Hardin. Whether they end up together is a mystery — or at least it was until After We Collided was made. Audience members will have to watch After We Collided to see where Hardin and Tessa's story picks up. (Spoiler alert: Tess and Hardin are, of course, in the sequel.)
Not to give too much away, but After We Collided was successful enough to warrant two more sequels. Clearly, the show must — and will — go on.
Alex Strangelove (2018)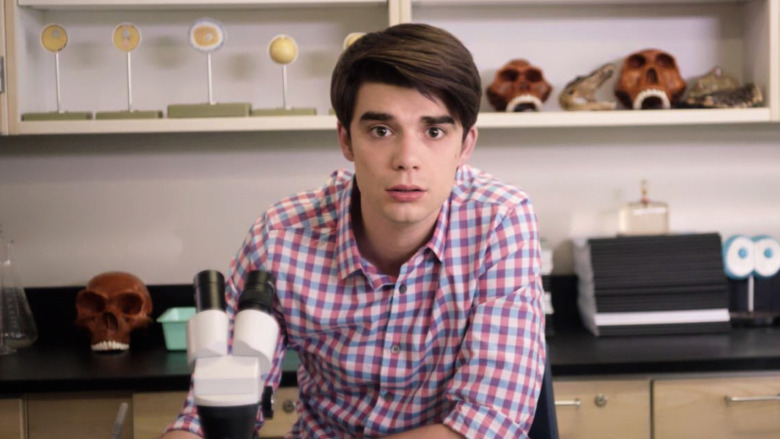 2018 romantic comedy Alex Strangelove follows Alex Truelove (Daniel Doheny), a high school student who struggles with his sexuality. Where After can feel dark and eerie, Alex Strangelove is upbeat and gives a much more clear and positive message. This message likely plays a role in the movie receiving a higher score on Rotten Tomatoes, where critics sang its praises to the tune of an 80 percent rating.
Of course, just because this rom-com is more optimistic, it doesn't make it any easier for the characters to navigate their adolescent lives. Alex, after all, tries to lose his virginity to his girlfriend Claire (Madeline Weinstein) — but then he meets a boy named Elliot (Antonio Marziale) and his sexual journey becomes even more unclear. Although this Netflix film hasn't spawned a sequel (yet), Alex Strangelove ends on a sweet emotional note that should satisfy all fans of the genre.
Crazy, Stupid, Love (2011)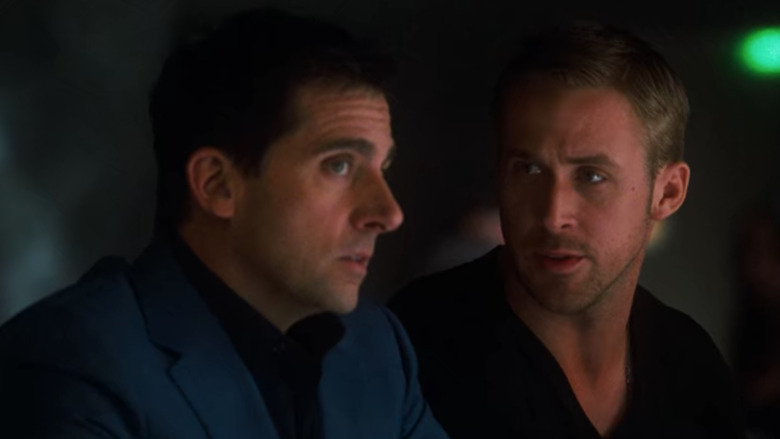 Crazy, Stupid, Love isn't a coming-of-age story like After — well, at least not for the main characters — yet this adult rom-com still takes the audience on a wild ride. It also features an all-star cast. Steve Carell plays Cal Weaver, a man who finds himself suddenly single after his wife tells him she wants a divorce. A conventional man who doesn't seek adventure or leave his comfort zone, Cal goes on his own soul-searching quest with Ryan Gosling, who plays Jacob Palmer, a well-dressed womanizer who forces Cal to reinvent himself. Crazy, Stupid, Love has twists, turns, and unlikely relationships, and it's all perfectly splendid. Emma Stone, Julianne Moore, Kevin Bacon, and Marisa Tomei also star.
The film was released in 2011, grossing over $145 million against a $50 million budget, and Gosling was nominated for the Golden Globe Award for Best Actor – Motion Picture – Musical/Comedy for his performance. Crazy, Stupid, Love is messy in all the right ways, a love story sprinkled with movie magic and a rom-com ending.
Cruel Intentions (1999)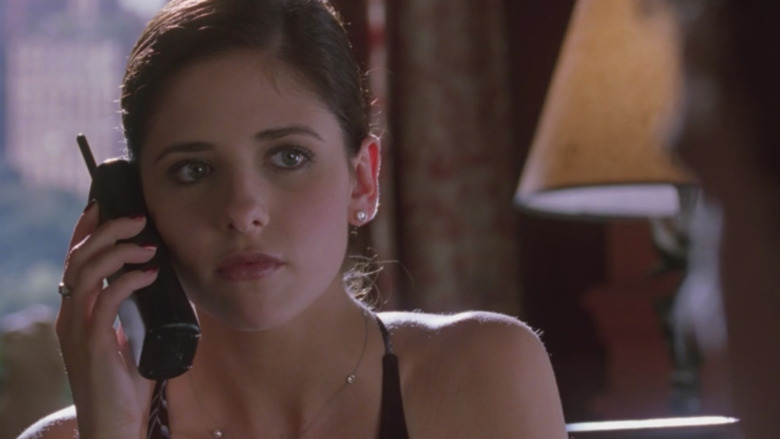 Cruel Intentions, similar to After, focuses on a dare — although Cruel Intentions' dare is the entire premise of the movie, whereas After's "truth or dare" moment isn't revealed to the audience until the end of the movie. Another similarity: Cruel Intentions features Selma Blair, who plays a high school student — a very different role than the parent of a college student she played in After.
Also starring Sarah Michelle Gellar, Ryan Phillippe, and Reese Witherspoon, this sleazy 1999 romantic drama is an adaptation of the 1782 novel Les Liaisons dangereuses by Pierre Choderlos de Laclos. In contrast with the book, the film's setting highlights wealthy high school teenagers in New York City instead of 18th-century France. The movie, considered a box office success, earned nearly $76 million and spawned two direct-to-video movies. If you desire the darker and more risqué aspects of After, Cruel Intentions is a must-watch.
Everything, Everything (2017)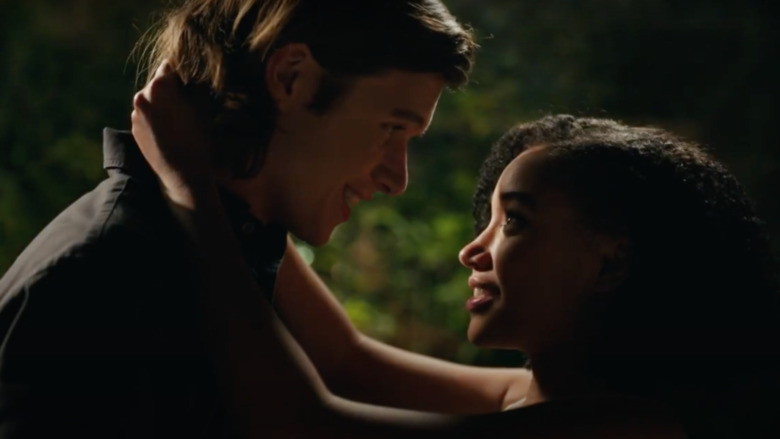 Like After, Everything, Everything is based on a novel (Nicola Yoon's 2015 book of the same name). Starring Amandla Stenberg and Nick Robinson, the story follows Maddy Whittier (Stenberg), a young woman with a serious medical condition that keeps her homebound. Her neighbor, Olly Bright (Robinson), helps her experience life. Naturally, as two characters so often do in a romantic drama, they fall in love.
Everything, Everything follows a familiar formula, yet it's given a twist given the severity of Maddy's health. Love conquers all on the movie screen, yet audience members will have to push play on the film to find out if that trope remains intact in Everything, Everything.
Still not sure? Picture this: Everything, Everything is a story about a girl who can't leave her home. She can't go outside. Simple viruses can kill her. Every day feels the same. Although it was released in 2017, Maddy's situation can feel eerily similar to the shared nightmare brought on by the 2020 global pandemic — but don't worry, it's still a love story that's capable of sweeping you away.
How to Be Single (2016)
Hollywood can't get enough of young adults looking for love in New York City. From Sex and the City to Friends with Benefits, audience members crave living vicariously through Manhattan's finest. How to Be Single doesn't disappoint on that front.
How to Be Single is true to its name: The rom-com follows characters — all with different wants, needs, and dilemmas — who navigate the waters of being single while having one-night stands, late nights and early mornings, and living life on their own terms. An all-star cast featuring Dakota Johnson, Rebel Wilson, Damon Wayans Jr., Anders Holm, Alison Brie, Nicholas Braun, Jake Lacy, Jason Mantzoukas, and Leslie Mann helps audiences vicariously live the single life in New York City throughout.
Although How to Be Single isn't as serious as After, the film is funny, raunchy, and entertaining for all of its 110-minute runtime.
Love, Simon (2018)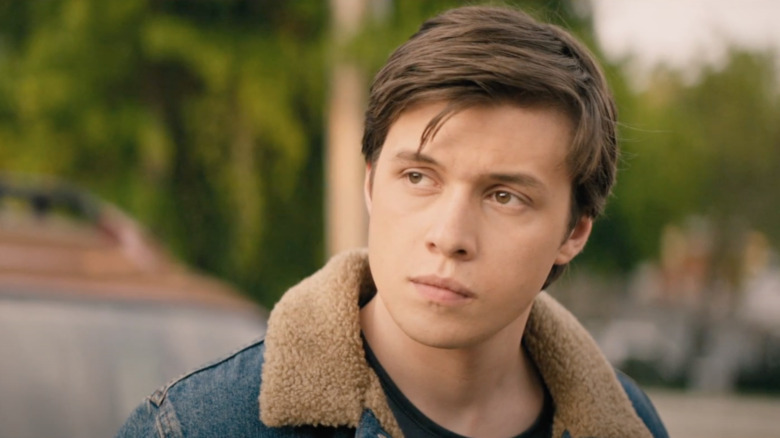 Anytime a movie leads to a TV show, it's a no-brainer to watch the movie first — especially if, in this case, you enjoyed After. The 2018 romantic comedy-drama Love, Simon stars Nick Robinson (who's also in Everything, Everything), Josh Duhamel, and Jennifer Garner. Bonus points: the movie also features After star Josephine Langford's sister, Katherine Langford.
Love, Simon follows closeted gay teenager Simon Spier (Robinson). Like other high school students in the movies, Simon struggles to balance his relationships — yet he's also being blackmailed while he tries to figure out who his online crush is. Simon has a loving family, a supportive friend group, and his mom and dad just so happen to be Josh Duhamel and Jennifer Garner. Yet he also has a secret, and it ends up impacting his life in a major way.
Love, Simon grossed $66 million worldwide and went on to spawn the Hulu TV show Love, Victor, which takes place in the same universe as the film. It also did well with critics, earning a 91 percent rating on Rotten Tomatoes.
The Last Summer (2019)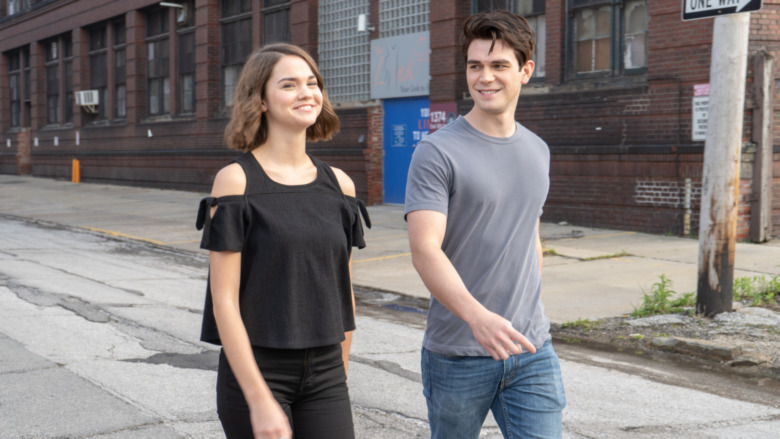 There's something magically entertaining about watching young people grapple with the reality that high school will soon end, and the life they've known up to that point is about to change forever. The summer before going to college forces high school graduates to confront what they want, who they want, and what they eventually want to become.
The Last Summer focuses on a group of teenagers — KJ Apa, Maia Mitchell, Jacob Latimore, Halston Sage, and Tyler Posey — who have this exact problem. Unfortunately, finding love during the summer before college becomes a problem when two would-be lovers are attending different schools in the fall. The dreaded long-distance relationship is one of the easiest ways to ruin freshman year of college — well, at least in the movies. Going to college, and leaving everything you know behind, can be scary, but The Last Summer manages to package this dilemma into an entertaining coming-of-age story that fans of After are sure to enjoy.
The Notebook (2004)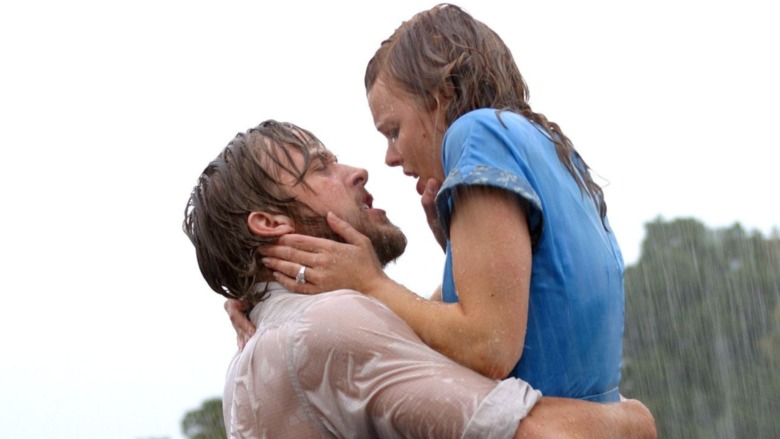 The Notebook is quite possibly one of the most well-known romances in cinema history. The praises of the kissing scene alone will be sung for decades. This has been the case more than once when a Nicholas Sparks novel is given the green light to become a movie — although in this case, the end results are elevated thanks to Ryan Gosling and Rachel McAdams in the lead roles. Although it's largely a stereotypical romantic drama that puts two unlikely characters together — they fall in love despite all their differences, natch — The Notebook was a success at the box office and earned a healthy serving of nominations during award season.
Simply mentioning The Notebook brings up cheesy connotations and rom-com overload. Yet that's exactly why the film is ideal for anyone who enjoys the genre, including audience members who love After.
The Spectacular Now (2013)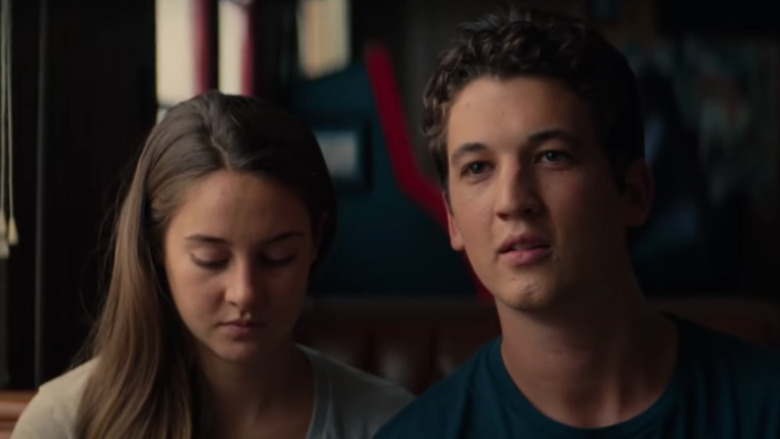 Similar to After, The Spectacular Now follows two completely different people who don't have a relationship prior to the start of the movie, when their paths cross in abnormal circumstances. Sutter (Miles Teller) is the life of the party; Aimee (Shailene Woodley) is a quiet, innocent girl. They get off to a bit of an awkward start when Aimee finds Sutter passed out on a random lawn while on a morning paper route. Also like After, The Spectacular Now is based on a novel — the film takes its story from the 2008 book of the same name by Tim Tharp.
This coming-of-age romantic drama grossed nearly $7 million worldwide and earned a 91 percent rating on Rotten Tomatoes. The Spectacular Now features two young characters who are trying to figure out life, and viewers will have to push play to see if Sutter and Aimee end up together by the movie's end — as fans of the genre are well aware by now.
We Are Your Friends (2015)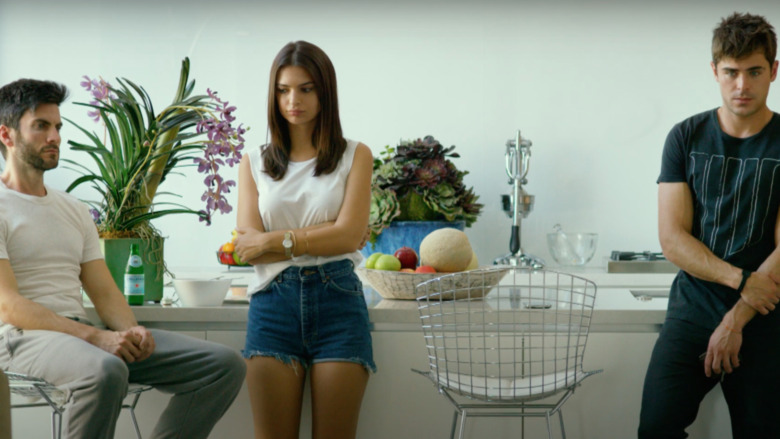 We Are Your Friends isn't a lot like After, but it falls back on some of the same narrative tropes. (Boy has big dreams. Boy falls for someone he shouldn't. You know the drill.) Also typical for the genre, the film has an attractive young cast, including Zac Efron, Emily Ratajkowski, and Wes Bentley.
We Are Your Friends has a strong musical component. Struggling EDM DJ Cole Carter (Efron) follows his dream of becoming a major record producer, but his life is turned upside down — for good and bad — when he meets James Reed (Bentley), a once-innovative musician in the industry, at a DJ gig where Cole is his opener. After meeting at the nightclub where they're playing, James invites Cole to a party. Cole's life is forever changed when he wakes up at James' house the morning after and meets Sophie (Ratajkowski), James' personal assistant and love interest. Similar to most movies about characters trying to make it in Hollywood, We Are Your Friends has an idealistic view of Los Angeles. It puts the limelight on the trials and tribulations of trying to make it as a creative professional in the City of Angels, a city that routinely turns dreams into broken wings.
When We First Met (2018)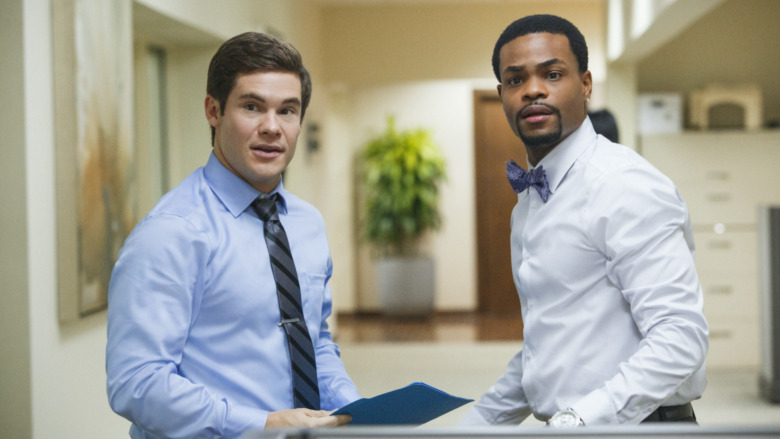 When We First Met, which stars Adam DeVine, Alexandra Daddario, Shelley Hennig, Andrew Bachelor, and Robbie Amell, gives off a Groundhog Day meets Palm Springs vibe.
Noah Ashby (DeVine) spends a night with the girl of his dreams, Avery Martin (Daddario), only for them to become just friends. Yet Noah has an opportunity to rewrite love history at Avery and Ethan's (Amell) engagement party as he travels back in time and attempts to alter the past — until he gets everything just right.
As tends to be the case with other movies involving time travel, Noah's journey gets frustratingly messy — because, of course, one small altercation can have a significant outcome on the past, and forever change the events of the future. Unlike After, this romantic comedy is funny and light-hearted, but fans of the genre can't seem to get enough of movies in which characters are stuck in a time loop — and When We First Met adds its own unique voice to the mix.