Enola Holmes 2's Director Explains The Impact The Matchbox Girls' Factory Strike Had On The Film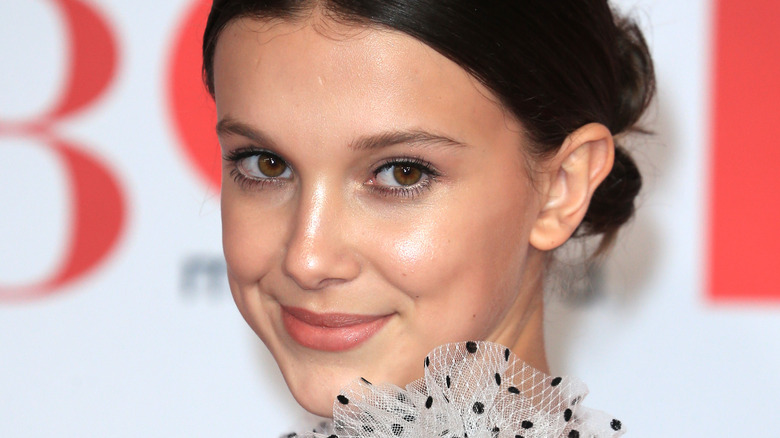 Fred Duval/Shutterstock
The follow-up to the initial outing of Millie Bobby Brown as the super-sleuthing little sister of big brother Sherlock Holmes (Henry Cavill), Netflix's "Enola Holmes 2" plants its narrative roots firmly in the actual history-changing women's labor action that inspired director Harry Bradbeer's approach to the film.
The newly streaming sequel continues Enola's case-cracking ways with all the deductive firepower and razor-keen observational skills of her famous older sibling. Also similar to the first film in the series, "Enola Holmes 2" finds Brown's character once again enmeshed in a case with pronounced socially conscious overtones. 
In this regard, the first movie imbued Enola's quest to find her missing mother (played by Helena Bonham Carter) with character-building overtones of a young girl finding her way to empowerment in Victorian England. And while the second film in the franchise differs from the first, it also features a message of reform set amid the resoundingly conservative and overwhelmingly male societal structures of the Victorian Era. That being said, the film's director cites one pivotal historical episode as informing his take on Enola's latest Holmesian adventure.
The Matchbox Girls' strike was the ideal storytelling spark for Enola Holmes' fiery feminist character
As "Enola Holmes 2" begins, Enola is now a working detective in her own right, and she's finding Victorian England a tough place for a young female sleuth to make a living. Then, she's drawn into a case that at first seems to be primarily about a missing girl employed at the Lyon matchbox factory, but soon spirals into a matter of deadly conspiracy, rampant corruption, and murder most foul. Before the film's end, Enola will also find herself at the center of the landmark Matchbox Girls' Strike — a real-world event that would mark a major step forward for exploited young female workers forced to endure intolerable working conditions in England's match-making industry.
Speaking about the film's historically-inspired storyline to Collider, director Harry Bradbeer said the Matchbox Girls' Strike of the late 1800s was a pivotal moment in the labor rights movement, with significance that echoes into the present. The movie's reformist element, Bradbeer said, "Tied in with the real events of the Match Girls' Strike, which was politically relevant and also relevant to today." The director then went on to relate the fight for gender equality highlighted in "Enola Holmes 2" to the current female-spearheaded, anti-government protests in Iran, saying, "Women are still having to stand with each other — they're doing it in Iran right now — to stand up as a group."