Weird Al Yankovic's Mentor Is Just One Of A Few Famous Cameos In I Lost On Jeopardy's Music Video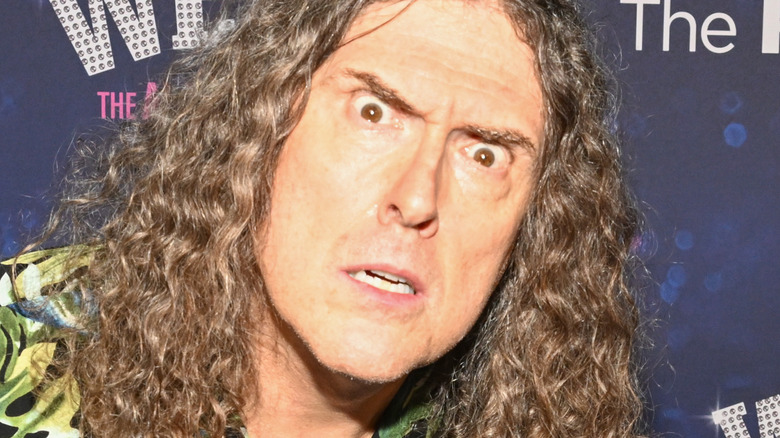 Slaven Vlasic/Getty Images
"I Lost On Jeopardy" is simultaneously a "Weird Al" Yankovic classic and a deep cut for the parody legend. Originally released on his second album, 1984's "'Weird Al' Yankovic in 3-D," this was part of Yankovic's almost meteoric rise following the popularity of "I Love Rocky Road" and "Ricky." Though it didn't chart as high as "Eat It," the album's lead single, Al's zany story of being outed as a dunce and humiliated on one of television's most beloved game shows cemented him as an undisputed genius of parody songs and comedy music. "I Lost On Jeopardy" has since then been included on several compilation and greatest hits albums.
Given that it is still early on in Yankovic's career, it's appropriate that one of his mentors appear in the music video. Yes, that's Dr. Demento on the left in the control room just a few seconds after the two-minute mark. Those unfamiliar with either radio lore or Yankovic's story likely don't even know to look for him, but that is definitely Demento (real name Barrett Hansen), an early champion of "Weird Al" on his own syndicated comedy music radio show. The Dr. Demento radio show ran on Westwood One stations until 1992, and he continues to host an online streaming format to this day (via DrDemento.com).
Several celebs are in the video for I Lost On Jeopardy
In fact, there are several famous faces in the video "I Lost On Jeopardy," though they may not necessarily be recognizable to the younger end of today's audiences. The video functions as something of a time capsule, actually. For one thing, its portrayal of "Jeopardy!" is almost unrecognizable by today's standards. Sure, the basic format is there, on which poor Al can humiliate himself next to a Ph.D.-carrying plumber and architect, but why is everything orange? And who is this Art Fleming guy hosting? Where's the beloved Alex Trebek?
The Fleming-hosted version of "Jeopardy!" that Weird Al is referencing here had not been on the air since 1979, and the Trebek-hosted version was only just in development when this music video was released in 1984. Fleming, who died in 1995, hosted the original version from 1964 to 1979 and was widely recognized as the show's host. Don Pardo, who also announced the show for much of that same time period and is best known today as the longtime voice of "Saturday Night Live," also appears in the video and the song, informing Al of all the great prizes he doesn't win.
Finally, at the very end of the video, driving the convertible with the "LOSER" license plate "Weird Al" is ejected into, that's Greg Kihn winking at us. It was the Greg Kihn Band's heartbreak power pop jam "Jeopardy" that "I Lost On Jeopardy" parodies, repurposing the original's refrain "our love's in jeopardy" into the title and refrain of Yankovic's version. "Jeopardy" is, to this date, Kihn's most successful song, peaking at number two on Billboard's Top 100 in 1983 (via Billboard.com).