Announcer Don Pardo Made Quite The Mistake In SNL's Premiere Episode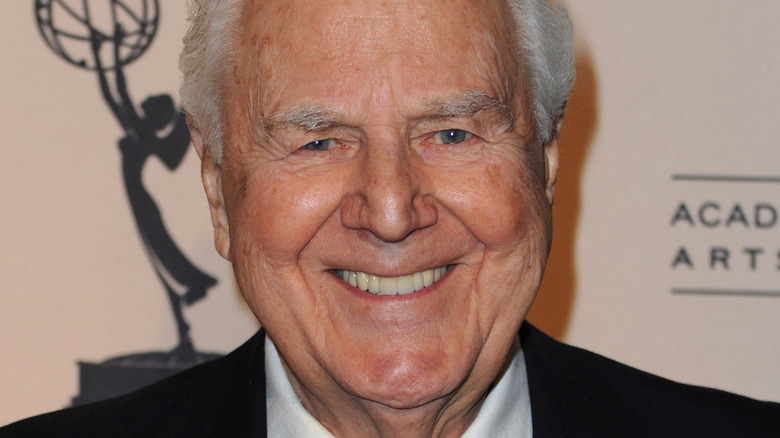 Frazer Harrison/Getty Images
By now, everyone knows that "Saturday Night Live" is shown, well, live. And of course, with no chance for second takes or edits, that leaves room for a lot of mistakes that quickly make it into our living rooms. We've all seen enough delightful examples of actors and hosts breaking character and struggling not to laugh that this hits home for us.
Turns out, this doesn't just go for the actors. Even Don Pardo –- the iconic booming voice of "SNL" for almost 40 years –- was prone to flubs and slip-ups. This is saying something considering his status as a television veteran. Before "SNL," Pardo had more than 20 years of experience in radio and broadcasting, including stints announcing for "Jeopardy!," "The Price is Right," and "Macy's Thanksgiving Day Parade" (via The Hollywood Reporter).
Even veterans make mistakes, though. In fact, Pardo made one mistake during the opening credits of the very first episode of "Saturday Night Live."
The SNL cast's nickname took a dig at ABC
Fans of the show's first few seasons will likely know that, at first, the official name of "SNL" was not "Saturday Night Live" but rather "NBC's Saturday Night." In fact, "Saturday Night Live" was taken by another variety show that aired on rival network ABC starting in 1975. That series was hosted by longtime sports announcer Howard Cosell. 
Cosell's show aired for less than a single season before being canceled. "Despite big-name guests," wrote TV Guide, "'Saturday Night Live with Howard Cosell' was pretty much dead on arrival, with a cringingly awkward host." Cosell's "SNL" also featured several comedic actors who would later be cast on NBC's "SNL," including Billy Crystal, Bill Murray, and Christopher Guest. Given that the show aired at 8 p.m., Cosell called them his "Prime-Time Players."
"NBC's Saturday Night" took a dig at Cosell when they decided to call their cast "the Not Ready for Prime-Time Players." The irony in retrospect is obvious, given that "SNL" would become one of TV's most coveted gigs, the likes of Gilda Radner, Dan Aykroyd, John Belushi, and Jane Curtin would end up comedy legends, and Cosell's show would all but vanish down the memory hole.
Don Pardo flubbed the cast's nickname
We can all surmise what happened next. After Howard Cosell's show flopped and was subsequently canceled, NBC purchased the rights to the name "Saturday Night Live," and sometime later the "Not Ready for Prime-Time Players" joke was dropped (via Huffington Post).
Maybe it was an omen then, that during the introductions of the very first episode, Don Pardo accidentally switched around the words. Instead of saying "the Not Ready for Prime-Time Players," he introduced the cast as "the Not for Ready Prime-Time Players." 
It was a simple mistake, one anyone could make by misreading a teleprompter. Luckily, producers either didn't notice or didn't care. Pardo's obituary in the New York Times mentioned the moment, then went on: "But the misstep was forgotten, and Mr. Pardo became a signature part of the show, not just announcing the cast, musical guest and host but also introducing 'Weekend Update' and playing an integral role in other bits." He remained a part of the show, with only a one-season break, until his death in 2014, after which he was replaced by cast alum Darrell Hammond (via Billboard).