How CSI's Marg Helgenberger Avoided Bouts Of Boredom While Shooting The Show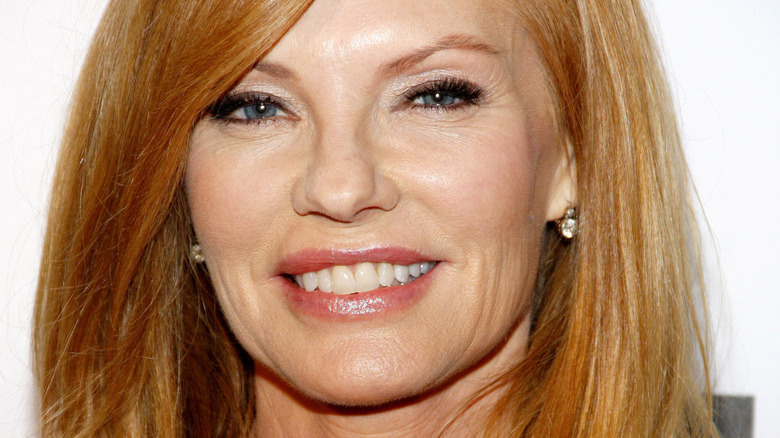 Tinseltown/YouTube
Playing a cop on TV can be a tad more monotonous than the shows themselves would suggest. If you add to the equation an actor leading a successful show that's topping ratings charts, then you'll see more chances of things growing a little stale as performers crank out episodes week to week.
Actors have to find a way to pass the time and keep things interesting while they memorize that episode's exposition and wait for setups and effects shots. Marg Helgenberger found her own way of keeping things exciting on the set of "CSI: Crime Scene Investigation," which she helped lead with William Peterson for most of the Jerry Bruckheimer-produced show's run from its premiere in 2000. She also returned for the sequel series "CSI: Vegas," so she's had more than her fair share of time in the shoes of the character Catherine Williams.
The actress said at a CBS TCA panel that she actually missed the character of Williams, and so many years in the role made it feel like she was part of her identity before joining "CSI: Vegas," per Deadline.
Helgenberger revealed the unique hobby that she and others on the set of "CSI" shared to help time from dragging.
Marg Helgenberger loves betting on football
Speaking about her work on "CSI: Crime Scene Investigation" in 2011, Marg Helgenberger, whose other credits include films like "Mr. Brooks" and shows such as "Under the Dome," confessed that what looks thrilling in front of the camera can sometimes be a slog behind it for the cast and crew. 
"There are certain days that are just tedious. But I think any job, there are certain days you'd rather be elsewhere," she told Digital Spy.
Helgenberger revealed that she and others that were working on the show had a football pool, and the actress revealed she did very well with her background as a fan. She even tied for first place one year and then second the following year. She posts about her football fandom, including a tweet in September 2022 from a Chargers game at the SoFi Stadium with fellow "CSI: Vegas" star Paula Newsome, who plays the character Maxine Roby, via Twitter.
The pool, the actress told Digital Spy, got the crew in the competitive spirit and gave everyone something to talk about when things grew too boring.
"We can all be competitive with one another in a light way. But that's something we've been doing for the past few years. It's a lot of fun," she said.