CSI's Marg Helgenberger Explains Why She Took Time To 'Warm Up' To The Revival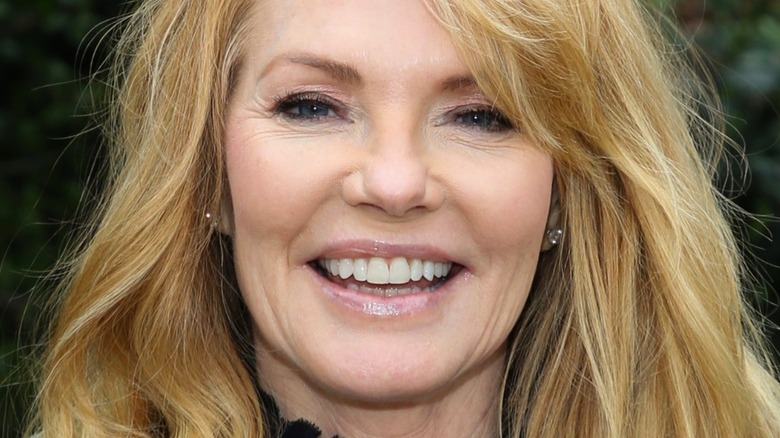 Paul Archuleta/Getty
For a dozen seasons and close to 260 episodes, actor Marg Helgenberger portrayed the blood-spatter-savvy former showgirl Catherine Willows, queen of the night shift in the forensics lab on "CSI: Crime Scene Investigation" (via IMDb). In 2012, Helgenberger left the CBS series in part, to pursue other opportunities, but returned for the two-hour series finale. At the time of that finale, she told The Hollywood Reporter that (after her initial departure) she "was really looking forward to a break, which [she] enjoyed for the first few months, and then it was like, 'Hmmm.'" 
This year, in a move that sees art imitating life, Willows will return to the "CSI" universe, this time, in "CSI: Vegas", after experiencing some of the same restlessness that Helgenberger spoke of back in 2015, as EW revealed in an exclusive interview and sneak peek.
Helgenberger will join established "CSI: Vegas" cast members Paula Newsome (who portrays Las Vegas Crime Scene Lab head Maxine Roby) and Mandeep Dhillon (the series' intrepid investigator, Allie Rajan), and, as she told the outlet, the show's cast "couldn't have been more welcoming." Nonetheless, stepping back into a role that an actor's left behind can be daunting — a re-entry obstacle she spoke about at length in the recent interview.
Helgenberger had to get back in the CSI rhythm
Aimee Santos / CBS
"In terms of establishing a camaraderie or an instant chemistry," Marg Helgenberger told EW, "it was pretty natural [and] I think it's because I played this character for so long." But just because Helgenberger had little trouble tapping into her character again and getting along with the new team doesn't mean her reemergence didn't come with some necessary transition time.
"I have to say it took a couple of episodes to get warmed up," she told the outlet, explaining that its specific approach to storytelling can be rhythmically tricky. "There's an enormous amount of exposition sometimes and there's certainly an enormous amount of science as well," she said, adding  "...it's sometimes a struggle for people to get this dialogue right. And to get it so that it flows naturally. So, like with any job, it takes a few days to get warmed up."
Helgenberger also praised her new in-world co-worker and real-world castmate Paula Newsome, whom she met and had lunch with before filming together, calling her a "wonderful actress." When asked about her first day shooting, she said (of a scene between Willows and Roby) "I think we started with an interrogation, which is always kind of a good place to start because it's not a big situation to deal with...So it was a good way to kind of break the ice" (via EW). 
Fans of the series can tune in to see the actor in her "CSI: Vegas" debut four episodes into the upcoming Season 2 (via IMDb), which premieres on September 29th.