Black Panther: Wakanda Forever's Lupita Nyong'o Recalls Chadwick Boseman As An Eternal Student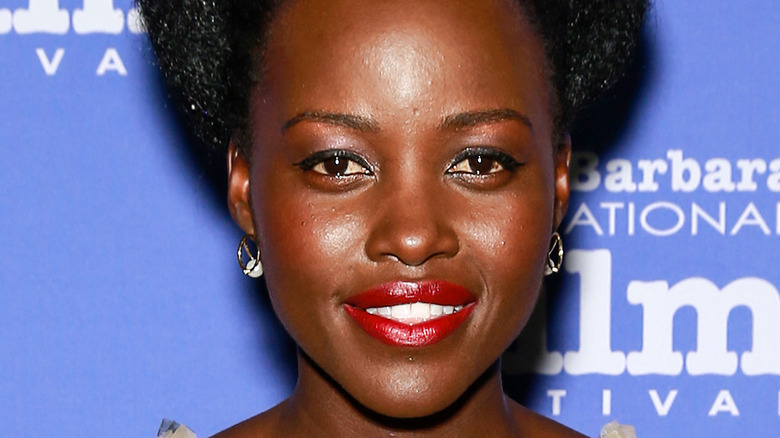 Ovidiu Hrubaru/Shutterstock
The team behind "Black Panther: Wakanda Forever" has made it clear that the tragic death of Chadwick Boseman – who played the eponymous superhero T'Challa in the original "Black Panther," as well as several other MCU projects – had a massive impact on the story and tone of this highly-anticipated sequel.
Not only does the film's story emphasize just how devastating his death was to the "Black Panther" franchise (as the citizens of Wakanda can be seen mourning T'Challa throughout the film's official trailer), but director Ryan Coogler has also gone on record to state that the loss of Boseman even had an impact on the film's visual style — citing the frequent use of water within the film as a way of communicating loss and grief (via Entertainment Weekly).
It's clear that Boseman's memory looms large over the cast and crew of "Black Panther: Wakanda Forever," not only due to his importance within the MCU but because of the immense talent he displayed on the screen. Indeed, his "Black Panther" co-star Lupita Nyong'o fondly remembers one particular moment when she was extremely impressed by Boseman's commitment to his craft.
Nyong'o caught Boseman studying while the rest of the cast was sleeping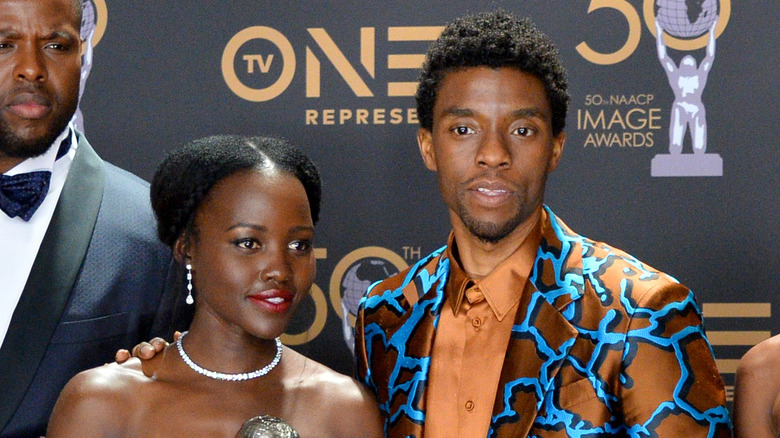 Featureflash Photo Agency/Shutterstock
During a recent interview with "The Tonight Show featuring Jimmy Fallon," Lupita Nyong'o praised Chadwick Boseman as an "eternal student" — recalling a moment when she caught Boseman reading while the rest of the cast was sleeping.
"I remember when we were promoting the first 'Black Panther,' we were all on a plane to South Korea... and so, most of us were asleep," Nyong'o explained. "I woke up from a nap, looked over, and Chadwick was sitting there with a dense history book. An African history book. And I was like, 'Yo, Chadwick, right now?"'
Nyong'o said that Boseman went on to explain to her exactly what it was he was reading. She continued, "He always wanted to just sharpen his mind, and in doing so, he just sharpened his understanding of the human condition." This short anecdote is a prime example of the extreme work ethic that Boseman brought to the production, and of the respect that his castmates still have for him to this day.
Boseman displayed a similar work ethic during the production of 42
Indeed, this is far from the first time that the late Chadwick Boseman has received praise for his extreme commitment to his craft and his intense work ethic. A 2020 article from The Athletic chronicled the overwhelming amount of work Boseman put into his performance for the 2013 sports biopic "42," in which he portrayed baseball legend and civil rights icon Jackie Robinson.
According to The Athletic, Boseman spent four months preparing for the role by training on the baseball field at Westlake High in Thousand Oaks, California — spending 3 to 4 hours a day, 4 days a week, honing his baseball skills to give his performance an added layer of authenticity. Nick Dingman, a former college player who helped train Boseman during this process, was incredibly impressed by Boseman's commitment to this challenge, saying, "(It's) almost like learning a musical instrument at 30. It didn't discourage him." Former minor league player David Iden fondly recalled how Boseman would always ask for extra reps during their workouts for "42," on top of the already immense amount of work Boseman was doing for the film itself. "He wanted to be perfect," Iden said.
The respect and admiration from both Lupita Nyong'o and his baseball trainers from "42" make it clear that Boseman more than earned the moniker of "eternal student" for the intensive research and training he committed himself to.