Sam Waterston Compares Law & Order's Teamwork To That Of The Harlem Globetrotters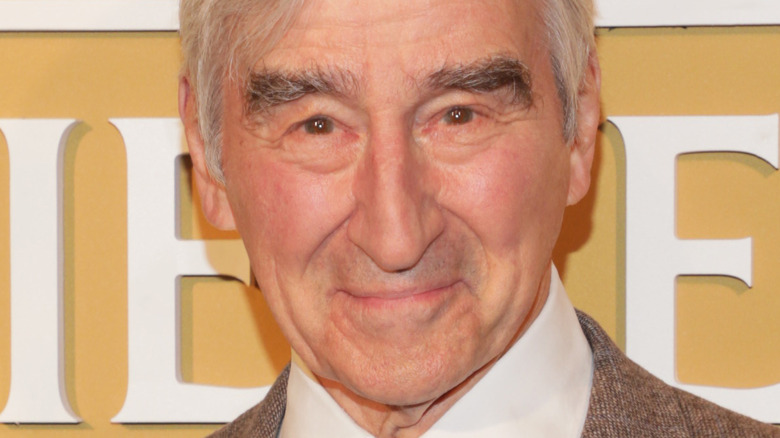 Rob Kim/Getty Images
The "Law & Order" Season 22 premiere notably featured a giant crossover between itself, "Law & Order: SVU," and "Law & Order: Organized Crime." This has certainly been a milestone for creator and producer Dick Wolf, and it's quite the feat for "Law & Order" to come back so strongly after originally ending in 2010. Season 22 notably features some new characters and some familiar faces from the show's storied past. "Burn Notice" actor Jeffrey Donovan is Detective Frank Cosgrove, the new partner for Kevin Bernard, played by "Law & Order" veteran Anthony Anderson (via NBC). Lieutenant Kate Dixon (Camryn Manheim) has replaced Anita Van Buren (S. Epatha Merkerson), and the new assistant district attorneys, Nolan Price (Hugh Dancy) and Samantha Maroun (Odelya Halevi), are led by none other than Sam Waterston's D.A. Jack McCoy.
Waterston is officially the longest-running cast member of the series, appearing in just under 400 episodes of the show from 1994 to 2022 (via IMDb). Jack is known for being particularly rebellious at times, often bending and even breaking the rules of the law to do what he believes is right. Although his methods sometimes aggravate the NYPD and his fellow district attorneys, many respect him because of his inherent passion for justice, no matter the cost.
Waterston has been vocal about feeling grateful to return to the show despite initial hesitance (via Variety), and he recently explained he sees a lot of teamwork within the cast of "Law & Order," comparing them, interestingly, to the Harlem Globetrotters.
Sam Waterston says the Law & Order cast is like a basketball team
During a conversation with In Creative Company this past March, Sam Waterston was asked about performing scenes with the same cast members or even new ones for so long on "Law & Order." The interviewer wanted to know more about how each actor might know what the other would do during a scene with improvisation, mannerisms, or other elements. Waterston explained that "Law & Order" aspires to be a great team, specifically like that of the iconic exhibition basketball team, the Harlem Globetrotters. He implied that similar to the Globetrotters' ability to "pass without looking," the main cast on "Law & Order" can do the same thing by making a scene come alive.
"Well you're too young to even know what I'm referring to but — the Harlem Globetrotters, have you ever heard of them? They were a basketball team," Waterston asked. "They could play with each other, pass to each other without looking and of course, that's what all great basketball teams do and that's what shows like ours aspire to," he continued. Waterston ended his response by noting that teamwork is ultimately the key for the "Law & Order" cast. As Season 22 of the series continues, Waterston also explained in the interview that he hopes he hasn't "lost a step" and "picked up new skills" in the interim 10 years that "Law & Order" and Jack McCoy were supposedly done for good.
New episodes of "Law & Order" Season 22 return this Thursday, October 27th, at 8/7c on NBC.