Henry Cavill Placed A High Emphasis On Geralt's Emotions In The Witcher Season 2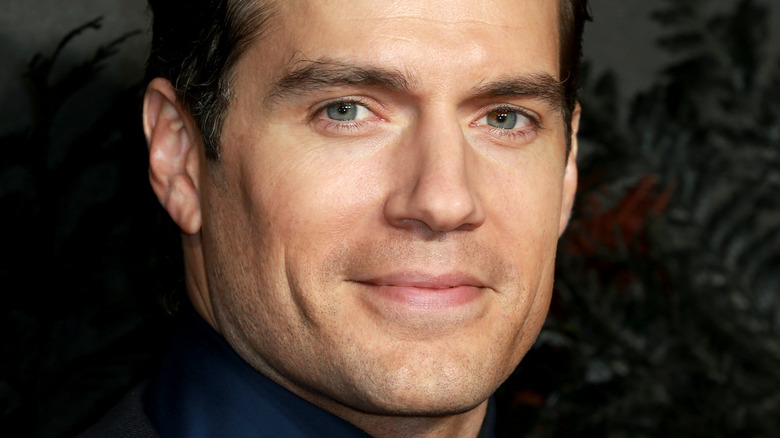 Fred Duval/Shutterstock
In 2021, as Variety reports, audiences spent over 462 million hours watching Season 2 of "The Witcher." Though shooting for the second installment was plagued by obstacles ranging from injuries to COVID-19 setbacks, the lengthy wait for the genre-blending series' return provided it seems, more than enough time for critics to resolve (or at least move past) their Season 1 confusion: at present, Season 2 boasts an impressive 95% critical score on Rotten Tomatoes.
Of course, and as is so often the case with adaptations of existing IPs, fans of Andrzej Sapkowski's book series and the CD Projekt Red games found plenty to take issue with in Netflix's spin on "The Witcher" narrative. From Ciri (Freya Allan) and Yennefer's (Anya Chalotra) relationship to the unfortunate demise of Eskel (Basil Eidenbenz), Season 2 saw its (not unexpected) share of criticism from the story's steadfast fandom. For the most part, however, audiences were pleased with Henry Cavill's portrayal of the show's enigmatic and grunty protagonist, Geralt of Rivia — so much so that some have attributed the character's success not to the writing but to Cavill himself (via Reddit).
That attribution may well be warranted. In an interview with Collider last year, the Superman star shed some light on his approach to the character, revealing the motivation and mechanics behind his lauded Season 2 evolution.
Cavill wanted to go beyond the grunt in Season 2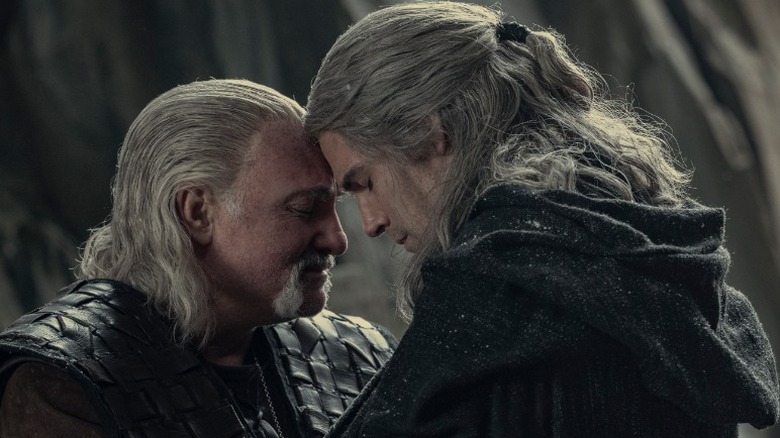 Jay Maidment, Netflix
"I wanted to lean in hard to the emotionality of Geralt this season," Cavill told Collider before the Season 2 premiere. "We have the access point for it," he explained, adding, "we have him with his witcher brothers, and also with someone who he's protecting" (meaning his child surprise and charge, Ciri). Cavill alluded to his character's eventual (and extremely complicated and at times gutting) reunion with on-again-off-again love interest Yennefer before sharing how he and co-star Kim Bodnia approached Geralt's relationship with his mentor, Bodnia's Vesemir.
"Kim Bodnia and I worked very hard," Cavill explained, "on trying to bring that emotional connection in, rather than just antagonistic men who were grumpy living in the mountains telling each other off for everything, we wanted to make it more about a brotherhood."
While the early scenes at Kaer Morhen gave viewers plenty of gruff, antagonistic moments between the various witchers, Cavill's decision to show Geralt's softer side was a wise one, particularly considering all that the collective of monster hunters went through.
Cavill looked to real life for emotional inspiration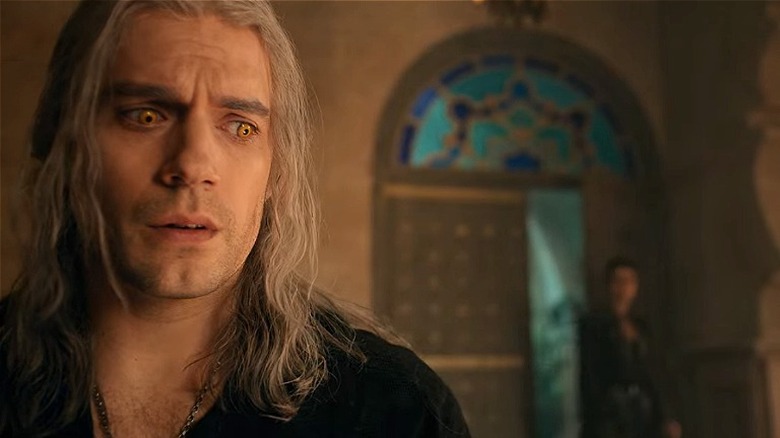 Netflix
The witchers lost one of their own (Eskel) in a particularly gruesome fashion before losing several more men to a Voleth Meir-possessed Ciri. To tap into Geralt's and his make-shift family's inner worlds and emotions, Cavill looked to real life for inspiration. "In my experience with people who are hardened warriors," the actor told the outlet, "they tend to be the most emotionally connected of us all, and it's something I really wanted to portray with these guys."
Of course, Geralt's connection to Vesemir and his fellow witchers is just one of the many emotional threads the actor had to weave into his character's growth and depiction. While Season 1 gave viewers Geralt in his most "still, sardonic waters run deep" form, Season 2 provided a protagonist with far more vulnerability and depth of motivation, in large part thanks to Cavill's portrayal of (and passion for) the character of Sapkowski's books. Geralt's reluctance to take Ciri under his wing quickly evolves into fierce paternal love in the series and the novels. In Season 2, Episode 1, Geralt nearly loses Ciri when she defies his instructions to stay put and falls prey to Agnes Bjorn's deadly and alluring bruxa Vereena. For the first time in the series, we see Geralt show real, abject fear — not the kind of fear that comes from nearly losing one's own life, but from almost losing one's child.
Season 2 saw Geralt suffer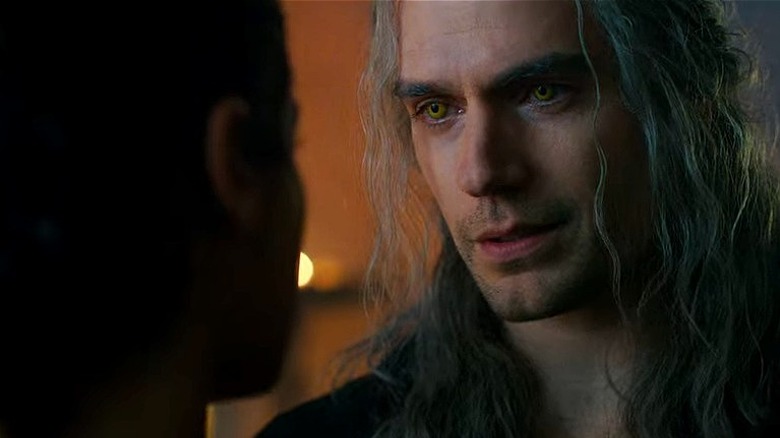 Netflix
The scene is an intentionally unsubtle foreshadowing of what's to come: from now on, Geralt's motivations, relations, and emotions will be driven, almost entirely, by his instinctual drive to protect the young princess. And that makes his reunion with Yennefer, the woman he loves, so layered and heartbreaking.
While Cavill didn't go into any (then) spoilers with Collider regarding his discovery that Yennefer is alive and well (and didn't, as he believes, die in The Battle of Sodden Hill), he did mention the emotion at play in (what fans would later learn) was their reunion. "There's a scene [in episode 6] where we see [Geralt] more emotional," he said, adding, "that was important to me, to show that he does have these connections with the people and things that he loves."
The series' decision to have Yennefer later attempt to trade (and endanger) Ciri to get her powers back may have been controversial. Still, it added further layers to the mage and witcher's relationship. Not only do we see Geralt show fear for the first time, but we also see him mourn the loss of the woman he loves, only to learn she's alive, only to have her (almost) betray him. Geralt is ultimately forced to choose between his love for her and his responsibility to Ciri. It's a decision he makes instantaneously, and one that leaves us, at the end of Season 2, with a far more nuanced hero: one who's felt, despite the mythology that witchers don't feel, the highest of highs and lowest of lows.