The Witcher's Henry Cavill Never Repeated These Memed Quotes From The Games Out Of Respect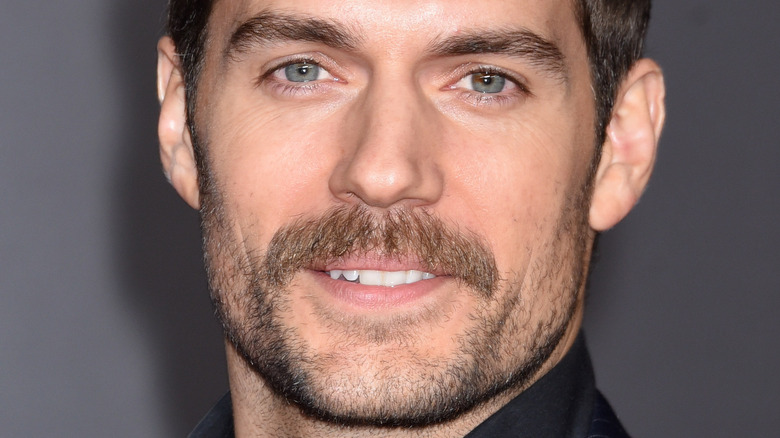 Ga Fullner/Shutterstock
In a bid to jump on the fantasy bandwagon, Netflix announced in 2017 that they would be adapting Polish author Andrzej Sapkowski's "The Witcher" into a blockbuster series. While the franchise first kicked off with a collection of short stories depicting the grim and fantastical world of the Continent, the first novel in "The Witcher" saga, "Blood Elves," didn't hit bookstores until 1994. The book later received an official English translation in 2007 (via PC Gamer), where it first began to gain popularity with western fantasy fans.
While English translations were an excellent start for global audiences to fall in love with Sapkowski's saga of monster hunters and magic, it was CD Projekt Red's daring video game adaptation of "The Witcher" that put the franchise at the top of everyone's minds. The Polish gaming company debuted its "Witcher" game in 2007, following it up with 2009's critically-acclaimed "Assassins of Kings." It wasn't until 2015 that the studio released its magnum opus: "The Witcher 3: Wild Hunt," considered one of the greatest video games of all time. The flurry surrounding the third game in the franchise saw players putting down their controllers once their journey ended, devouring Sapkowski's work.
The hoopla surrounding Geralt of Rivea, the titular monster hunter, compelled Netflix to commission a series based on the Polish phenomenon. Roping Superman star Henry Cavill in the lead role, the series debuted with eight episodes in 2019, becoming one of Netflix's biggest hits (via Insider). For viewers, it can be difficult to divorce Cavill's take on the character from the one seen in CD Projekt Red's video games. While the Netflix series, created by Lauren Schmidt Hissrich, wears its literary and gaming influences on its sleeve, there's one thing that Cavill has never dared to touch.
Henry Cavill doesn't want to take away from the Geralt voice actor
It's not unfair to suggest that most fans were first introduced to the franchise through CD Projekt Red's video games. "The Wild Hunt" has sold over 40 million copies per Game Informer, making it one of the best-selling video games of all time. Following the release of the show, sales for "The Wild Hunt" ballooned by 554% (via VentureBeat), proving that the franchise's different mediums complement one another.
While there are CD Projekt Red references and nods galore, there's one portion of the game that fans have been eagerly awaiting to see on screen. In "The Wild Hunt," Geralt voice actor Doug Cockle repeatedly says, "wind's howling" when, well, the wind howls, and "looks like rain" when rain is afoot. Both lines have been extremely memed within "The Witcher" community, and many have been hoping that Henry Cavill will utter the two iconic phrases on the show.
In an interview with BBC Radio 1's Ali Plumb, Cavill was asked when he would say the two lines after repeated inquiries from fans. The actor, a fan of the game, said that he's been compelled to say the lines onscreen but has had to stop himself. "The amount of times I've wanted to say it and I've thought, 'This is perfect, it's just starting to rain, or the wind is howling,' and then I think, uh, you know what that feels like doing an injustice to Doug Cockle," the actor said. "Doug Cockle did an amazing job there, that's his realm, I'm not going to start nicking his lines." Cavill continued by saying his Geralt voice is already a variation of Cockle's, and it wouldn't be fair to take away the voice actor's iconic lines.
Could Henry Cavill ever say the two memed lines?
While Henry Cavill said in his BBC Radio 1 interview that he wouldn't take away Doug Cockle's hilarious lines from "The Wild Hunt," it's entirely possible that his tune could change. Cavill's interview with Ali Plumb is from December 2021, nearly a full year before Cavill shot his secret cameo as Superman for "Black Adam." Following his return as the Man of Steel, Cavill publicly confirmed via Instagram that DC fans hadn't seen the last of the Kryptonian. This announcement was followed by several reports suggesting that a "Man of Steel" sequel was underway, with Warner Bros. Discovery accepting pitches from writers (via Variety). While the news was met positively by DC viewers, it has led to a contentious development for one of Netflix's greatest successes.
Just days after his candid conversation with fans, Cavill revealed that he was calling it curtains on "The Witcher," revealing that the third season would be his last as the monster hunter. Cavill confirmed that Liam Hemsworth would take on the role of Geralt in his stead. While this news is certainly a bitter pill to swallow, especially after Cavill was said to play the monster hunter for seven seasons, could his departure lead to the iconic video game lines finally being said? Only time will tell if winds will be howling when Cavill decides to wrap up his tenure as Geralt.