Why Daniel Radcliffe Is Especially Proud Of His Performance In Swiss Army Man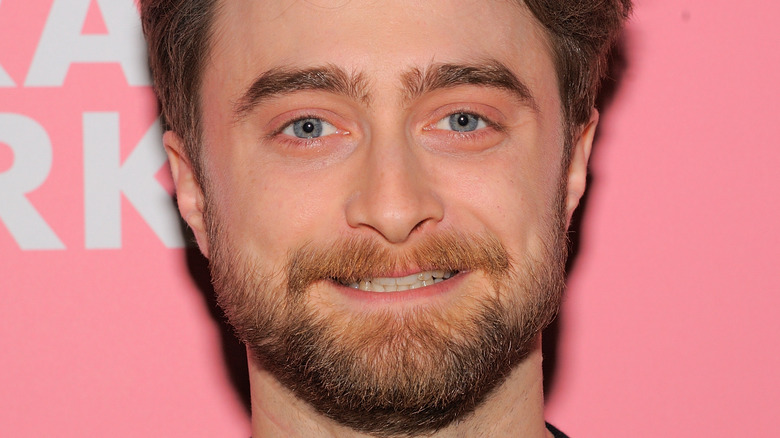 Ron Adar/Shutterstock
To an entire generation of movie lovers, Daniel Radcliffe is, and ever will be known for playing the boy who lived in the "Harry Potter" film franchise. And that will likely be true for several generations to come. For his part, Radcliffe has always seemed accepting of that fact, and even tearfully celebrated the franchise's legacy, along with its unimaginable impact on his own life with former cast mates during HBO's recent reunion special. 
That being said, Radcliffe has essentially spent the better part of the past decade taking roles as far from his Hogwarts counterpart as he can find. Along the way, he's become one of the more widely respected young actors to emerge from the "Harry Potter" franchise. That has a lot to do with the actor taking a sort of "the higher the risk, the higher the reward" mentality to choosing his post-Potter roles. It's safe to say one of the biggest risks of Radcliffe's career came in 2016 when he signed on to play a perpetually gassy corpse in the deliriously off-beat dramedy "Swiss Army Man." 
Radcliffe's swing-for-the-fences approach to playing Manny helped "Swiss Army Man" become a hit with both critics and audiences (per RottenTomatoes), and it remains a performance he's apparently very proud of, Radcliffe recently revealed.
Radcliffe wasn't sure how he was gonna play his unusual role in Swiss Army Man prior shooting it
If you've yet to see "Swiss Army Man," the film follows Paul Dano's Hank who, hopelessly on a deserted island, finds a new lease on life when he befriends an exceedingly flatulent dead body (Daniel Radcliffe). After naming the corpse Manny, the pair set off on a survival adventure in the woods that ends in the unlikeliest of places. That setup is as left-of-center as it sounds. While "Swiss Army Man" undoubtedly asks a lot of its viewers, it does so with a heart-on-it-sleeve sincerity that exudes genuine warmth and pathos even as Dan Kwan and Daniel Scheinert (who co-wrote and co-directed the film) suffuse the action with near-mystical weirdness. 
Dano's and Radcliffe's heartfelt, go-for-broke performances are the reason the madness hits so hard in the film's final act. But as Radcliffe recently told GQ, his path to breathing undead life into Manny was not easy. 
"I fully didn't know what I was going to do as this character for the longest time," Radcliffe admitted, adding, "I had no idea what Manny was gonna be." As Radcliffe recounts, he spent considerable time working on different voices and affectations for the character, but nothing clicked. The actor claims that changed when his first makeup test proved he didn't have to emote Manny's deadness, and could, "be this sweet little character... but he'll just look like a dead sweet little character."
Radcliffe's work in the film is arguably the best of his still-young career. The film clearly ranks high on his own list of favorites too, with the actor telling GQ, "That's one of the best experiences I've ever had. And probably the film I'm proudest of."