Brilliant Movies Of 2016 You Totally Missed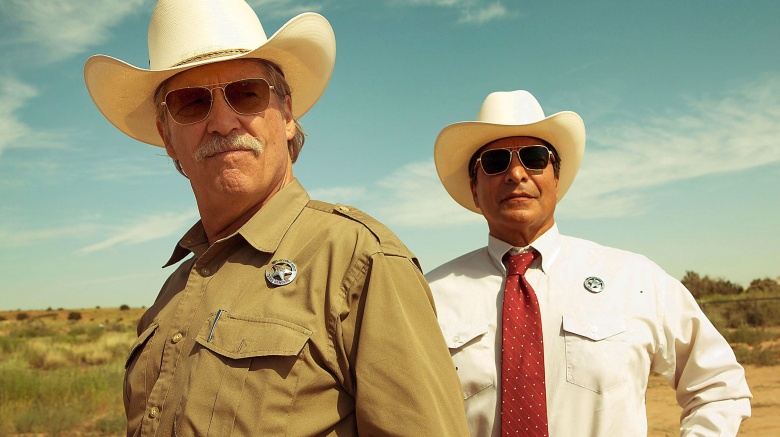 This year gave us so many great blockbusters that even the most ardent film fan could be forgiven for missing out on a few of the better offerings that flew under the radar at the cineplex. With that in mind, here's a look back at some of the releases that deserved more love from the box office in 2016. Adjust your queue accordingly—many of these titles are already available on your favorite streaming service.
The Edge of Seventeen
This hilarious, touching and at times biting coming of age story focuses on high school junior Nadine (played by Hailee Steinfeld), whose life is turned upside down when her best friend starts dating her brother. The story weaves between her own burgeoning love life and those around her; the talent is top notch, and the script is whip smart. This is the teen movie you probably missed, but absolutely should see. If that's not enough, it also features Woody Harrelson as a sage teacher dispensing some hilarious life advice along the way.
Hunt for the Wilderpeople
This charmingly offbeat Sundance selection focuses on a young boy starting a new life with his foster family in New Zealand. With his new life in the balance, young Ricky (Julian Dennison) goes on the run with his new Uncle Hec (a bearded Sam Neill) in the New Zealand wilderness. As many reviewers have noted, the film is essentially a quirky Pixar movie brought to life (think Up without so many balloons), telling a sweet story that can appeal to the entire family. The film was a hit in New Zealand, but is more than deserving of a global audience.
Sing Street
If you're looking for a feel-good movie, Sing Street certainly fits the bill. Directed by John Carney (Once, Begin Again), this semi-musical tells the story of a 14-year-old boy (Ferdia Walsh-Peelo) in Dublin. The kid tries to woo a mysterious girl (Lucy Boynton) by telling her she can star in his band's music videos. He just, you know, doesn't actually have a band. From there, it's a love letter to anyone who ever sank into a good record or learned to play guitar to strum their favorite song. It's a story about the power of music itself and how it can change the world for the better—and the soundtrack ain't half bad, either.
Train to Busan
You've heard of snakes on a plane, but how about zombies on a train? This South Korean zombie flick from Yeon Sang-ho takes that pitch and runs with it, creating a white knuckle thriller and political allegory tied up in one exceptionally terrifying package. Much like George Romero used the undead as a societal allegory for consumerism a few decades ago, Sang-ho tackles some social commentary of his own. Critics have praised Train to Busan for its simple setup and deft execution, and it was so good Hollywood is cooking up a U.S. remake as you read this.
Elstree 1976
If you're a fan of the original Star Wars trilogy, this is an absolute must-see. With the franchise hitting peak saturation with The Force Awakens, Rogue One and the animated series Rebels, Elstree 1976 is a deep dive into the underbelly of a galaxy far, far away. Instead of telling the stories that have all been told a thousand times, this semi-documentary tracks the actors in those alien suits, and some folks who saw their entire arcs end up on the cutting room floor. They might've taken on the tiniest of roles, but this franchise continues to affect their lives decades later.
Hell or High Water
If you only know Chris Pine from the Star Trek movie, Hell or High Water serves as a reminder of just how much range the young version of Kirk actually has when given a meatier role. This modern Western drama focuses on a pair of bank robbers being tracked by a Texas Ranger (played by Jeff Bridges). Touted by critics as one of the best films of the year, Hell or High Water rises on the strength of an excellent cast, subverts all the old genre clichés, and packs an emotional sting in its closing act.
Moonlight
This one has landed on just about every "Best Of" list out there, and for good reason. Director Barry Jenkins has assembled a fantastic cast to tell the story of one man's journey through life as he discovers himself—from childhood all the way through adulthood. It's ambitious and intimate, tracing a tale of sexual discovery and race unlike virtually anything else at the box office. The cast, led by Mahershala Ali, do an amazing job of bringing an unforgettable story to life.
Manchester by the Sea
Kenneth Lonergan's (You Can Count On Me) latest project is the full-bodied family story of an emotionally stunted man who returns to his hometown to raise his 16-year-old nephew. Critics have raved about the performances of stars Casey Affleck, Michelle Williams, Kyle Chandler and Gretchen Mol—and for good reason. It uses a simple setup to tackle complex themes, delving into crippling grief while dissecting everything from the meaning of family to how those left behind deal with death.
The Lobster
This one proved a hit on the festival circuit, and it certainly gets points for having one of the most original premises of the year. The story follows a man, played by Colin Farrell, who's dumped by his wife. If that wasn't sad enough, he lives in a world where you're turned into your favorite animal if you don't find a new love in 45 days. After deciding to throw in with a rebel faction, Farrell's David embarks on an unorthodox romance; director Yorgos Lanthimos uses the format as a way to poke fun at our societal norms while telling a truly compelling story along the way.
Paterson
Before breaking big as Kylo Ren in Star Wars: The Force Awakens, Adam Driver got his start in indie films. Despite his box office success, Driver hasn't forgotten his roots. He put in an acclaimed effort in this Jim Jarmusch drama, which focuses on a bus driver (Driver) and his wife (Golshifteh Farahani) as they navigate the interesting simplicity of their daily lives. It shows the contrast of how each life is different, while simultaneously reminding us how they can weave together through relationships. Critics have praised the small scale and how it relishes in small everyday moments.
Swiss Army Man
It's Daniel Radcliffe's most interesting role yet: a corpse. This quirky dramedy focuses on a shipwrecked man (Paul Dano) who befriends a dead man (Radcliffe) and takes him on an epic adventure. And that's only the beginning. The film is probably one of the weirdest you'll see this year, but it's worth the chance. It has a ton of heart, and about every bit of humor you can mine from a man hanging out with a flatulent body. Critics have called Swiss Army Man everything from whimsical to deliriously fun, and it's almost an R-rated fairy tale...with fart jokes.
Kubo and the Two Strings
This stop-motion fantasy adventure sadly got lost in the shuffle between Zootopia and Finding Nemo, but it's still definitely among the best animated films of the year. The story follows a young boy whose quiet life is thrown upside down when he's caught up in an ancient battle that sets him off on an epic adventure. Joined by his magical companions Monkey and Beetle (voiced by Oscar winners Charlize Theron and Matthew McConaughey, respectively), Kubo sets out to unravel the mysteries of his family history while carving out his own life. The visuals are stunning, and the story weaves together in a way that will have you laughing one minute and sobbing the next.
Jackie
We all know the story of John F. Kennedy, but it's a story that's almost never been told through the eyes of his wife. Jackie casts Natalie Portman as Jackie Kennedy, and traces the immediate aftermath of JFK's assassination and the grueling work she did to hold the country together in the days after his death and preserve their legacy. It's a fascinating angle for a story, shining a light on a strong woman who's far too often overshadowed. Critics have touted the film as a fresh window into a pivotal moment in American history, and Portman's performance has earned her some of the best reviews of her career.
The Invitation
A slow-burning mystery thriller that doubles as an appealingly nasty dig into the emotional fallout from a tragic divorce, The Invitation has Jennifer's Body director Karyn Kusama making an assured return to feature filmmaking after a few years in the TV trenches. Unfolding at a house party thrown by the ex-wife (Tammy Blanchard) and new husband (Michael Huisman) of a man (Logan Marshall-Green) who's starting over with a new relationship, the story starts with a simmering stew of potentially toxic ingredients and spends the next 100 minutes expertly ramping up the tension.
Midnight Special
No one captures modern-day middle-class dread quite like director Jeff Nichols. With 2011's Take Shelter, he focused on a suburban husband (Michael Shannon) whose disturbing dreams of impending doom could either be visions or signs of an emotional collapse. Five years later, the duo reunited for the story of a father racing against time to protect his son (Jaeden Lieberher) from outside forces bent on taking advantage of his seemingly superhuman abilities. It's far from the biggest box-office draw of the year. But for anyone who's ever felt the weight of parental responsibility, Midnight Special proved Nichols could graduate from the indie ranks to the studio system without losing a single heartbreakingly poignant step.
Green Room
Green Room falls a little off the beaten path, but it's still well worth checking out for anyone who likes their action movies to have a sharp set of teeth—or anyone who enjoyed Blue Ruin, writer-director Jeremy Saulnier's 2014 debut. This time out, Saulnier plunges viewers into the hellish ordeal experienced by a punk band (including Anton Yelchin, Imogen Poots, and Arrested Development vet Alia Shawkat) who attract the bloodthirsty ire of a pack of murderous neo-Nazi skinheads. Did we mention that Patrick Stewart is the homicidal owner of the club where the band is trapped? Green Room is equal parts smart and nasty—and one of the more sinfully enjoyable indie efforts of 2016.
The Witch
It isn't hard to find a horror movie offering up a few jump scares or some slasher gore. One with enough faith in its audience to take things slow or get a little weird? That's a little trickier—and it's what genre fans got with The Witch. This movie announces writer/director Robert Eggers as a filmmaker worth watching. The story, which unspools in a spooky thicket of woods in 17th-century New England, follows a path that should be more or less familiar to anyone who's ever indulged in period horror. It's Eggers' execution that makes The Witch so creepily compelling. And it's his flair for imagery that will leave it lingering in your mind for days.
Don't Think Twice
You may not have heard of this film, but you probably know a few of its stars. This indie comedy pulls together Key and Peele alum Keegan-Michael Key, plus Community co-star Gillian Jacobs, as members of an improv troupe in New York City trying to break big in a Saturday Night Live-style series. The film received a ton of critical acclaim, and takes a deep dive into the challenges of trying to make it as a comedian—or any type of creative professional, really—in the 21st century. It's a bit inside baseball about the comedy industry, though it's actually a really fun world to get a peek into. It's also a nice reminder that funny people are just like all of us. Just, you know, a bit funnier.
Little Men
This indie drama stars Greg Kinnear as a father and husband, and tracks his family's journey as they move back to his childhood Brooklyn home. But the real story is about his son, 13-year-old Jake (Theo Taplitz), and the way the problems of adults tend to trickle down and affect the children. Critics praised the movie as a small story that hits home on some very big points, as well as "quiet and engrossing." Director Ira Sachs has a knack for finding the humanity in this story of family life, and driving it home in a way that pretty much anyone who has ever faced a challenge can relate.
Eye in the Sky
This high-concept drama pulls together an A-list cast to explore a modern wartime story in a taut thriller. The film follows a colonel played by Helen Mirren as she commands a top secret done strike operation. But an operation goes awry, and the life of a young girl is thrown into the balance when a drone strike mission gets far more complicated than anyone had planned. The battlefield operation eventually reaches the top of the U.S. and British government, as viewers get a bird's-eye view of all the factors that go into these types of military operations. The film stars Mirren (Trumbo, The Queen), Aaron Paul (Breaking Bad, Need for Speed), Barkhad Abdi (Captain Philips), Iain Glen (Game of Thrones) and the late Alan Rickman (Die Hard, Harry Potter).
The Wailing
This South Korean horror film follows a policeman who teams up with a shaman to look into a spate of mysterious deaths. It's written and directed by Hong-jin Na, and though it's a bit long at two-and-a-half hours, it's well worth taking the time. Critics raved about the narrative Na constructed, calling it "stupendously entertaining" and filled with "mythic weirdness." If you're into foreign films, or just looking to expand your options a bit, The Wailing is an excellent place to start.
Under the Shadow
This international production was written and directed by Iranian filmmaker Babak Anvari, and follows a mother and daughter who are haunted by a strange evil during the Iran-Iraq war, aka the War of the Cities, in the 1980s. Critics applauded the film, saying it deftly blends family drama and subtle horror. It's creepy in some devilishly clever ways, using its lo-fi approach to maximum effect as it weaves a personal story through twisted horror tropes. Under the Shadow stars Narges Rashidi, Avin Manshadi, Bobby Naderi, Ray Haratian, and Arash Marandi.
Loving
This historical drama follows the saga of Richard and Mildred Loving, the couple at the heart of the 1967 U.S. Supreme Court decision Loving v. Virginia, designed to invalidate state laws prohibiting interracial marriage, and was inspired by Nancy Buirski's 2011 documentary The Loving Story, which told the story of the landmark case. Critics praised the performances of stars Joel Edgerton and Ruth Negga, as well as the way director and writer Jeff Nichols handled the story. It's a story that's still as relevant as ever, and has been called "beautiful" and "daring."
I Am Not a Serial Killer
This supernatural horror flick is based on Dan Wells' 2009 novel of the same name. The twisty thriller follows a 16-year-old (played by Max Records) who is not a serial killer—though he has some of the same obsessions with morbidity and homicidal tendencies. Things get complicated when a real serial killer starts wreaking havoc on his Midwestern hometown, and a mission to find the real killer ramps up. The film stars Christopher Lloyd, Max Records, Laura Fraser, and Christina Baldwin. Critics called it a taut thriller that manages to tie together its darkness and gore with wry humor. It's also drawn some comparisons to Netflix's surprise hit Stranger Things.
Demon
This acclaimed Polish drama was the final film from director Marcin Wrona, who tragically committed suicide not long after it was completed. The film follows a young couple given an old family home in Poland, where things take a mysterious turn when human remains are found and the couple grapples with a dybbuk—an ancient figure from Jewish folklore. Critics praised it as a "chilling, cautionary tale about the ghosts that continue to haunt Poland long after the war."