Omri Katz Admits His Unprofessional Behavior On Hocus Pocus Gave Him An Important Wake-Up Call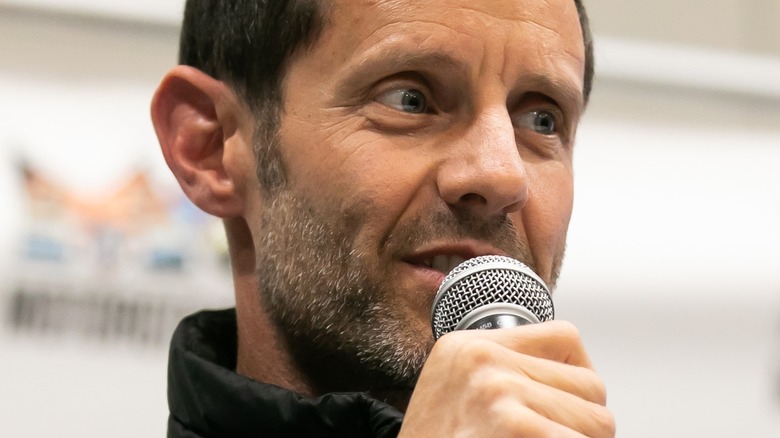 Brandon Nagy/Shutterstock
Looking back, was there anyone having a better time in the early 1990s than Omri Katz?
The former teenage acting sensation not only starred in multiple movies and TV shows between 1990 and 1993 — including the cult Disney classic "Hocus Pocus" — but he also got to rub shoulders with some of Hollywood's biggest names, such as Bette Milder and John Goodman. However, there's apparently a lot more than meets the eye when it comes to Katz's story, with things being much...hazier...than they appear.
You see, like many teenagers in the 1990s, Katz was reportedly taking part in some extracurricular activities involving America's most controversial illegal substance: marijuana, aka cannabis. While now perfectly legal in many states, the Schedule I drug was still somewhat taboo to use at the time, especially when working on a movie set with other Hollywood professionals. But Katz apparently couldn't have cared less, with him recalling his weed use and being stoned on-set during a recent "Hocus Pocus" reunion held by Entertainment Weekly.
Omri Katz's marijuana use altered his performance
Speaking to his "Hocus Pocus" castmates during EW's reunion roundtable, Omri Katz recalled how his marijuana use as a teen had a major effect on his portrayal of Max Dennison. "That was at an age where I started experimenting with cannabis," he explained. "Let's just say, some of those scenes, I was having a good old time." 
According to Vinessa Shaw, who played Max's love interest, Allison Watts, it was obvious Katz was sparking up before takes. During one scene, which Shaw and Katz remembered vividly, Max was supposed to look as if he was in pain after being shocked by a bolt of green magic from Winifred Sanderson (Bette Midler). But, instead, the zap looked euphoric. After repeatedly showing up high, "Hocus Pocus" director Kenny Ortega apparently stepped in. "Kenny comes up to me and practically grabs me by the shirt, and he was like, 'Are you high?' and I was like, 'No,' and of course, I was," Katz continued. "We got it done, but that was kind of a wake-up call, like, Omri, you've got to be a little more professional and make sure you hit your cues!" 
As for why Katz didn't appear in the recently released "Hocus Pocus 2," the former child star simply said things didn't work out. "I would have loved to be involved," Katz said. "I feel bad for the original fan base saying we aren't because I'm sure they wanted to see us reprise our roles." But in the end, he's happy to see the franchise gain new life. "I think it'll be good for everyone who loved the original!" Katz said.