Law & Order: SVU Fans Are All Sorts Of Emotional Over Mariska Hargitay's Instagram Post With Kelli Giddish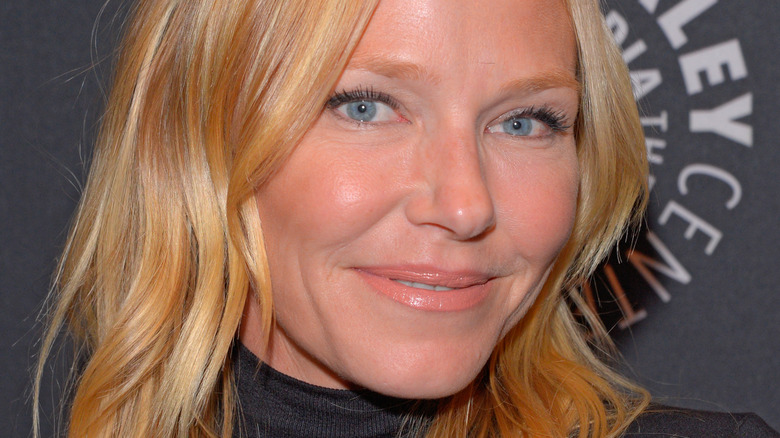 Ron Adar/Shutterstock
Kelli Giddish joined "Law & Order: Special Victims Unit" in Season 13 as Detective Amanda Rollins, after Christopher Meloni abruptly left his role as Detective Elliot Stabler. The character has been a fixture on the show ever since, and when Giddish announced on her Instagram that she would be leaving the show, fans were devastated. But when Variety revealed that the decision to leave wasn't hers, but a decision made by the higher-ups, fans became angry. "My hubby and I are boycotting the show until you come back!!" commented one poster. Once showrunner David Graziano responded to a fan's question, telling them that Giddish's last episode would be Season 24, Episode 9, it felt as if the hourglass had been flipped over.
While it's clear that Mariska Hargitay and Kelli Giddish are friends outside "Law & Order: SVU," there wasn't anything Hargitay — who is also a producer of the show — could do about the decision to remove Giddish from the Special Victims Unit. "I'm gonna miss her a lot, but she's a lifelong friend and I'm just glad that our paths crossed, and I know they'll continue to cross," she told ET Canada. As if to reiterate her point, Hargitay took to Instagram to post photos of the pals munching on cookies, and fans are getting emotional.
A photo of the two on set has fans feeling sad
Mariska Hargitay posted the Instagram photo on October 19, showing her and Kelli Giddish snacking on cookies, along with a shoutout to Ali Wentworth for bringing the treats to the set. While the homemade cookies looked delicious, it wasn't the main takeaway for many "Law & Order: SVU" fans. "I am so sad the show is breaking up this duo," commented one fan. "So going to miss your friendship on and off the show," someone else wrote.
But while the pictures made some feel sad, knowing these two won't be sharing treats on set for long, others celebrated the women's friendship. "I love this!! There's nothing better than strong female friendships. One of the greatest and most beautiful relationships we can experience in this life," one person commented. "I just love this friendship!!! Makes me feel so good!" wrote another.
While the countdown has begun to Giddish's last episode on December 8 (via TV Line), this post is a reminder that, like so many friendships in real life, the bond between Hargitay and Giddish doesn't end just because they no longer work together. We're looking forward to more cookie posts: on Hargitay or Giddish's couch.