Rihanna's Return To Music In Black Panther: Wakanda Forever Is Thanks To Motherhood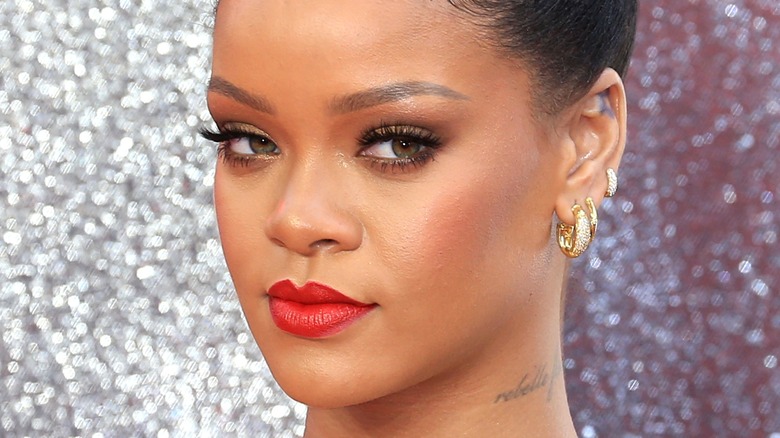 Fred Duval/Shutterstock
When "Black Panther" was released in 2018, it was the rare superhero film to break through even among superhero agnostics. In his glowing review for Rolling Stone, Peter Travers called the movie a masterpiece, an "exhilarating triumph," "an answered prayer, a landmark adventure and a new film classic." There was an overwhelming consensus among critics and filmgoers alike; "Black Panther" cleaned up during awards season, with a total of seven Academy Award nominations and three wins, and became the ninth highest-grossing movie of all time (via Box Office Mojo).
Music was integral in bringing director Ryan Coogler's vision of Wakanda to the big screen. Composer Ludwig Göransson spent months traveling around Senegal and South Africa, immersing himself in the local music and researching field recordings for what would become his Oscar-winning score (via Pitchfork). Additionally, Kendrick Lamar curated a soundtrack album that features big names like SZA, Vince Staples, The Weeknd, and Travis Scott.
Ahead of the highly-anticipated "Black Panther: Wakanda Forever," it's been confirmed that Rihanna (this is not a drill!) will release her first new music since 2016 as part of the sequel's soundtrack. Here's why Rihanna's involvement with "Black Panther" is especially poignant.
Rihanna's new role as a mother resonates with the themes of Black Panther: Wakanda Forever
Our great national nightmare is over. After more than 2,460 days (but who's counting?) since her album "ANTI," Rihanna is releasing new music for the "Black Panther: Wakanda Forever" soundtrack. On October 28, the artist tweeted a sneak peek of her upcoming track "Lift Me Up," accompanied by a shimmering "R" in the "Black Panther" font. Co-written by Nigerian singer-songwriter Tems, Ludwig Van Göransson, and Ryan Coogler, who is returning to direct the sequel, "Lift Me Up" will be released on October 28 ahead of the film's premiere on November 11.
According to Coogler, Rihanna's extra-musical pursuits — that is, running a billion-plus dollar business and becoming a parent — influenced "Lift Me Up." "Rihanna, man, we knew she was at a point in her life as well where she was focusing on different things — focused on business, motherhood, which is a big theme in our film," Coogler told The Hollywood Reporter. "We were holding out hope that maybe it could work out and boy did it for this song. I can't wait for people to hear it."
Just as Kendrick Lamar's multilingual, multicultural soundtrack reflected a futurist, Pan-African utopia, Coogler hopes that Rihanna's track will tap into the film's themes of self-sufficiency, resilience, and motherhood. Indeed, motherhood — and Black womanhood specifically — figures largely into the "Black Panther" franchise. In the teaser trailer for "Black Panther: Wakanda Forever," Ramonda (Angela Bassett) is featured prominently as a mother in mourning, and a new, considerably more aquatic mother is introduced.
Rihanna's Black Panther track is also a tribute to Chadwick Boseman
The "Black Panther: Wakanda Forever" trailer may hint at new life, but it's also a space for grief. The absence of the late, great Chadwick Boseman looms large over the upcoming film. For Ryan Coogler and Tems, the new song from Rihanna is, in part, a tribute to Boseman's legacy.
"After speaking with Ryan and hearing his direction for the film and the song, I wanted to write something that portrays a warm embrace from all the people who I've lost in my life," Tems said in a statement (via Vulture). "I tried to imagine what it would feel like if I could sing to them now and express how much I miss them. Rihanna has been an inspiration to me, so hearing her convey this song is a great honor."
Boseman died of colon cancer in 2020. Prior to his death, he had planned to return as T'Challa in the sequel. While presenting "Black Panther: Wakanda Forever" at San Diego Comic-Con, Coogler said that "we put our love for Chadwick into this film" (via Deadline). With the help of Rihanna, that love will come across on the soundtrack as well.