Ant-Man 3's Jonathan Majors Started Every Day On Set By Jogging In Kang's Battle Armor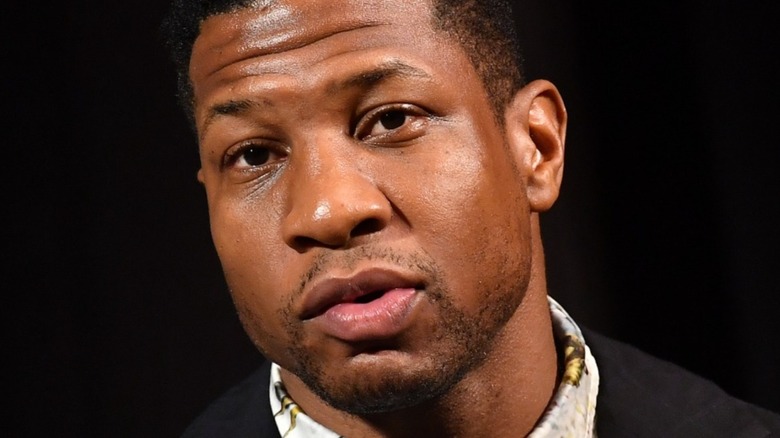 Paras Griffin/Getty Images
As if we needed any more proof of Jonathan Majors' commitment to a role, "Ant-Man and the Wasp: Quantumania" producer Stephen Broussard reveals in a new interview how Marvel's Phase 5 supervillain would regularly start his days jogging around the soundstage and set in full Kang the Conqueror garb — toting a portable speaker along with him.
2023 is shaping up to be a gargantuan year for Majors, who is getting his big-screen MCU debut in February, and then "Creed III" a month later. In that movie, the former "Lovecraft Country" and "Loki" star will be playing another baddie in Damian "Dame" Anderson opposite Michael B. Jordan. The character can be seen in the "Creed III" trailers and promotional material looking like a serious force to be reckoned with, all thanks to Majors' menacing physique.  
"Man's about to piece up killmonger then the rest of the mcu," joked Twitter user @alfswan. 
When listening to Broussard and others talk about Majors' work ethic, it's easy to see why he looks the way he does right now. Men's Health was so impressed that it profiled Majors and his incredible fitness journey, which has the 33-year-old down to just 5 percent body fat now. And if you thought Chris Hemsworth went to drastic lengths getting ripped to play Thor, wait until you hear about what Majors did.
Jonathan Majors put himself through 'brutal cardio' and strength conditioning
According to Men's Health, Jonathan Majors spent the past year adding over 15 pounds of muscle for "Ant-Man and the Wasp: Quantumania," "Creed III," and his upcoming 2023 bodybuilding drama "Magazine Dreams." His fitness routine included "brutal cardio" and "mental conditioning," per the magazine, which is what the whole jogging in his Kang battle armor thing likely stemmed from. 
"He is the warrior version of Kang, so there was a focus on what that warrior would look like who's been around through the ages and has developed every type of combat skill," explained Majors' strength-and-conditioning coach Jamie Sawyer. "It was about making him look like an imposing figure," he told Men's Health. 
In 2021, Majors reportedly began his fitness journey with Sawyer and other trainers connected to the various projects he was working on. Producer Stephen Broussard described him as having "an insane work ethic" that included Majors showing up on set early to do his Kang jogs. "If I'm going to bench-press 250 in a film, I need to be able to bench-press 275 a few times," Majors told Men's Health, before correcting himself and saying, "305 a few times." In terms of what his keys to physical success are, the California native and Texas transplant told E! News on October 17: "Hard work. A lot of chicken and rice. A lot of turkey and rice. A lot of bison and rice. Eat a lot, pray a lot, sweat a lot, lift a lot, stretch a lot, sleep a lot."