Jonathan Majors Says Damian's Physique In Creed III Is Rooted In Trauma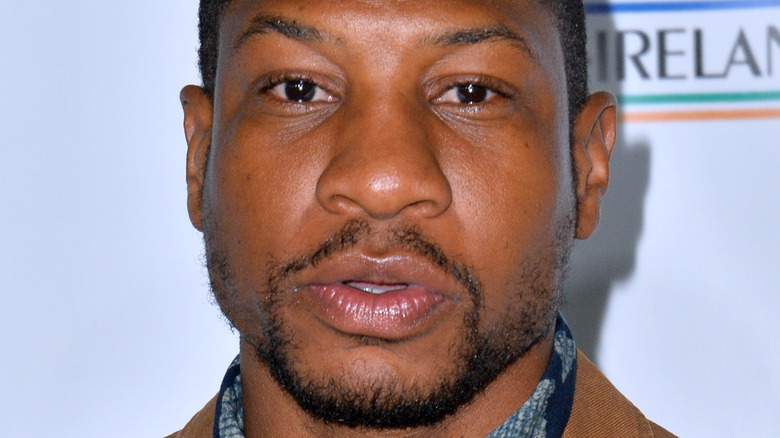 Featureflash Photo Agency/Shutterstock
Jonathan Majors is taking Hollywood by storm. The California native rose to prominence with his star-making role in 2019's "The Last Black Man in San Francisco," a film that nabbed him a Best Supporting Actor nod at the Black Reel Awards. The turn of the century saw Majors step into the cosmic horror world of HBO's "Lovecraft Country." His performance was met with universal acclaim, leading to an Outstanding Lead Actor in a Drama Series nomination at the 2021 Emmys.
Majors then padded out his CV with an appearance in "Loki" as He Who Remains, a variant of the nefarious Kang the Conqueror, who is poised to be the next major baddie for Marvel Studios' Phase 5 and 6. The star will return as the time lord in Marvel's first 2023 project: "Ant-Man and the Wasp: Quantumania." But that's not all Majors has to offer next year. Joining Marvel alumni Michael B. Jordan in his directorial debut, Majors will star in "Creed III," the latest entry in the larger "Rocky" franchise.
"Creed III" sees Majors stepping into the role of the unhinged Damian, a childhood friend of Adonis' (Jordan) who is arrested at a young age. A boxing prodigy, Damian returns from his stint in prison, ready to go head-to-head with his friend, who has spent the last few years enjoying the fruits of his labor.
To step into the boxing ring, Majors naturally had to get into routine to pull off the look and physicality of a champion. While there's a heavy dose of lifting and bulking, Majors says that the character's look and physique is rooted in trauma.
Jonathan Majors says Damian is built from loss
While speaking with Men's Health about his physically demanding slew of roles, Jonathan Majors revealed that his performance as Kang the Conqueror for the "Ant-Man" threequel demanded he gain 10 pounds. "Creed III" required an additional five. Down to just 5% body fat, Majors is in the best shape of his life, ready to take Michael B. Jordan on in the ring.
To get into Damian's (or Dame as he's referred to in the film) mind and body, Majors had to channel the prodigy's anger and trauma. "There are certain reasons you build your body," the actor shared. "Dame's body was built from loss. He had lost something, and that hole is what made him work the way he worked. When you see Dame's body, you go, Oh, that makes sense. You don't look like that and be happy with life." It's crystal clear that Dame isn't happy with life and is built with anger as he begins beat opponents to a violent pulp during a training session. 
What has Dame lost? While details are slim on Damian and his beef with Adonis, the first trailer for "Creed III" suggests that there is paramount resentment on the former's end. As for why the would-be boxing star was arrested in his youth? Only time will tell what heartbreaking revelations Jordan has in store for his directorial debut.