Small Details You Missed In The First Creed III Trailer
It's been almost seven years since the first "Creed" film premiered. The world met Adonis "Donnie" Creed (Michael B. Jordan), the son of the late Apollo Creed (Carl Weathers) and friend of Rocky Balboa (Sylvester Stallone) in the debut film, and "Creed III" will likely end the character's lengthy arc. While "Creed II" focused on Adonis' career as an established boxer, the threequel will see him in more of a professional role, but back in the ring as well. 
Based on what we saw in the first trailer for the film, an old friend of Adonis shows up in his life unexpectedly and turns everything upside down. Damian "Dame" Anderson (Jonathan Majors) arrives fresh out of prison, and it's clear he and Adonis have quite the history. The two got in trouble as youngsters, but Damian ended up doing significant time while Adonis only served a little bit in a juvenile detention center. Damian is back and ready to prove himself, and it'll be in the ring against his old friend. There is a lot to break down outside the basic plot in the first teaser, so here are some small details you might have missed.
Conlan lives on in Creed III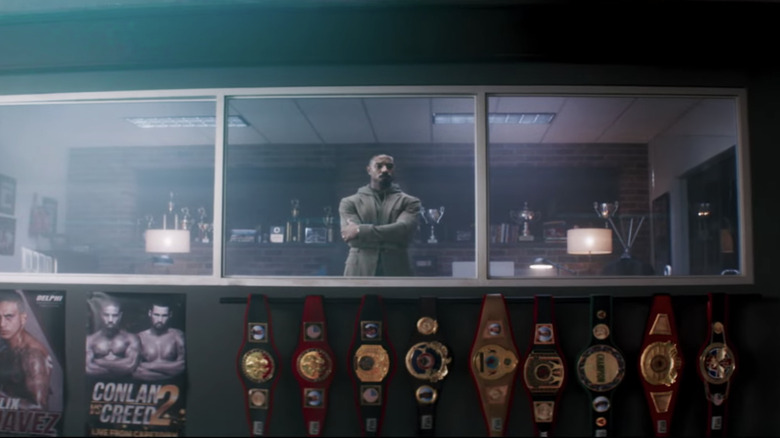 Warner Bros./YouTube
Fans of the "Creed" franchise will remember Ricky Conlan (played by real-life heavyweight boxer Tony Bellow) as the film's primary antagonist. He's the Light Heavyweight Champion of the World who Adonis fights at Goodison Park during the movie's climax.
Although that fight ended in a Conlan victory via split decision, the trailer for "Creed III" reveals that the two eventually had a rematch sometime after the events of "Creed II." The trailer begins with footage of Creed and Conlan duking it out in the ring while Creed explains what's been going on for the past seven years. This fact is confirmed later when we get a glimpse of Creed's training facility, which boasts several posters on the wall from some of his most iconic fights and opponents alongside a wall of title belts.
One of these posters reads "Conlan vs. Creed 2," and although it's not yet confirmed who won this long-anticipated rematch, the fact that Creed remains the World Heavyweight Champion in "Creed III" seems to imply that he finally got the better of Conlan in the ring.
Who is Adonis mourning?
Okay, so we don't want to jump the gun or anything, but we don't think Adonis is standing at a cemetery in black for no reason. We just fear that it's a reason we really don't want to be true. As much as mourning supporting characters in the "Rocky" and "Creed" franchise is as compulsory as slow-motion montages, there are only a few available options for whom Adonis could be grieving over in between putting on the gloves. One possibility could be that his on-screen stepmother, Mary-Anne Creed (Phylicia Rashad), who is on the cast list as making an appearance in Jordan's directorial debut, might pass away in this chapter of the fighter's story. One that's just as likely, though, is the potentially enormous shocker of the Italian Stallion being put out to pasture.
The man himself confirmed on Instagram back in 2020 that he would not be returning for the eagerly anticipated threequel, but is there a chance that his appearance in "Creed II" might've seen Rock-o bowing out for good? Might Adonis' trip to the cemetery be a bait and switch to reveal the jaw-dropping passing of Rocky Balboa? This would add more weight for the young champ to carry on a legacy, not just by his father by blood but the one that had his corner for the years after. Say it ain't so, Stallion. We don't think we're ready for that gut punch.
A deeper look into Jonathan Majors' Dame
Since it was announced that Jonathan Majors was joining the catalog of challengers to touch gloves with Michael B. Jordan, the expectation was that the unknown fighter would be another linked to past installments of the "Rocky" franchise. Like "Creed II" had a battle of legacies with our hero squaring off against Viktor Drago (Florian Munteanu), the son of his father's killer, Ivan, bets were that Majors was somehow linked to Clubber Lang from "Rocky III." Now though, the trailer finally confirms that Anderson Dame isn't connected to Rocky's past but Adonis'.
Highlighted reasonably early in the trailer, Anderson Dame is a friend during Donnie's darker childhood days when he was out of trouble before being picked up by his stepmother in the first film. After both being party to a crime, it seemed that Dame took the fall for an incident that left Creed getting off light. Now, the shadow from our hero's past has come to collect a life he feels is owed to him, and he's not going down without fighting for it. Feeling almost "Warrior"-like in its potential plot, who knows if this beef will be squashed spectacularly, but we can bet Donnie certainly has some Majors trouble coming his way. That was a knockout pun, and you know it.
Creed and Dame mirror a classic Rocky IV moment
Step into the ring with any "Rocky" fan, and chances are that the Stallion's battle with Ivan Drago (Dolph Lundgren) would most likely get a mention as their favorite from "Rocky IV." Besides trying to end the Cold War, it's the film for Stallone's stint in the franchise that had the most montages to date. Those montages accumulated a whopping 16:50 on the clock for training time (via Sports Joe), with his most standout moments being him on top of a mountain shouting "DRAGO!" and having a photo of his opponent in a mirror. What's interesting is that Jordan clearly has spent some time to (ahem) reflect on these highlights and may have given the go-ahead from behind the camera with "Creed III."
As the hype-o-meter continues to rise in the recent trailer, so too does a clear-cut image of both Creed and Damian staring back at themselves in the build-up to their brutal showdown. It's a look back to the past in more ways than one, given the history between these two contenders has finally been revealed. What's interesting is that given the same newspaper clipping can be seen in the mirror, is this Dame fighting his own inner demons before he faces Creed? Either way, all that's left to see now is which fight is the better match.
Little Duke is moving on up
Since we're assuming Rocky will have died between "Creed II" and "Creed III," Tony "Little Duke" Evers Jr. (Wood Harris) now appears to be Adonis' official trainer. The son of Apollo Creed's trainer, Tony "Duke" Evers (Tony Burton), Little Duke is like an uncle to Donnie and had even warned him before about getting into the ring. But now Duke has stepped up and is firmly in Donnie's corner during his fights.
Harris and Jordan share history as well, as both were cast members of HBO's "The Wire,"  though they didn't share many scenes. "Michael B. is very special, though—I always ask him how he got to be called Michael Jordan and have a career [laughs]," Harris told GQ in an interview. The actor found being directed by a person he'd known since he was a child surreal at first. But Harris also said, "just watching it, I also realized that Michael is meant to do that."