Concerns Rise Over A Possible Big Death On The Conners Season 5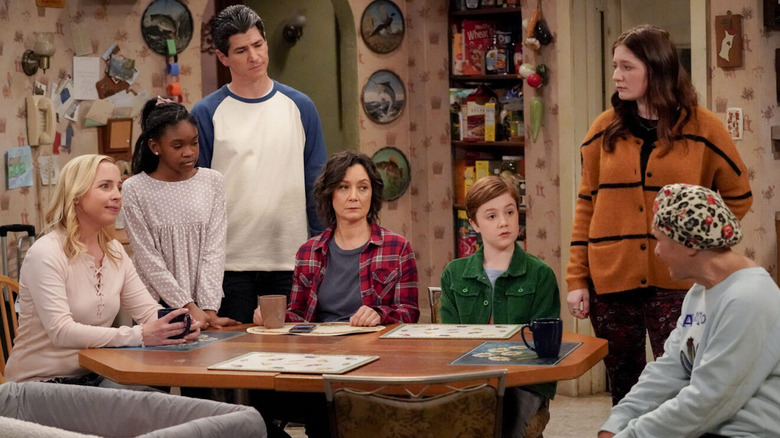 Mitch Haaseth/ABC
After re-branding and re-launching in the wake of ABC canceling the "Roseanne" revival due to controversial comments made by lead star and co-creator Roseanne Barr (via The New York Times), "The Conners" has surprised many by becoming a slightly smaller-scaled hit in its own right. In fact, the Barr-less sitcom is now well into its 5th season on the air and is currently earning solid notes for delivering a vintage Halloween episode that likely would've been the envy of the series that spawned it. 
That episode also continued the general good vibes of Season 5 of "The Conners," with several members of the Conner crew still reveling in newfound marital bliss even as they continue to face the everyday struggles of middle to sub-middle-class life in a deeply divided America. As fans of "The Conners" can undoubtedly attest, good times for the family are quite often tempered by bad times. And true to the series's dichotomous spirit, a cryptic, newly-released synopsis for an upcoming episode of "The Conners" has raised some concern that death may soon be coming for another member of the wily Conner clan.
The end may be near for Jackie and Roseanne's feisty mom Bev on The Conners
Death is, of course, no particular stranger to the Conner household as "The Conners" only forged ahead in the absence of Roseanne Barr after killing her character offscreen. Several other characters from the show have also disappeared over the years with far less explanation, O.G. star Michael Fishman's D.J. Conner among them. As reported by multiple publications, including TV Line, the synopsis for the show's upcoming Thanksgiving episode may herald the departure of another character from the original series. Said character is Beverly Harris, the terribly, and often hilariously judgmental mother of Jackie Harris (Laurie Metcalf) and Roseanne Conner (Roseanne Barr).
The recurring character was played by Estelle Parsons over several seasons of "Roseanne," with the Oscar-winning actor reprising the role in the early seasons of "The Conners." Parsons is set to return for the sequel series' 5th season, and it seems that return may bring an end to her character's overarching narrative. Per TV Line, the synopsis indeed reads, "It's Thanksgiving at the Conners and Jackie must come to terms with her mother, Beverly, becoming ill..." That plotline hardly confirms that Beverly's days in the Conner-verse are numbered, if only because it's unclear what illness she's battling. But Jackie needing to "come to terms" with the illness sounds more than a little bit ominous. And if Beverly is on her way out, it should be fascinating to see if the perpetually-bickering mother and daughter can bury the hatchet before it's too late. For now, fans will have to wait till ABC airs the episode on November 16, 2022.