Kevin Feige Offers Nothing But Support For James Gunn's Move To DC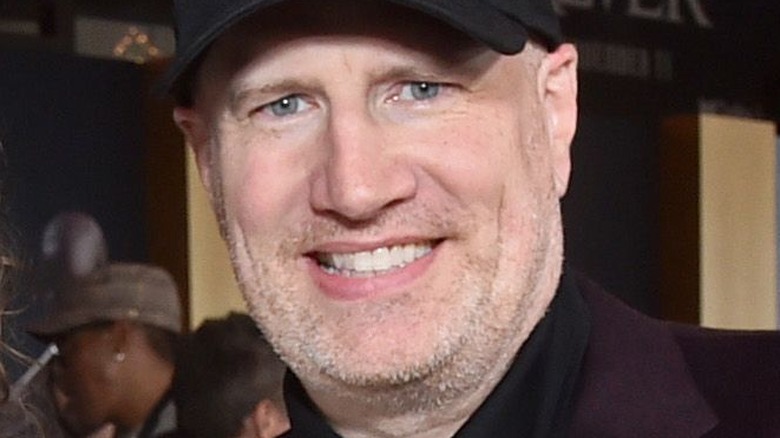 Alberto E. Rodriguez/Getty Images
DC dropped a bomb when they announced that James Gunn and Peter Safran had been tapped to lead DC Studios, overseeing film, television, and animation for the comic book giant (per Variety). Gunn, being one of the few people to work with both Marvel and DC, is revered by comic fans for his work on "Guardians of the Galaxy," "The Suicide Squad," and, of course, his "Peacemaker" series on HBO. "We're honored to be the stewards of these DC characters we've loved since we were children," Gunn and Safran said in a joint statement. "We look forward to collaborating with the most talented writers, directors, and actors in the world to create an integrated, multilayered universe that still allows for the individual expression of the artists involved ... We're excited to invigorate the theatrical experience around the world as we tell some of the biggest, most beautiful, and grandest stories ever told." Hopefully, Gunn will be able to turn around the struggling DC Extended Universe, or, as all the quotes coming from DC now call it, the DC Universe or DCU.
When Gunn posted the news to Twitter, he was inundated with congratulations from fans and celebrities alike. Comic writers J.M. DeMatteis and Marv Wolfman congratulated Gunn in the comments section, with Gunn responding by thanking them for their inspiration. Musician Jeff Rosenstock, writer Patrick Schumacker, and actor Michael Rosenbaum added their congratulations, too. Fans started immediately making requests of Gunn, such as @philipshiba, who asked Gunn to bring back Zack Snyder for some "Justice League" sequels, and @wherelightis85, who hoped for a Poison Ivy and Harley Quinn romance in live-action.
But with Gunn still having one foot in Marvel as he makes his move at DC, how does the MCU head, Kevin Feige, feel about the announcement?
Kevin Feige is very happy for James Gunn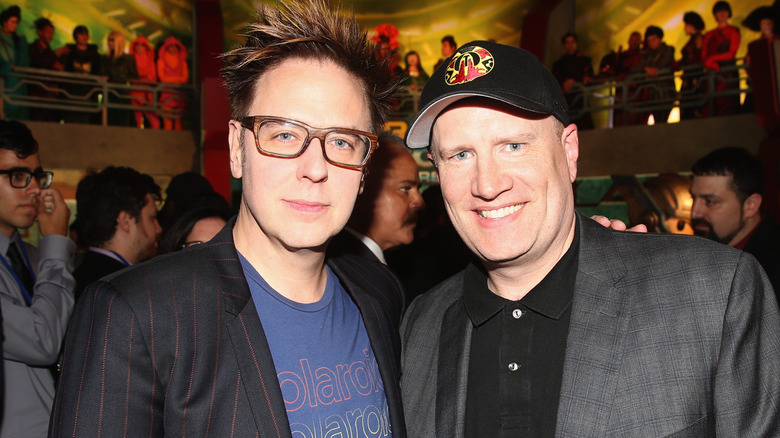 Jesse Grant/Getty Images
In an interview with The Hollywood Reporter at the premiere of "Black Panther: Wakanda Forever," Kevin Feige commented on James Gunn's ascension to the head of DC Studios, and the MCU czar had nothing but kind things to say about Gunn's promotion, even though he did question how Gunn would find the time to run a studio. "We have a wonderful thing called the Guardians of the Galaxy Holiday Special coming out," Feige said to THR. "We have a wonderful thing called Guardians of the Galaxy Vol. 3 coming out in May. How he'll have any time to work on DC until May I don't know, but once he does have the time I'll be very excited. I'll be first in line." Feige and Gunn insist that there is no rivalry between the two studios, and the two seem to be very friendly despite working for competing studios.
Even despite their friendly attitude towards each other, fans on social media seemed to pit the two comic studio heads against each other. "Kevin Feige accidentally creating his own arch nemesis is such a beautiful comic book arc," tweeted @BeanWalrus. Others commended Feige on his professionalism in praising Gunn. "Kevin Feige might be one of my [favorite] people ever," tweeted @bigscreenleaks. "It's so wholesome to see him unconditionally be a Marvel Studios alum's number one fan, even if it's for a rival studio."
That being said, Gunn's relationship with Marvel wasn't always as peachy as it is now. Back in 2018, Marvel fired Gunn for some old, offensive tweets that were dug up by conservatives mad at Gunn's opposition to Donald Trump.
James Gunn was once fired by Marvel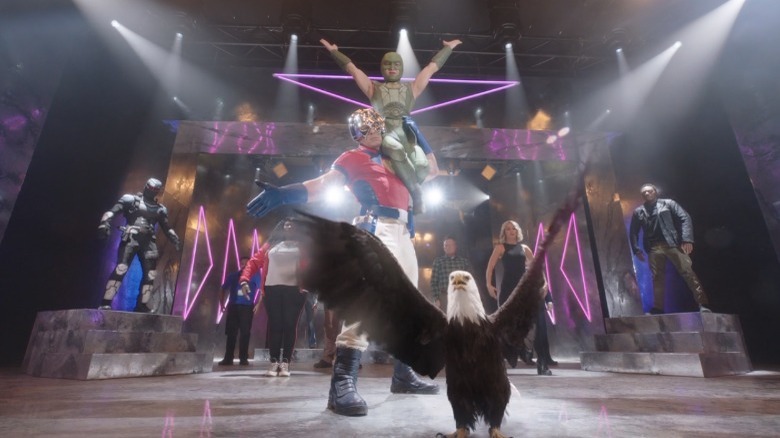 HBO Max
According to The Hollywood Reporter, in 2018, James Gunn was fired from Marvel and removed from "Guardians of the Galaxy Vol. 3" because of old tweets that surfaced of him making jokes about such taboo topics as pedophilia and sexual assault. The social media posts were dug up by conservative media outlet The Daily Caller in response to Gunn's outspoken criticism of Donald Trump. The tweets in question were posted in 2008 and 2009. "The offensive attitudes and statements discovered on James' Twitter feed are indefensible and inconsistent with our studio's values, and we have severed our business relationship with him," said Alan Horn, chair of Walt Disney Studios.
In a now-deleted tweet, Gunn responded that in the early days of his career, he thought of himself "as a provocateur, making movies and telling jokes that were outrageous and taboo" and that he had grown as a person since making those jokes (via THR). According to Deadline, the public apology that Gunn made and his contrite attitude throughout the whole process are what led to Marvel rehiring Gunn. Horn from Disney met with Gunn on several occasions to discuss the incident and seemed to think that the director was truly sorry for his tweets.
Not many people come back from being canceled, let alone come back from it to be hired as the head of a major studio and be heralded for it. But Gunn seems to have won fans' trust over the years, and most people seem to be pretty happy with his new position. What his promotion means to the DCU, though, remains to be seen.