Ghostbusters Had Multiple Alternative Titles Teed Up During Production
Nearly 40 years after the original "Ghostbusters" hit theaters in 1984, the classic comedy remains a bona fide hit with both fans and critics, according to Rotten Tomatoes. The movie was the brainchild of "Saturday Night Live" alumnus Dan Aykroyd. Aykroyd penned the original story as a project for himself and his co-star from "The Blues Brothers," John Belushi, to work on together (via Bloody Disgusting). However, once Belushi died in 1982, the indelible role of Peter Venkman was offered to another "SNL" icon — Bill Murray.
"I think at some point you spoke to Bill about perhaps picking up the mantle, and he sent it [the script] to me," filmmaker Ivan Reitman said to Aykroyd during an interview the pair filmed for "Who You Gonna Call: A Ghostbusters Retrospective." Harold Ramis was cast as Egon Spengler, and Rick Moranis landed the role of Louis Tully after John Candy passed on the part. The director, Reitman, presented a solid first draft and a wonderful cast of core players during his pitch to Columbia Pictures, and the executives responded favorably. They gave Reitman the greenlight and a $30 million budget.
"Ghostbusters" made nearly 10 times its budget as the film grossed $229 million worldwide during its original release, according to Box Office Mojo, but the movie went through a number of challenges before making it to the big screen. One such challenge was a disagreement over the film's title.
Ghostbusters was nearly titled Ghoststoppers, among others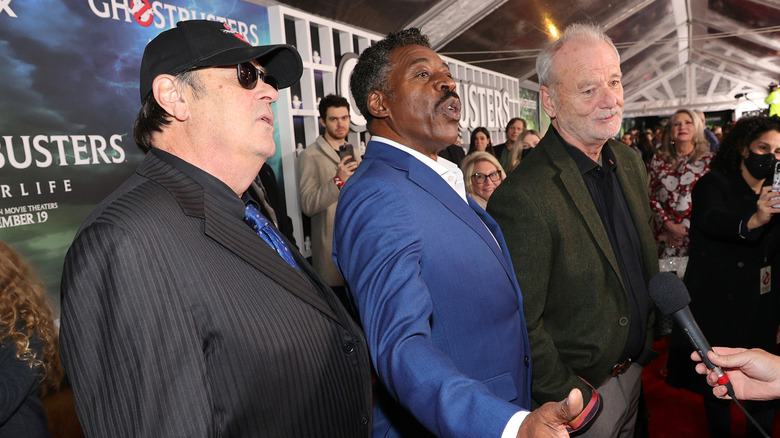 Theo Wargo/Getty Images
In 1975, a live-action television show for children titled "The Ghost Busters" aired on CBS for one season, and it was the reason the 1984 film "Ghostbusters" almost ended up with another name (via Vanity Fair). Legally, Columbia Pictures could have run into problems had the executives moved forward with the title, so alternatives were suggested, including "Ghoststoppers" and "Ghostbreakers."
However, the associate producer, Joe Medjuck, remembers vividly shooting a scene near Central Park in New York City, where hundreds of extras were screaming and chanting "Ghostbusters" at the top of their lungs. Invigorated, Medjuck knew something had to be done about the title fans know and love today. "I got on a pay phone and called Burbank and said, 'You guys have got to clear that name,'" Medjuck said in an interview with Vanity Fair. Medjuck's phone call worked, and Columbia secured the rights to "Ghostbusters."
So, while some people might be able to comprehend why Eddie Murphy turned down a role in the film to star in "Beverly Hills Cop," it may be harder for others to imagine Ray Parker Jr. singing "Ghostblasters." But the biggest hurdle for the filmmakers might have been how Mr. Stay Puft kept catching fire. "I think we built nine different suits," the visual effects artist, Richard Edlund, said during the same interview with Vanity Fair. "And several of them went up in flames." Fortunately, title and all, everything worked out for the "Ghostbusters" in the end.