Eddie Murphy Admits Regret Over Turning Down Ghostbusters Role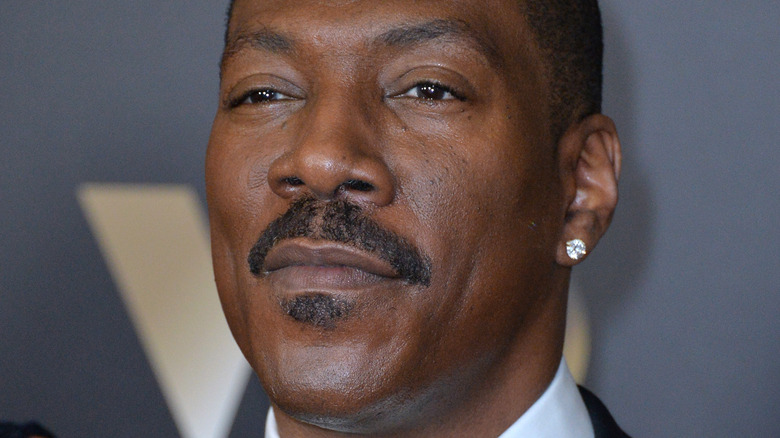 Featureflash Photo Agency/Shutterstock
Eddie Murphy is one of the most recognizable names with one of the most recognizable faces and voices in the entire entertainment industry. He has led some huge franchises, such as "Beverly Hills Cop" and "Shrek." But his career hasn't been without a few oopsies, as he has missed out on or turned down some significant roles that, in turn, paved the way for other stars to make their names.
Sometimes he turned down movies and went on to do others that turned out to be flops, like turning down the role of an astrophysicist in "Star Trek IV" (per Den of Geek) and doing "The Golden Child" instead, or turning down Chris Tucker's career-making role in "Rush Hour" to make "The Holy Man" (per Hollywood Digest). Other times he turned down parts because he thought it would be a disaster. One example he shared on "The Tonight Show with Jimmy Fallon" was when he was offered the role of the lead detective in "Who Framed Roger Rabbit," but turned it down because he didn't think the combination of animation and live-action would work. He told Fallon that he feels like an idiot whenever "Roger Rabbit" comes on TV.
While Murphy has plenty of successful films on his resume, there is still one missed role that causes him some regret. He was initially offered a role in the 1984 smash hit "Ghostbusters," alongside his fellow "Saturday Night Live" co-stars, Bill Murray and Dan Aykroyd. But he had to turn it down for a different reason than the others, and it's one that causes him some regret to this day, but may have ended up benefitting everyone.
He regrets being too busy to carry a proton pack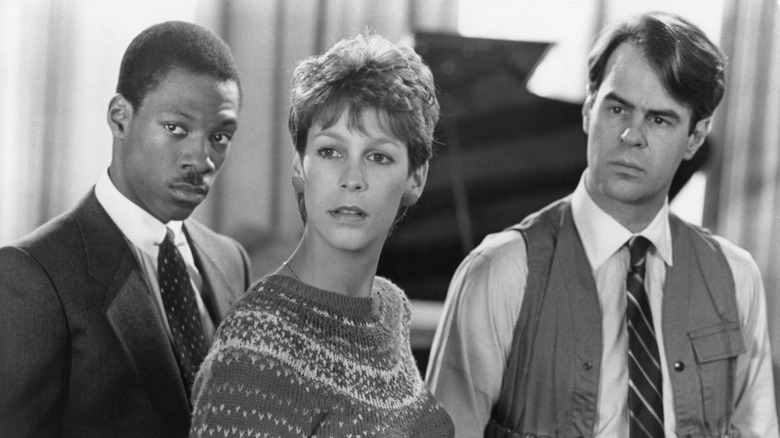 Michael Ochs Archives/Getty Images
Big-name actors end up getting multiple offers at a time and have to make decisions on which ones to accept. Sometimes it has worked out, like when Tom Hanks turned down "The Shawshank Redemption" and took the lead role in "Forest Gump" instead. Other times it hasn't worked out, like when Emily Blunt turned down the Black Widow role to star in "Gulliver's Travels" (via People). Lucky for Eddie Murphy, his reason for turning down "Ghostbusters" was more of the former.
In an interview with Parade, the actor was asked what '80s movie he wished he would have been in, and he responded with the supernatural comedy. "I was supposed to be in 'Ghostbusters.' We were doing 'Trading Places,' and Dan Aykroyd was like [in a Dan Aykroyd voice], 'This movie 'Ghostbusters' ...' But then 'Beverly Hills Cop' came along. I wish I could have been in both, but I did 'Beverly Hills Cop' instead of 'Ghostbusters.'"
Murphy's decision to do the cop comedy instead turned out to not hurt the actor too much as it spawned into a three-film franchise — with a fourth film on the way from Netflix. The first film alone scored nearly $235 million at the box office in 1984. Adjusted for inflation, the box office revenue of "Beverly Hills Cop" would be the same as $615 million today, good for the 47th highest-grossing film of all time (per Box Office Mojo). While he missed out on maybe the biggest ghost movie ever, it's hard to be mad at yourself for leading a similarly successful franchise solo instead. But what did his passing on the film do to the role itself?
The role changed for Ernie Hudson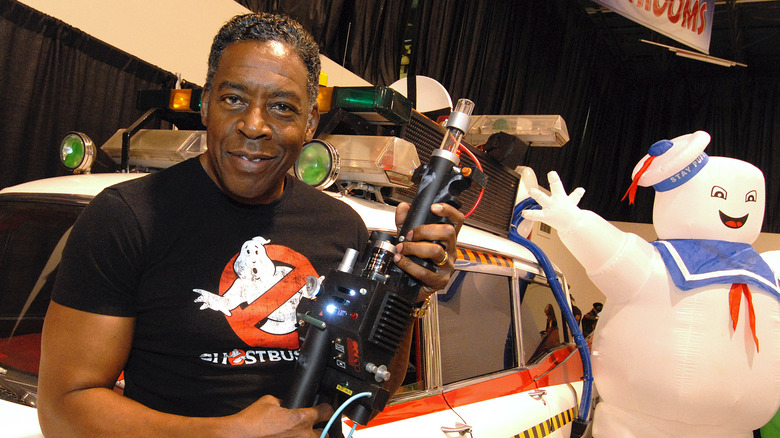 Paul Warner/Getty Images
Not having Eddie Murphy in the role of Winston Zeddemore didn't seem to hurt the production, as it also had a great run in 1984, raking in $229 million of its own (via Box Office Mojo). It also allowed audiences to get their first real look at industry legend Ernie Hudson, who took the role after Murphy passed on it.
While Hudson is still recognized today for his role in "Ghostbusters," he told The Guardian that he ended up with a much smaller role than expected. "I tell people Ghostbusters was the most fun I had, but it was also the most difficult for reasons that I, to this day, do not understand. In the script that I read for the audition, Winston is in the film all the way through the movie. But they changed it just before we shot, so I had to wrap my head around that." Hudson continued to theorize who was responsible and blamed the studio for the alterations. "I blame the studio because, in my mind, it's easier for me to say 'some exec' rather than the guy sitting next to me. I don't think it came from the guys; the guys are great, but what do I know?"
The interviewer asked if it was racially motivated, but Hudson dismissed the idea, saying it takes away his power. While no one truly knows why the character was scaled down, the events benefitted the actors, the studios, and the audiences evenly.