CSI: Vegas' Marg Helgenberger Wanted Catherine's Wardrobe To Be More Sophisticated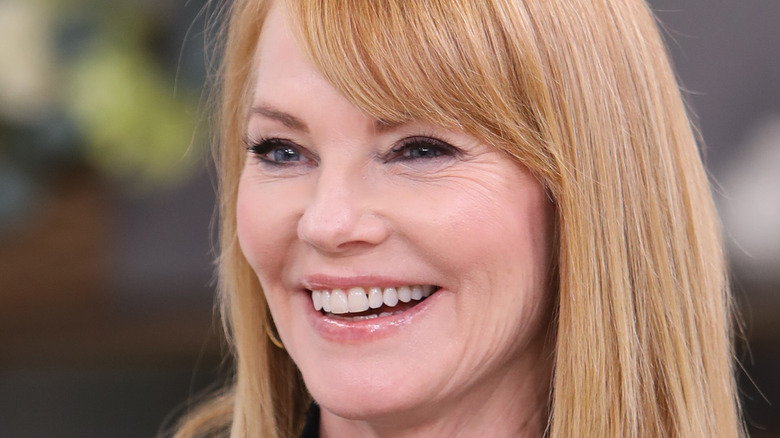 Paul Archuleta/Getty Images
Nearly two decades after "CSI: Crime Scene Investigation" finished its 14-season run, Marg Helgenberger has reprised her role as Catherine Willows in the latest season of "CSI: Vegas." The original series brought a new look to the procedural crime drama with the addition of forensic technology to investigations. This area was not really included in prior police shows. Helgenberger stepped down from the show in 2013, and it concluded its run two years later after an impressive 337 episodes.
"One of the reasons I left the original show is because I felt like it had become too much of my identity. I was really burned out, I just kind of had to step away from that character. It wasn't that I was done playing her," Helgenberger said in an interview with Entertainment Weekly.
And while Helgenberger did leave the show by choice, she kept finding herself back in the role of Catherine, first playing the iconic character in the special finale, "CSI: Immortality" — and now again when she joined the Las Vegas CSI team for the second season of "CSI: Vegas." But when Helgenberger came back to the role of Catherine in 2022, she wanted to give the character a little update.
A change of clothes is all Helgenberger wanted for Catherine
Characters and the actresses that play them change and evolve, so it's no surprise that when Marg Helgenberger wanted to have a wardrobe update for her character when she stepped back into the lab on "CSI: Vegas."
"Now that I am a little older, more mature, I wanted [Catherine's] wardrobe to be more elegant," she said in an interview with USA Today. But, if you look at any of the recent episodes Helgenberger has been in, you'll notice that her outfits don't look that different than those in the original series, which is for a good reason.
"But that quickly changed –- not to what she used to wear, which was a lot of tight jeans, tight pants and boots. But it's gone more like that, which feels more like her," Helgenberger added in her interview. It seems like, as for now, the classic look of Catherine Willows was not to be altered. While a more sophisticated might have worked on her character, Catherine did build her reputation by wearing more casual clothing. And why mess with Catherine's clothes when that was part of the formula for making "CSI: Crime Scene Investigation" the most-watched drama TV show in the world five different times, according to the Monte Carlo Television Festival.
Season 2 of "CSI: Vegas" airs Thursdays at 10 p.m. ET/PT on CBS.