CSI: Vegas' Marg Helgenberger Thinks A Love Interest For Catherine Might Be Too Distracting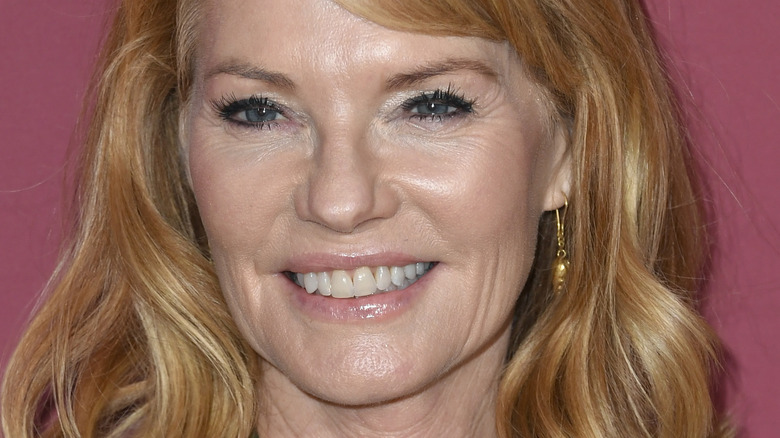 Frazer Harrison/Getty Images
One of the most popular characters from "CSI: Crime Scene Investigation" is back trying to catch bad guys in the 2nd season of "CSI: Vegas." Marg Helgenberger is back in the shoes of Catherine Willows, one of the original scientists in the Las Vegas crime lab that started a franchise of spin-offs. This time around, she is coming back to the world of crime scene investigation from working as a casino executive after her father left her a portion of his casino to her in his will.
Helgenberger first debuted the character, Catherine, in the pilot episode of "CSI: Crime Scene Investigation" in 2000 and played the part for 264 episodes until 2013, two years before the series would wrap up. And even though Helgenberger left the show, she never left the character completely. In an interview with Entertainment Weekly, the actress said, "I was really burned out, I just kind of had to step away from that character. It wasn't that I was done playing her."
She definitely wasn't done playing Catherine, reprising the role in the made for TV movie, "CSI: Immortality" and now bringing the character back on "CSI: Vegas." But the latest question in the evolution of Catherine's character is whether will she have a love interest this time around.
Will Catherine see some romance in CSI: Vegas?
Catherine is a very business-oriented person in the "CSI" world, but that doesn't mean she hasn't had any romantic interests throughout the more than 250 episodes she has been a part of. She does date on several occasions, including a brief relationship with Louis Vartann (Alex Carter) that was confirmed on an episode of "CSI: Miami." But when it comes to long-term relationships, she hasn't had anything that has stuck — outside of some infatuations with lab equipment, which Helgenberger noted in an interview with USA Today, "I love it when Catherine gets excited about certain types of equipment," she joked. "It's almost like a sexual experience."
So, it may have been a bit of a shock when the show's creator, Anthony Zuiker, asked Helgenberger if she would be interested in a romance for Catherine this time around. "During one of the very first conversations, Anthony asked if I'd be interested in Catherine having a one-night stand with, of course, a much younger guy in this particular episode. I thought with so much going on, it might be a little bit forced," Helgenberger disclosed in the interview.
Even though Helgenberger didn't show interest in the immediate inclusion of a romantic storyline involving Catherine, it might not be out of the question for the future. "I'm not opposed to it," she said. "But I like the serious quality of Catherine; her personal life is just that. An intimate relationship might distract from what's important," she added.
So, outside of the occasional flirtation, maybe Catherine will just have to wait for someone else who takes life as seriously as she does.