Why Travis Baltoni From NCIS Season 20, Episode 6 Looks So Familiar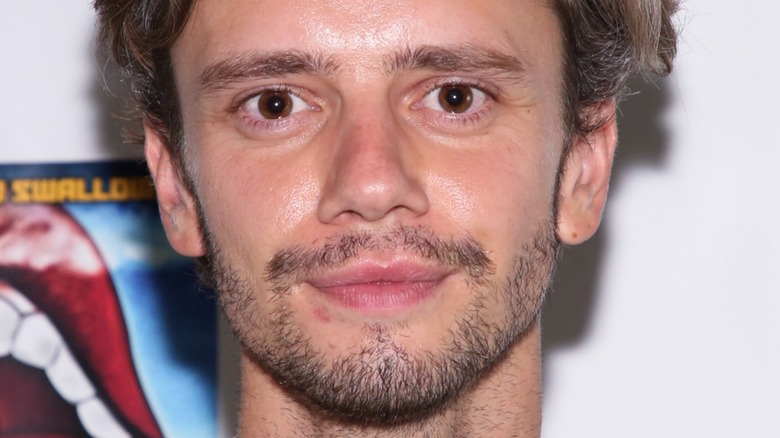 Paul Archuleta/Getty Images
We may receive a commission on purchases made from links.
"NCIS" Season 20 is well underway and so far, the Major Case Response Team has had its fair share of challenges. They initially had to clear the name of Alden Parker (Gary Cole) during the season premiere and have since dealt with Nick Torres' (Wilmer Valderrama) kidnapping. Most recently, during Season 20, Episode 6, titled "The Good Fighter," Kasie Hines (Diona Reasonover) even reveals that she was conducting an internal investigation. Although this seemed like a side plot at first, it turns out that Kasie's project directly related to the case in question, the death of an NCIS agent named Otis Khatri.
Timothy McGee (Sean Murray), Jimmy Palmer (Brian Dietzen), and other members of the team defended Otis as a good man despite evidence pointing toward him using NCIS tech to blackmail companies who said they would donate charity money into doing so. However, the team quickly discovered that Otis couldn't be the person responsible given that the ransom demands were still occurring after his death. They were informed by young, playboy millionaire and company owner Travis Baltoni that the ransom had even tripled and that he paid it in full. Baltoni only appeared on a video call to speak to NCIS, as he says he is in Ibiza on a yacht. He's particularly rude and arrogant but gives the Major Case Response Team a clue they need. If Baltoni looks like a face you might know, that's because he's played by actor Damian Joseph Quinn, whom you might remember from a few recent and popular series.
You likely saw them play Roy Cohn in The United States vs. Billie Holiday
Although their time in the entertainment industry has only just started, Damian Joseph Quinn has landed quite a few guest spots in larger projects since 2021. In fact, the actor got what is likely one of their first big breaks by playing the role of a younger Roy Cohn in "The United States vs. Billie Holiday." Cohn was a lawyer and an important historical figure in the events of what truly happened with Billie Holiday. Cohn is portrayed as a particularly slimy and manipulative man in the film, and Quinn surely could have gained notice for their performance as a real-life person. The film even earned itself an Academy Award nomination for actress Andra Day in the category of Best Performance by an Actress in a Leading Role (via Oscars.org).
Quinn has explained that it is one of their proudest roles thus far in their career as well (via Casting Society). "I'm proudest of my performance of ROY COHN in the Oscar-nominated US v. Billie Holiday. It was one of those casting experiences where I went in as CONGRESSMAN #2 after a few other auditions that day. I had no idea what the movie was or what to expect," they said. Quinn even said that they studied Al Pacino's portrayal of Cohn from "Angels in America" to prepare.
They also led a slasher film called Road Head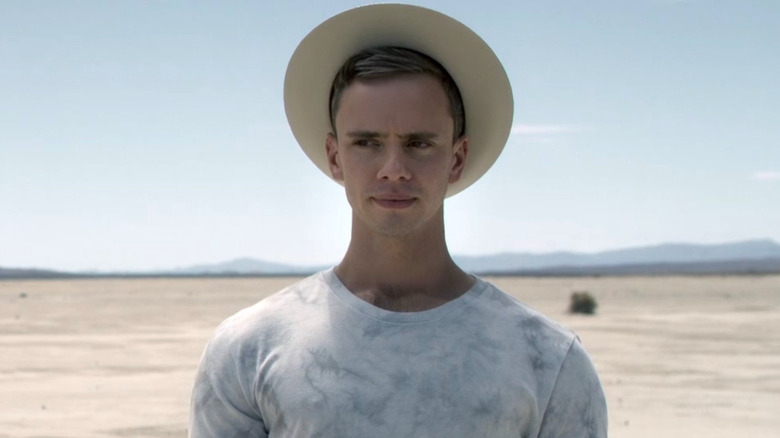 Terror Films/Amazon Prime Video
Although Quinn has noted that playing Roy Cohn has been their favorite role thus far, it's arguable that a different role in a very different film only one year prior got their name around. Quinn led a slasher horror movie in 2020 called "Road Head" that can still be watched on multiple streaming platforms. Quinn plays the character of Alex as one of three friends who take a trip to the Mojave desert only to encounter a cult that murders and decapitates their chosen victims. In a review, Joel Fisher of Battle Royale With Cheese said the film is a "silly horror comedy that's bound to raise a few smiles, but in the end the audience will have to wonder what was the point of it all." Amazon Prime viewers gave the film about 2.5 stars as well. Despite the seemingly lackluster reviews, it was still exposure for Quinn in a leading role, and likely the role had some influence in getting them the audition for "The United States vs. Billie Holiday," which then turned into the role of Roy Cohn.
Since the time of both "Road Head" and "The United States vs. Billie Holiday," Quinn has had a big year in 2022. They have had a guest spot on the Apple TV+ series "Physical," led by Rose Byrne, and appeared in the episode "The Woman Who Disappeared" for another Apple TV+ television series, called "Roar," with Nicole Kidman and Issa Rae. Now Quinn has just appeared on "NCIS" as well, growing their resume even further.
"NCIS" Season 20, Episode 7 premieres Monday, November 14 at 9/8c on CBS.