The Rookie Fans Are Predicting Another Spinoff In The Near Future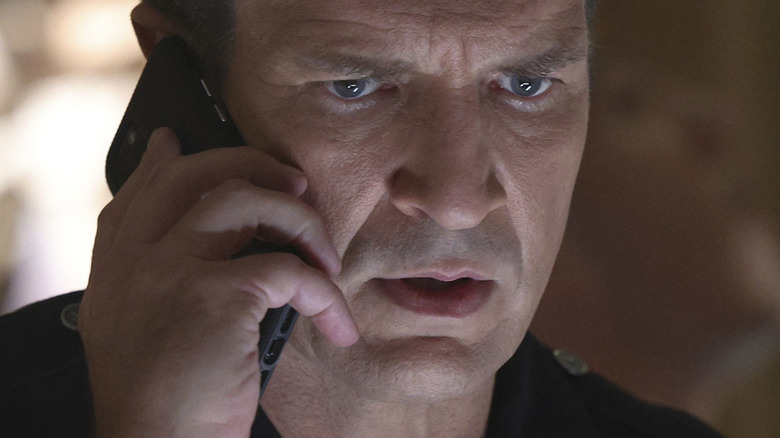 Courtesy of ABC
Nathan Fillion has long been a fan favorite among the small-screen faithful. From the moment he burst onto the screen as the wise-cracking and charismatic Malcolm Reynolds in the criminally short-lived Joss Whedon series, "Firefly," he has been adored by fans. He then moved on to "Castle," where he proved once again that his charm had the weight to carry an entire series for nearly a decade.
Now, Nathan Fillion is five seasons deep into his new TV hit, "The Rookie." The series follows John Nolan (Fillion), a middle-aged man looking to start over, as he becomes the oldest rookie in the history of the LAPD. Along the way, he discovers that what he lacks in youthful energy and exuberance, he excels in aged wisdom. In the four previous seasons and the currently running fifth, Nolan has caught a serial killer, been framed for murder, stood his ground against a cartel, and witnessed the death of his captain. And there seem to be still many more stories to tell.
Included in those stories are possible spinoffs the show has set up. The creators have already taken that path as "The Rookie" Season 5 brings with it a new series, "The Rookie: Feds." The new series sees Niecy Nash-Betts take on the role of an older FBI agent. She appeared in Season 4 of the parent show as a backdoor pilot to the new spinoff. However, fans have taken to Reddit to guess what the next spinoff would be and who it should involve.
Fans are predicting a Bailey spinoff
Bailey Nune (Jenna Dewan) is a character who showed up in the middle of Season 3 while pet-sitting for Nolan's neighbors. While she was a recurring character for a while, she became a full-fledged main character in the middle of Season 4 as a love interest for Nolan. She is a firefighter, an Army Reservist, a martial arts instructor, and a former gymnast. Basically, her talents shifted to fit whatever storyline the writers needed. In any case, she became a solid and compelling character, and fans took to Reddit to express that it's merely a matter of time before she gets her own spinoff.
U/susstudiio claims, "I'm surprised we got a Rookie: Feds spinoff before a Rookie: Fire. Would bet 20 dollars it's announced by the end of this season." With the success of the "Chicago" franchise, it is hard to argue with the merits that a "Rookie Fire" could work. U/emidas agrees with the idea and wonders why it hasn't happened yet. "I would actually watch that spinoff; I used to watch the Chicago shows, and Fire was always pretty cool. Now that you mention it, it's mind-blowing that didn't happen before Feds (which nobody asked for)."
In an interview with Entertainment Tonight, Jenna Dewan dished on the future of her character, "Bailey has a ton of action-packed great moments coming up, which has been really fun for me as an actress because I feel like I'm a frustrated stunt girl. So that's really fun to look out for." Could the writers be giving her more substance in preparation for the spinoff? As they navigate the divide in response to their first spinoff, are they hedging their bets by ramping up to "The Rookie: Fire?"
The Rookie: Feds hasn't landed yet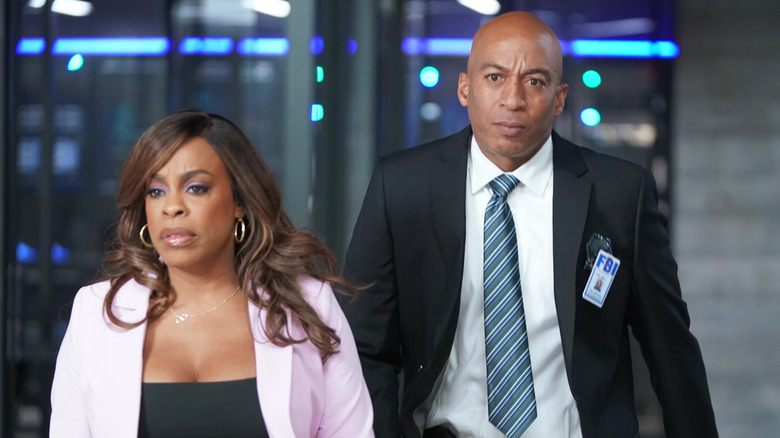 Courtesy of ABC
Simone Clark (Niecy Nash-Betts) is in the same boat as John Nolan was with the LAPD; only her predicament sees her joining the FBI after a career as a guidance counselor. In her short time on "The Rookie," she displayed similar attributes as Nolan; her ability to read people and a lifetime's worth of knowledge helped her see aspects of a case that others missed. When the show premiered, it landed a full season order from ABC and looked to be the next big thing. However, it hasn't fully connected with the audience in the same way its predecessor did.
The series is only a handful of episodes in but so far has very divisive scores on Rotten Tomatoes, with seven critics scoring it an 86% and 97 audience members completely disagreeing with the score at 15%. Former FBI Agent and true crime author Jerri Williams agrees with the unbelievable premise as she points out that the main character could never even be accepted into the FBI in her review. That same premise is acknowledged by Joel Keller of Decider but points out that it is the very same premise as "The Rookie," saying, "As we were watching the pilot for 'The Rookie: Feds,' we were thinking, 'Boy, this show is as dumb as a box of rocks. But Nash-Betts is her usual fun and charming self, which makes it watchable.'" He says he felt the same way about "The Rookie."
With the first spinoff from "The Rookie" seeing a divisive response, they very well could benefit from taking an already established and liked character like Bailey Nune and giving her a spinoff instead of creating another out of thin air to carry a series. Only time will tell if the fans are right.