Doctor Who Fans Are Losing It Over A Supposed Sarah Jane Tribute In The Power Of The Doctor
Saying goodbye to a Doctor — as we have now had to do, yet again, in the recent special "The Power of the Doctor" — always seems to invite reflection from longtime "Doctor Who" fans. Not only have there been somewhere around fifteen Doctors since the show premiered in 1963, but dozens of companions whose viewpoint and loyalty to the Doctor inevitably endear the audience to them.
Saying goodbye to these companions can often prove just as hard as much of the reaction to "The Power of the Doctor" now shows. This is a special that not only saw the Doctor (Jodie Whittaker) reunited with former companions Ace McShane (Sophie Aldred) and Tegan Jovanka (Janet Fielding) but saw present companion Yaz (Mandip Gill) attend what some are calling a "companions' support group." In attendance aren't just other companions of Whittaker's Thirteenth Doctor but other surviving companions from the very First Doctor onward.
Then there's that empty seat, which a great many Whovians on Twitter have speculated is a tribute to one of the Doctor's most favorite companions, Sarah Jane Smith (Elisabeth Sladen). "There was an empty chair at the companion meeting," tweeted @Lucy0neill, "was that there for Sarah Jane? Cause if it was I'll cry."
"Noticed there was an empty chair," tweeted @CharlotteBBCNR. "I like to think they left it for Sarah Jane."
Sarah Jane and Elisabeth Sladen were uniquely loved by fans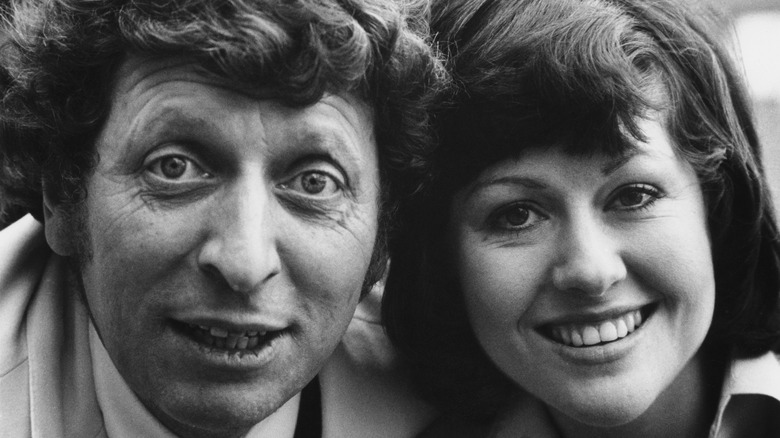 Evening Standard/Getty Images
Originally accompanying the Third (Jon Pertwee) and Fourth Doctors (Tom Baker), Sarah Jane proved a popular companion for fans of "Doctor Who." Not only was the character brought back for an episode of the rebooted show in the second season, but from there, Sladen was given her own spin-off, "The Sarah Jane Adventures," which ran from 2007 until Sladen's tragic death from cancer in 2011.
Whether this empty seat really is for Sarah Jane is honestly a bit tough to tell. It is true, as @katie__lovelace tweets, that the empty chair is right next to where Jo (Katy Manning) sits, which, if we're going chronologically, would have been where Sarah Jane went given that she was the companion who replaced Jo. That being said, there are several other companions who came after Sarah Jane but before Tegan (Janet Fielding), including at least one actor — Ian Marter, who played Harry Sullivan from 1974 to 1975 — who has since passed on. In fact, one Twitter user, anonymously quoted in an article in Radio Times, speculated that the empty chair was for all of the companions who have since passed on.
Then again, though the Doctor has unfortunately seen several companions die, no other companion's death has been deliberately written into "Doctor Who" canon after the actor's death. In 2020, nine years after Sladen died of cancer in 2011, former "Doctor Who" showrunner Russell T. Davies released "Farewell, Sarah Jane," a fifteen-minute audio drama in which several of her friends from "The Sarah Jane Adventures" attended her funeral (via The Wrap). Also in attendance were Jo and Ace.