Leslie Jordan's Brutal American Horror Story Scene With Lady Gaga Was Actually Hilarious Behind The Scenes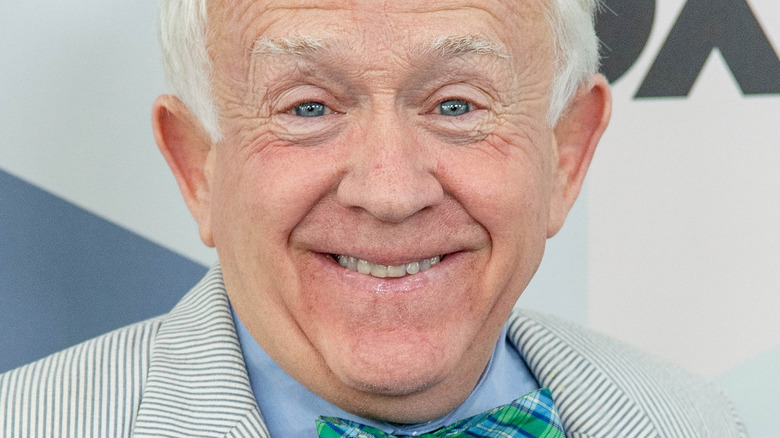 Roy Rochlin/Getty Images
The untimely death of actor and writer Leslie Jordan in a car crash in Hollywood this morning no doubt has fans revisiting his many memorable roles. Jordan had a long and impressive resume, appearing in everything from "Pee-Wee's Playhouse" to "The Help;" "Will & Grace" to "Star Trek: Voyager."
Jordan was also an occasional part of the repertory-style cast of "American Horror Story," appearing in "Coven," "Roanoke," and "1984." His appearance in "Roanoke" may be his most memorable. In it, Jordan played Ashley Gilbert, reenactor in the show-within-a-show "My Roanoke Nightmare" of spirit medium Cricket Marlowe, who attempts to assist Shelby (Sarah Paulson), Matt (Cuba Gooding Jr.), and Lee (Angela Bassett) find Lee's daughter.
Like a great many characters in this uniquely violent season, Ashley meets a grisly end in "Roanoke." So, for that matter, does Cricket in the show-within-a-show. Toward the climax of "Roanoke's" first half, Cricket is killed as a sacrifice by the ghosts of the lost colonists. This is only after he has been shown the truth of the woods around Shelby and Matt's home by Scáthach, the immoral witch of the woods, played by none other than Lady Gaga. The brief scenes between Jordan and Gaga were themselves quite brutal. But Jordan remembered it a different way.
Leslie Jordan didn't recognize Lady Gaga
Appearing on Trailblazers Radio just this past June, Leslie Jordan remembered being introduced to his massively famous scene partner (via Entertainment Weekly). "The first day, I showed up and there was a girl standing there and they said, 'Leslie, have you met Stefani?' And I thought she was maybe an extra. I didn't know who she was."
Not recognizing Lady Gaga does seem a bit unbelievable. Though Gaga, whose real name is Stefani Germanotta, may well have been dressed in full costume and makeup as Scáthach, rendering her close to unrecognizable. In any event, Jordan gave her a brief-but-courteous welcome before walking off, oblivious that the person he had just welcomed aboard had played a main role in the previous season of "American Horror Story."
Jordan had previously said that his experience working with Gaga had been, to put it mildly, a bit wild. "She took me in the woods right before we shot, and she said, 'You know, I tend to sexualize all my acting partners.' I thought, 'Where's this going?'" Whether Jordan at this time had realized that he was acting next to a music icon isn't clear. "Well honey, she kicked me, rolled me over, and got down on me and started riding me ... I didn't know what I was supposed to do!" Regardless, in May 2020, he said, "You know, I can tell when I meet you, within three minutes, how you were raised. When I met Lady Gaga on the 'American Horror' set ... beautifully brought up" (via E! News).