House Of The Dragon's Final Scene In The Season 1 Finale Took Only A Few Takes To Film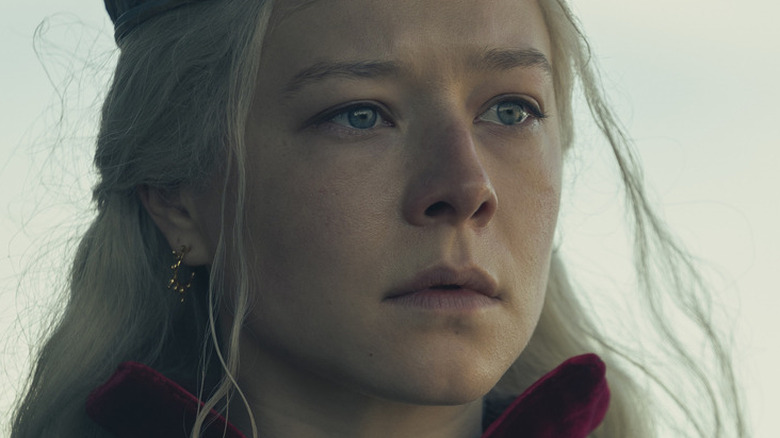 Ollie Upton/HBO
The freshman season of "House of the Dragon" is finally at an end, and the last episode was one for the books. Titled "The Black Queen," the final installment sees all of the resentment, treachery, and fickle loyalties that have afflicted the Targaryen dynasty reach a boiling point (via IMDb). Following the death of King Viserys (Paddy Considine), Alicent Hightower (Olivia Cooke) and her allies have usurped the Iron Throne, leaving the realm on the knife's edge of chaos. In the face of this betrayal, Rhaenyra (Emma D'Arcy) does her best to keep a level head as everyone around her predicts an impending war. However, any desire to proceed peacefully goes out the window after a confrontation between Aemond (Ewan Mitchell) and Lucerys (Elliot Grihault) ends with the latter's death.
In the final scene of the season, viewers watch as Rhaenyra reacts to the news of her son's demise. After all the loss the princess has faced in her life, it's clear that she's out for blood. The scene carries a significant amount of emotional weight, just one of several moving parts that makes the moment such a powerful bookend to the season. Despite the enormous effort it took to capture the exchange, it was easier to film that final scene than you might think.
Lots of rehearsal and Emma D'arcy's acting prowess made for a productive day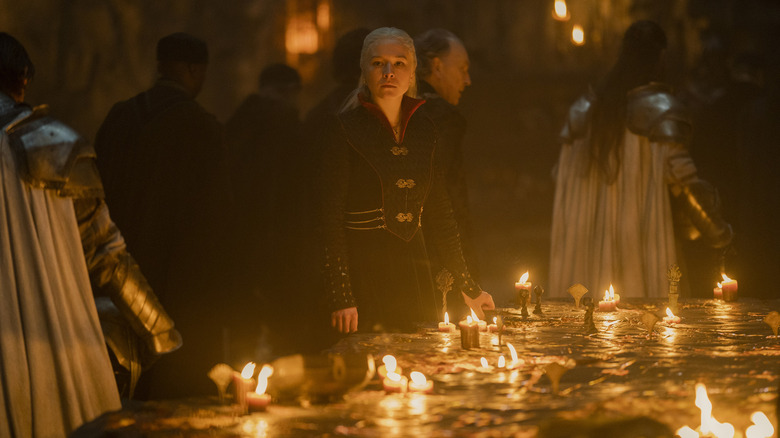 Ollie Upton/HBO
The episode features the last appearance of Lucerys and his dragon, Arrax, which leads to the devastating moment when Daemon (Matt Smith) clears the room to tell Rhaenyra that her son isn't coming home. The final scene of the season is a single take that silently conveys Rhaenyra's undoing. She's spent her life fielding the warring desires of Westeros, and she's never renounced her claim to the throne even though it would have been much easier. After learning of Lucerys' death, Rhaenyra's eyes glaze over with a steely determination that resembles the look on Daenerys Targaryen's (Emilia Clarke) face when she decided to destroy King's Landing on "Game of Thrones." 
In an interview with Variety, showrunner Ryan Condal explained that filming the scene was fairly straightforward only because of the hours of preparation that went into making it possible."There's a lot of action going on: who lifts the drink, all these little things that seem to be just random happenstance are very perfectly planned. Daemon is reaching Rhaenrya just as the framing is coming into place. It's a complex dance," he told the outlet. "So we rehearsed it for most of the day. I think we probably did three or four takes of it. And Emma, man, did they nail it. Just incredible."
The scene sets the stage for Season 2 of "House of the Dragon," which Condal promises will be even more ambitious than the first.