Ryan Murphy Offered To Write The Watcher For Free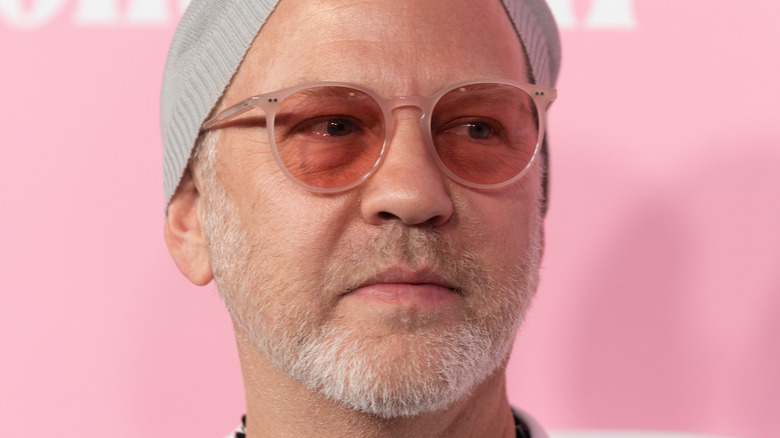 Ron Adar/Shutterstock
"The Watcher" on Netflix is a terrifying story partially based on actual events. The mini-series follows a family after moving into their new house. However, shortly after settling in, they are introduced to a mysterious individual who leaves them a cryptic letter as a housewarming gift.
"Do you know the history of the house? I have been put in charge of watching you. This message will not be the last. I am The Watcher," reads a letter to the Brannock family in the trailer for the mini-series. Throughout the seven episodes of the show, the family has to deal with repeated threatening letters from the mysterious individual as they try to narrow down possible suspects in the community and decide if they should stay in the home or leave.
The mini-series was released on Netflix just in time for Halloween and garnished a whopping 125 million hours viewed in the first five days of streaming. The brainchild of Ian Brennan and Ryan Murphy, "The Watcher," dethroned Murphy's previous Netflix hit, "Dahmer," as Netflix's top-watched show after just two days of streaming. Murphy is a legendary television writer, director, and producer who has been responsible for hits like "Nip/Tuck," "Glee," and "American Horror Story." The acclaimed writer was attached to the project throughout the entire production process, but there was a chance that this highly intriguing story could have slipped through his fingers.
Murphy knew he wanted this project the moment he heard the true story of The Watcher
"The Watcher" has been a highly sought piece of intellectual property ever since the real-life events first appeared in a 2018 article in New York Magazine's The Cut. Murphy had read that article and instantly knew that he wanted this for his next project, but when he made a call to acquire the rights, he found that they had already been sold.
"It had sold to somebody at Netflix. And I went, 'What?' So it sold very quickly. And so I found out that it was my friend Eric [Newman]," Murphy shared in an interview with The Hollywood Reporter. The rights for the horror thriller were won by Netflix in 2018 after they beat out at least five other studios in a bidding war — including the likes of Universal Studios, Warner Brothers, Amazon Studios, and Paramount.
When Murphy found out Eric Newman, his friend, had purchased the rights on behalf of Netflix, he instantly rang him up to get involved. "I'm such a fan of this piece and I'm such a fan of this genre that I will write this for free; just let me write it," he pleaded on a phone call. Murphy's offer to write the script for free comes from his self-described deep connection with the story, mentioning the idea and possibility of having to protect his own family from an unseen threat. While it was a nice and playful gesture to offer to write the mini-series for free, Murphy already has a $300 million dollar deal with Netflix — which also happens to be "the most lucrative TV pact in history."