10 Shows Like The Watcher That Fans Should Watch Next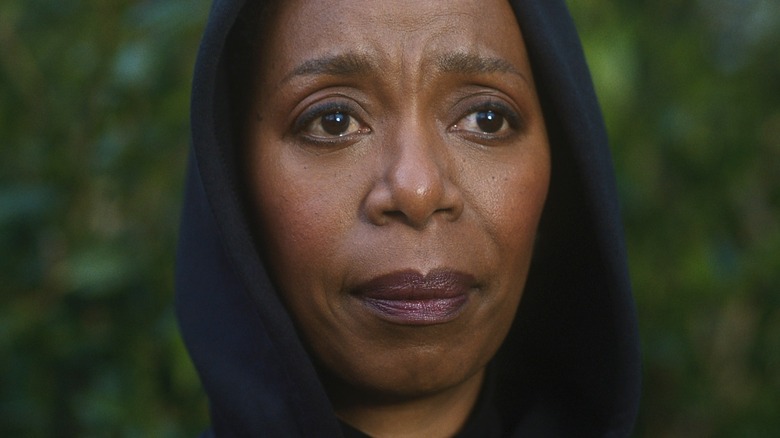 Netflix
"The Watcher" is funny, shocking, and thrilling. A family's notably dramatic dissolution comes at the hands of a mysterious Watcher, who feels a strong and troubling connection to their new house. A husband and wife, along with their two children, soon find themselves hounded from their house altogether as the mystery deepens. It's a clever twist on an ancient trope, the house haunted by a ghost, only here the ghost is some random person they may or may not know, and the haunting takes the form of creepy letters and strange visitations that may or may not actually be happening.
Jennifer Coolidge, Naomi Watts, and Bobby Cannavale anchor this particular true-crime descent into madness. Coolidge plays a real estate agent while Watts and Cannavale portray the happy-seeming Brannock couple, who spend every dime on their dream house, which quickly becomes a nightmare. Secret tunnels, social institutions, strange societies, death threats abound, and a seriously creepy antagonist all eventually envelope the Brannocks until they're split up and on the run — which is when the real fear starts. Of course, it wouldn't be a Ryan Murphy series without serious twists and turns. Thanks to the machinations of fate, we'll see at least one (or all!) of the people above take over as the Watcher by the end of things.
This is where we find ourselves now, at the end of things and looking for something new to watch after "The Watcher." Don't worry, we've got you covered! Here are 10 shows you can watch right now that will scratch that itch.
The Politician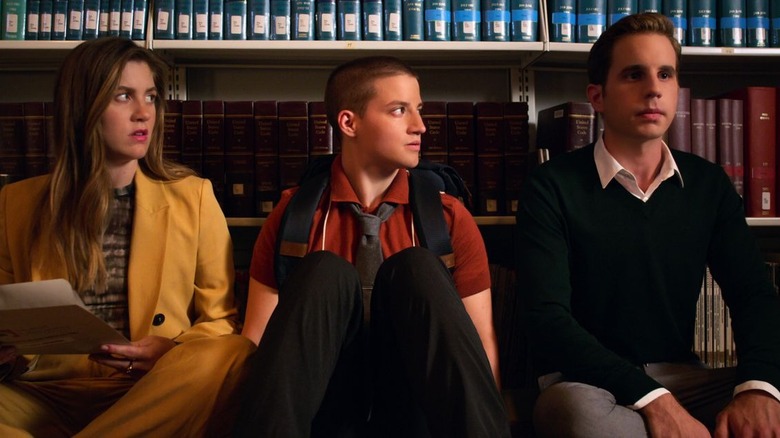 Netflix
"The Watcher" is a Ryan Murphy project through and through since it combines scares with wry, dark humor, while examining the upper-middle-class society he loves to skewer. We went through Murphy's extensive catalog to find the perfect suggestion to follow up "The Watcher" and landed on "The Politician." It takes aim at a lot of the same presumptions as Murphy's new series while telling a truly unique story about heartbreak, ambition, and the journey into adulthood. 
After Ryan Murphy signed his Netflix development deal – the largest in history, $300 million over five years, according to Time — "The Politician" was his first project to appear in 2019. The show follows Ben Platt's portrayal as a somewhat sociopathic queer politician making his way up the ladders of power. Platt plays Payton Hobart, who assembles a crack team of informants and enforcers in order to bring down a high school rival after losing the love of his life. The show earned two Golden Globe nominations and a second season, which expanded the story to New York and saw Payton hitting the campaign trail as an adult.
Part of the fun of "The Watcher" is seeing huge stars like Naomi Watts and Mia Farrow play against type. "The Politician" continues the fun with off-kilter stars like Zoey Deutch, Bob Balaban, Theo Germaine, and even Gwyneth Paltrow, who plays Payton's boozy, earthy mom who might as well be Gwyneth Paltrow. It also stars Jessica Lange in the first season, and both Judith Light and Bette Midler have huge roles in Season 2.
The Killing
"Pretty Little Liars" seems to be the blueprint for a lot of prestige suspense dramas, with its established formula of following a lead in each episode. The lead characters seize on a suspect, convinced they're the bad guy or gal — for about 40 minutes, or the length of an episode — before a better suspect is revealed at the last minute. "Mare of East Town" is one of those shows, as is "The Killing." 
Famously, "The Killing" ended its initial season with a twisty double-cross that had audiences screaming for resolution. In both "The Killing" and "The Watcher," this lack of closure is a feature of the storytelling, not a drawback. Thinking about it like a writer might help – mysteries don't always get solved. Grief doesn't always find a way to wrap itself up in a neat little bow. It's hard-won knowledge, but it's definitely worth considering.
"The Killing" stars Mireille Enos as a troubled but kindhearted detective named Sarah Linden. Joel Kinnaman plays her smooth and boyish partner, Stephen Holder, as she finds herself drawn into their cases just enough to solve them but not enough that she's not imprisoned by the ghosts they leave behind. A moody, emotionally intelligent journey, each season delves into a different facet of life in the Pacific Northwest.
Dirty John
"Dirty John" has the same ripped from the headlines, "this could be you" appeal and focuses on people who have a lot in common with their counterparts in "The Watcher." Season 1 stars megawatt TV star Connie Britton and Juno Temple as a funny mother and daughter pair who encounter a mysterious doctor — the charming and eventually terrifying "Dirty John," played by Eric Bana. 
Season 2, titled "Dirty John: The Betty Broderick Story," stars Amanda Peet and Christian Slater. It's a well-known story of rage and revenge, in which a woman murders her ex-husband and his new wife. Slater brings the sleaze and Peet brings the mania, but it's Rachel Keller — best known for her appearances on "Legion" and "Fargo" — who brings the heart to the story. Just like "The Watcher," it's hard to forget that these were real people with real lives. 
Similar to "The Watcher," you'll be equal parts sympathetic and creeped out by "Dirty John," as it shows people pushed to the limits in the same way the Brannocks are by the end of their story. It's hard to believe any of these stories are true, and yet they are! You'll definitely be amazed by the twists and turns of Season 1 in particular, as their search for love leads Debra Newell into dangerous territory while loneliness becomes its own kind of risk.
The Thing About Pam
In "The Watcher," we have the unique experience of watching Nora's friendship with Karen Calhoun wither and mutate into full-on war. This relationship runs through the center of the series. As the real estate agent who sells Nora and Dean their dream house in the first place, Karen is present at each stage in their buyer's journey, so to speak. "The Thing About Pam" is a comedy-drama based on a true-crime podcast of the same name that follows another ill-fated friendship. 
Renée Zellweger stars as Pam, about whom the thing is about. Pam is a very likely suspect in the death of her friend Betsy, and the twists, turns, and humor are as indelible, shocking, and fun as those in "The Watcher." "The Thing About Pam" also stars Josh Duhamel, Judy Greer, and Katy Mixon. Set in 2011, it follows the investigation of the fate of Pam Hupp's friend Betsy Faria, a cancer patient and eventual murder victim.
If you enjoyed Zellweger in "Chicago," some of her more bravura work here may remind you of that film. Otherwise, much of the joy is in the surprises and what we learn about Pam and the other characters, so we don't want to ruin it. Just know that "The Thing About Pam" takes the dark humor of "The Watcher" and doubles it, becoming just as suspenseful by the end. It'll make you think twice about what drives us, what enrages us, and most of all how far we'd go to protect our secrets.
Homecoming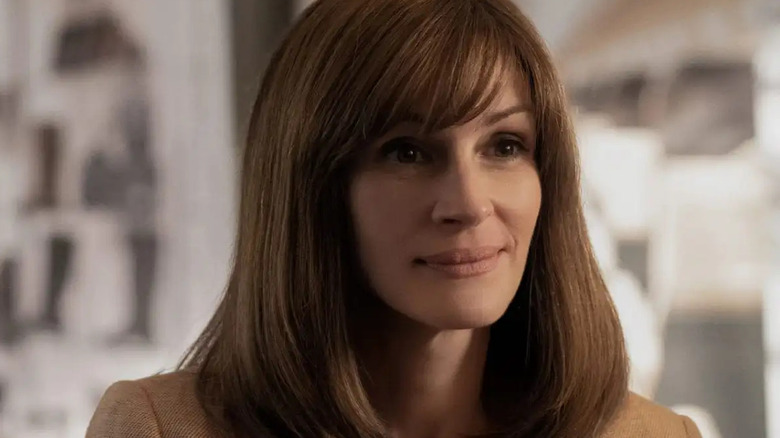 Amazon Prime Video
One of the real pleasures of "The Watcher" is getting to see Bobby Cannavale's darker side. He's a charming man who plays a lovable doofus, an energy that makes his darker roles even more compelling. In "The Watcher," Dean starts as a loving, if controlling, father and businessman. By the end of things, he's every bit as scary as the faceless Watcher, made all the more terrifying by his very familiarity, and it is eventually revealed that he may become a Watcher himself.
"Homecoming" is a mystery show, an anthology of sorts, that leaves still-tantalizing clues when the story's over, just like "The Watcher." Like several other shows on this list, "Homecoming" is based on a podcast. In this case, however, it's a fictional one, so the twists and turns are even more intense. The adaptation was directed by "Mr. Robot" creator Sam Esmail, a show in which Cannavale plays yet another menacing charmer.
In the first season of "Homecoming," Cannavale plays Colin Belfast, the supervisor to Julia Roberts' Heidi, a therapist who finds herself at the center of a disturbing mystery. As the secrets of the Homecoming Center and its corporate parents come to light, we encounter veterans in pain and a sci-fi conceit that informs the structure of both seasons. Cannavale is always a standout, but if you were thrilled by his skin-crawling Dean Brannock, you will likely enjoy this role as well. You'll also want to stay tuned for Season 2, which features Janelle Monae in a mesmerizing lead role.
The White Lotus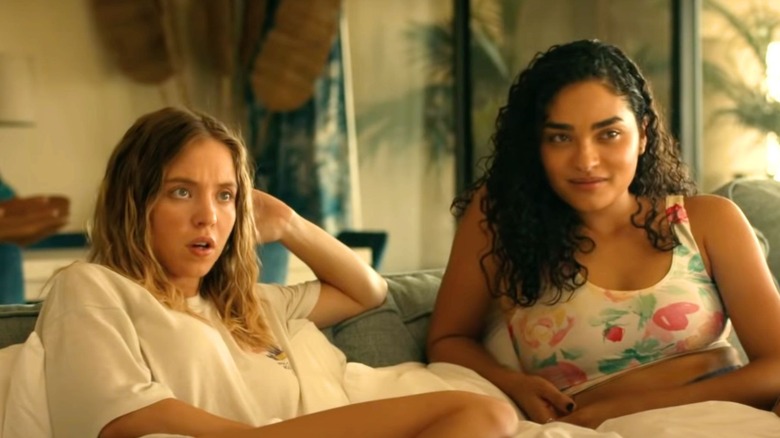 HBO
For another cracked view of the Brannocks' luxury-class lives, you can't go wrong with "The White Lotus." The characters on this show fight a lot of the same presumptions and are susceptible to the same foibles as the suburban sleuths of "The Watcher." Set in a Hawaii resort, "The White Lotus" explores the lives and relationships of several guests and staff as they drink and fight and complain and celebrate their way through a vacation they'll never forget. A family with three teens fight about white privilege, a long-suffering hotel attendant falls in love, and most compelling of all, a spa worker's relationship with a rich guest blossoms. 
In "The Watcher," Jennifer Coolidge goes for a more intense, angrier version of her usual sugar-sweet dingbat persona, and it plays wonderfully. This portrayal can perhaps be at first off-putting for viewers, as Coolidge can be so much larger-than-life that it's tempting to consider her a bit cartoonish, especially considering her early roles in films like "American Pie" and "Legally Blonde." However, what "The White Lotus" demonstrates, as is proven once again in "The Watcher," is that Jennifer Coolidge is capable of interpreting pretty much anything she is given to work with.
Coolidge may have a character actress and comedienne's face and voice and timing, but she's definitely worth watching in a more dramatic role. We see her grieving in "The White Lotus," which leads her character to a lot of odd behavior, but it's her chance friendship here that really works the heartstrings — along with that darker side of Coolidge.
The Outsider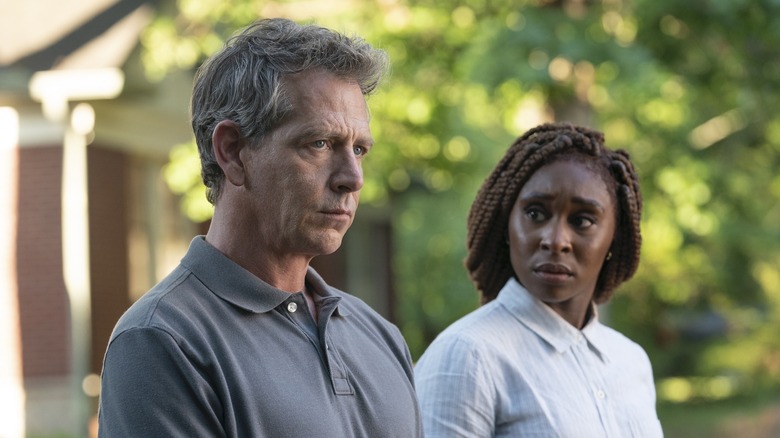 Bob Mahoney/HBO
The Brannocks feel targeted by their neighbors in "The Watcher" as their desperate attempts to fit in are mirrored by the taunts and chills of the Watcher themself. It's hard enough to find your place in a new area — especially if you're living above your means as the Brannocks are — but the truth is that so much of that pressure comes from within. Everybody occasionally feels like they're being watched and judged. It usually doesn't come with a bunch of hidden tunnels and weird neighbors, to be sure, but it's a feeling we can relate to. That's one of the reasons that "The Watcher" succeeds.
However, what if your neighborhood really did turn against you? In HBO's "The Outsider," a Stephen King adaptation, that's exactly what happens. Jason Bateman's Terry Maitland is a little league coach who is accused of killing a little boy in the neighborhood. Julianne Nicholson plays his wife, Glory Maitland, while Ben Mendelsohn is the detective trying to get to the bottom of things. 
What did Terry do, and why did he do it? If he's innocent, why is there so much proof of his awful crime? Who is the hooded, disfigured person roaming Cherokee City? It's a twisty tale for sure, with some surprising leaps. "The Outsider" is also famous for its inclusion of a beloved Stephen King character — the neuroatypical private detective Holly Gibney, played beautifully by Cynthia Erivo.
Sharp Objects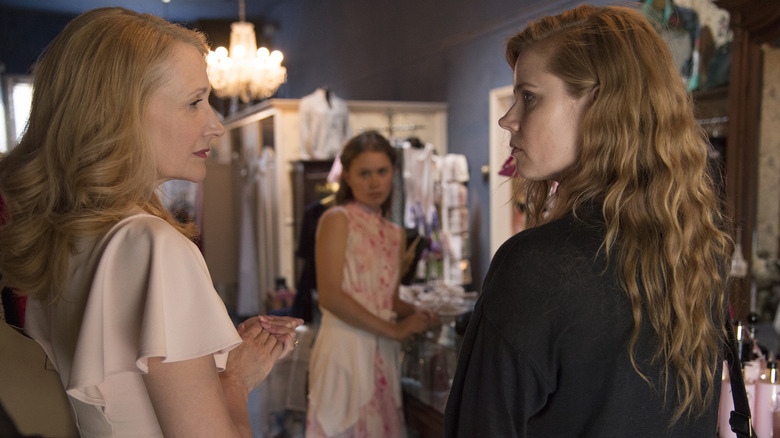 HBO
"Sharp Objects," based on the novel by Gillian Flynn, has black humor that pairs well with "The Watcher." Flynn also wrote "Gone Girl," of course, so you know it'll be as funny as it is dark, and it was created by Marti Noxon, executive producer on "Buffy the Vampire Slayer" and co-showrunner on that first beloved season of "Unreal," so you know it'll be watchable to the extreme.
The last work of director Jean-Marc Vallée, "Sharp Objects" follows the very broken journalist Camille Preaker as she returns to her hometown to report on what turns into a serial murder case. It's got at least as many megawatt stars as "The Watcher," including Amy Adams as Camille, Patricia Clarkson as a terrifying and hilarious matriarch, and Chris Messina as a cop on the case. Also featured is the memorably inscrutable Henry Czerny and archly delightful Elizabeth Perkins as a friend of Camille's family.
If you enjoyed learning about the awkward, ugly truths that "The Watcher" uncovers about our next-door neighbors, you will love "Sharp Objects." It pulls up the flagstones of your typical American family to reveal the creepy crawlies that can sometimes be found underneath. Mothers and daughters, fathers and daughters, sisters: there are shadows in every corner when Camille comes home, and it's her job not just to survive but to decode them. A masterful work of family and mental illness that keeps you enthralled all the way to the final famous moments.
Castle Rock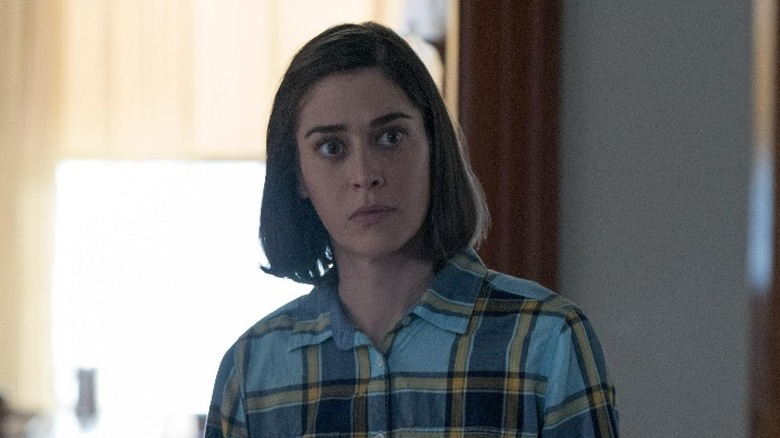 Dana Starbard/Hulu
The staccato and occasionally sweeping Hitchcockian strings of "The Watcher" give the show its campy appeal, with an overwrought tone and a few monologues to give the show that Ryan Murphy flair. Like all Murphy works, it is equal parts cynical and earnest, campy and heartfelt. Likewise, Hulu's "Castle Rock," a short-lived anthology series about a town full of Stephen King characters is equally moving and silly. It all comes down to good acting and a tone of dread, along with standout performances from Bill Skarsgård, Melanie Lynskey, and Sissy Spacek in Season 1 before being taken over by compelling performances from Lizzy Caplan and Tim Robbins in Season 2.
In Season 1, Bill Skarsgård's character is freed from a secret private prison after 27 years, having convinced a prison warden that he is some kind of devil incarnate. Meanwhile, Lynskey's Molly is telepathic, Jane Levy's Jackie Torrance is a niece of the lead character from "The Shining," and Sissy Spacek's Ruth becomes unmoored in time as a metaphor for her dementia. In Season 2, a young Annie Wilkes from "Misery" gets stuck in the titular town just as the rivalry is heating up between a local crime family and the Somali refugee population.
Big Little Lies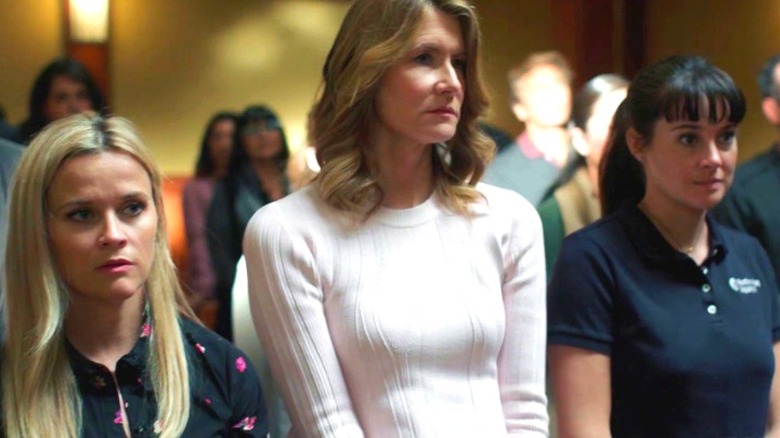 HBO
Finally, there's "Big Little Lies." It's a hilarious character study that spools out its delicious tale in a familiar flashback-centered structure. Nicole Kidman, Reese Witherspoon, Zoe Kravitz, and Laura Dern play moms in an expensive community in Monterey, California. Shailene Woodley also appears as an out-of-place single mom with a dark connection to one of the others.
If you liked seeing the truth about the Brannocks come out as their family disintegrates, "Big Little Lies" has that in spades. If you were more attracted to their lifestyle and the glamour of their lives, again we look to "Big Little Lies." And if you want more bizarre father/daughter dynamics, like the one in "The Watcher," you can't go wrong with this one. Family dynamics are at the heart of this drama-comedy-mystery hybrid, and we see just about every kind of marriage, and parenting style, that you can imagine. From divorced co-parents to marriages on the brink, nobody comes out of this adventure unscathed — and that's all before Meryl Streep shows up in Season 2.
Fragmentary, beautifully and poetically made — directed by, again, Jean-Marc Vallée — "Big Little Lies" takes the worst problems of the elite and makes them almost aspirational. A relatable story that's simply out of joint in time, working sometimes backward and sometimes skipping around months, assembled in a way that mimics the unconscious and feels completely right.