Things Juno Temple Fans Might Not Know About The Ted Lasso Actress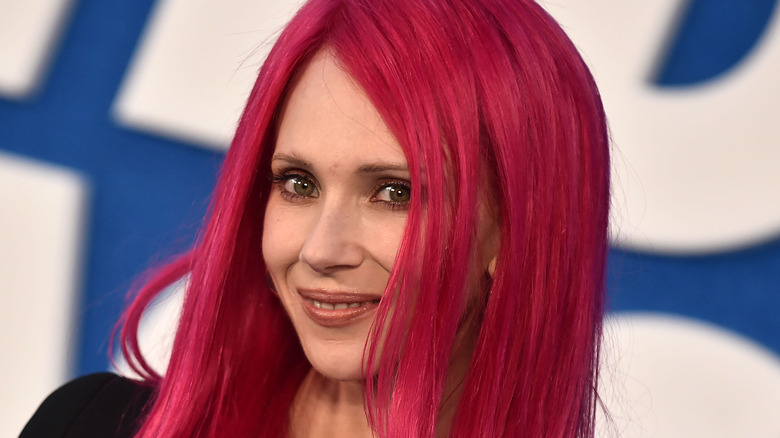 DFree/Shutterstock
Whether she's Jane Boleyn in "The Other Boleyn Girl," Alicia in "Magic Mike," Thistlewit in "Maleficent," or Keeley Jones in "Ted Lasso," Juno Temple has become one of the most versatile and in-demand actors of her generation. She continues to go against the grain as she reinvents herself with every new role and performance, always ready to venture into uncharted waters.
Considering the long list of legends she's already shared the screen with, she's proven without a shadow of a doubt that she is here to stay. Never afraid to take on a challenging role or provide an honest assessment of a situation, Temple has also become an icon to an audience that craves more authenticity from their role models. There's a realness to her that simply can't be imitated or faked, as she comes across as a true original in every sense of the word. 
From her distinctive name to her unexpected history with the "Harry Potter" franchise, here are some fascinating facts that Juno Temple fans might not know about her.
A rocky start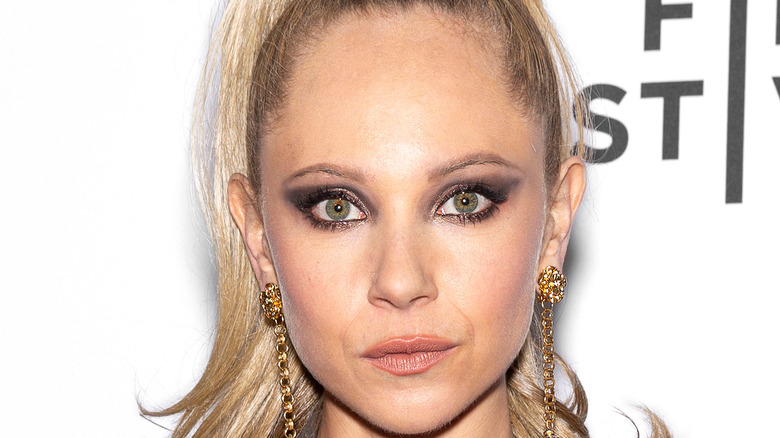 Ovidiu Hrubaru/Shutterstock
A name like Juno Temple immediately stands out. It's highly unique and original — much like the actress herself. As it turns out, she owes her moniker to a special family trip that took place before she was even born.
While Temple's mother Amanda was pregnant, her parents visited a part of the Grand Canyon that's actually named Juno Temple. Inspired by the 6,896 elevation summit that can be found in the eastern part of the canyon, Temple's parents decided the beauty of what they saw in front of them was an apt name for their unborn child. (It helped that their surname was already Temple.) And the rest, as they say, is history.
The originality of her name has also helped her stand out in the industry. Jason Sudeikis revealed to Variety that when he saw her name on a list of candidates for the part of Keeley on "Ted Lasso," he immediately remembered who she was from a previous karaoke night and thought she'd be perfect for the role. It's true what they say — karaoke truly does bring people together in life.
London Calling in her blood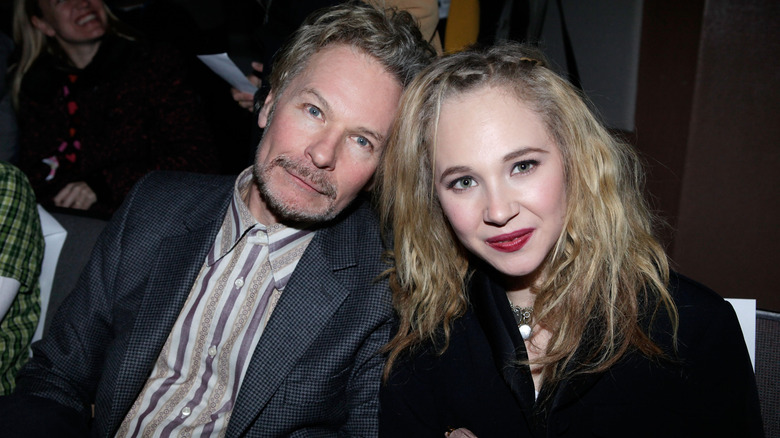 Jeff Vespa/Getty Images
Fame runs in the family. Juno's father is none other than Julien Temple, the famous documentary and music video director. He is widely known for his work in the British punk rock scene, having directed the cult Sex Pistols films "The Great Rock 'n' Roll Swindle" and "The Filth and the Fury." He also had a close friendship with The Clash's Joe Strummer, whom Juno also grew close to in her childhood.
"I was truly blessed to grow up with Joe Strummer around my house a lot," the "Ted Lasso" actress told Gigwise. "And I think something that I remember being a weird moment for me was when I realized that The Clash was a big deal. I must have been about 12 and it was when I was walking round my local town Taunton and people were wearing Clash hoodies. I was like 'That's Joe's band! How weird!'"
Due to her father's presence in the entertainment industry, it wasn't unusual for Temple to see a string of celebrities pass through her home all the time. In fact, her future "Black Mass" co-star Johnny Depp used to babysit her when she was younger. Talk about a small world.
Juno Temple's famous muse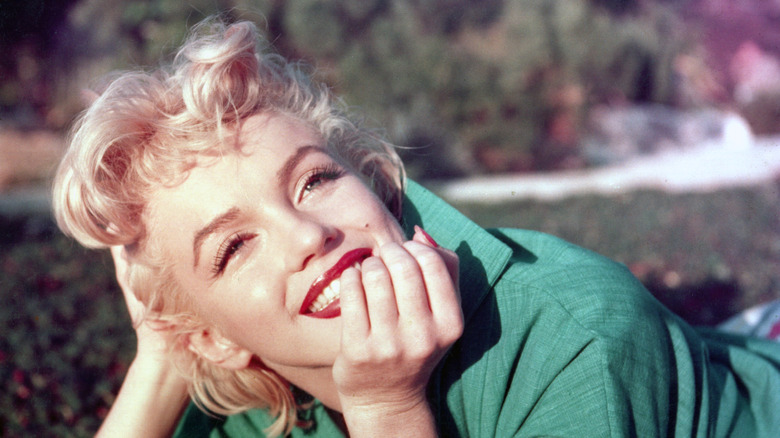 Baron/Getty Images
Judging by the varied roles she's taken in her career, it's clear that Temple enjoys taking on a variety of challenging roles. She chooses to carve out her own path in the industry and not be typecast by what anyone else sees her. In many ways, she shares a similar belief system with Norma Jeane Mortenson, better known as the iconic Marilyn Monroe, who broke down many boundaries for women in Hollywood and started a revolution.
Temple declared to The Star that Monroe is her muse. "My room at home was covered in posters of Marilyn Monroe," she said. "She has been a huge inspiration for me. The thing that I find so absolutely bewitching about her was her beauty and animalism and sexuality ... and this crazy innocent vulnerability and sometimes deep-rooted sadness on camera. And I've always loved her for that. And she was so funny."
It's as if Temple described herself there, isn't it? Like Monroe did for her, she is also quickly becoming a role model for other actors as she continues to dance to the beat of her own drum in the industry, refusing to conform to any norm or be anything else except herself.
She faced some parental disapproval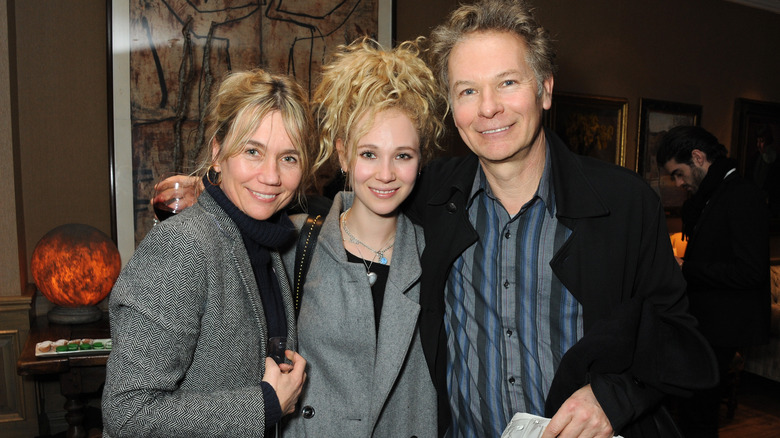 David M. Benett/Getty Images
With both of her parents involved in the entertainment industry, one would think they'd be more than happy to see their darling daughter follow in their glorious footsteps. However, that wasn't always the case in the Temple household.
In a career-spanning Marie Claire profile, Juno Temple revealed that she told her parents she wanted to become an actress at the tender age of 14 after becoming mesmerized by Peter Jackson's "Heavenly Creatures." Their immediate reaction was shock. They reminded her that she'd be facing a lot of rejection and questioned if she was prepared to accept it on a consistent basis. But to test if she was truly ready for the cruel mistress that the film industry can be, her mother sent her to an open call for 2006's "Notes on a Scandal," telling Juno to pay attention to how many other people would be auditioning for the role, too.
Against the odds, Temple got the part. She broke the good news to her mother, who cried of happiness but couldn't believe how it had all played out. There was no turning back from there, and her family seemed to be fully on board with her career choice after that.
What she really thinks of Hannah Waddingham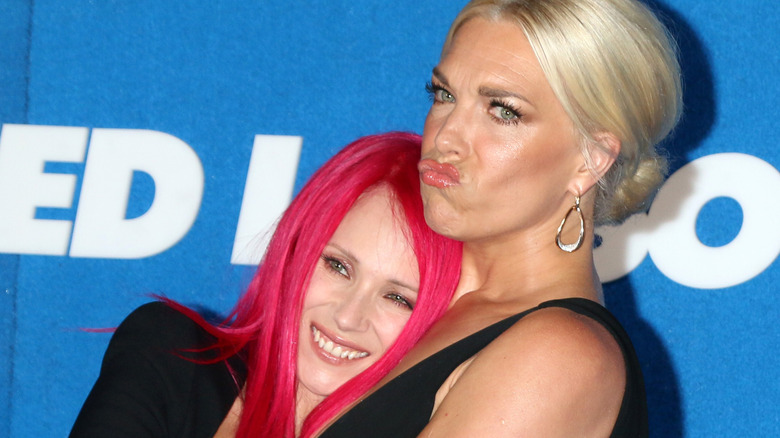 Kathy Hutchins/Shutterstock
Keeley and Rebecca are BFFs on "Ted Lasso," building an unexpected friendship that has brought out the best in each other and those around them. Seeing the natural chemistry and hilarious camaraderie on screen, many fans wonder if the two actresses, Juno Temple and Hannah Waddingham, share the same relationship behind the scenes.
The good news is that they do. In an interview with Variety, Waddingham revealed that a bond formed between the two of them almost instantly, even if their first encounter was bumping into each in the bathroom. "It was the most strange thing," she said. "It was just completely natural and effortless ... and it's been like that ever since, both on screen and off."
Both actresses agreed that it might've been tougher had the writers scripted them as rivals on the show. Fortunately, "Ted Lasso" subverted the tiresome girl-versus-girl trope and decided that friendship was the best route for the characters of Keeley and Rebecca. It's difficult to imagine them as anything else, really.
She never acted with Angelina Jolie (technically)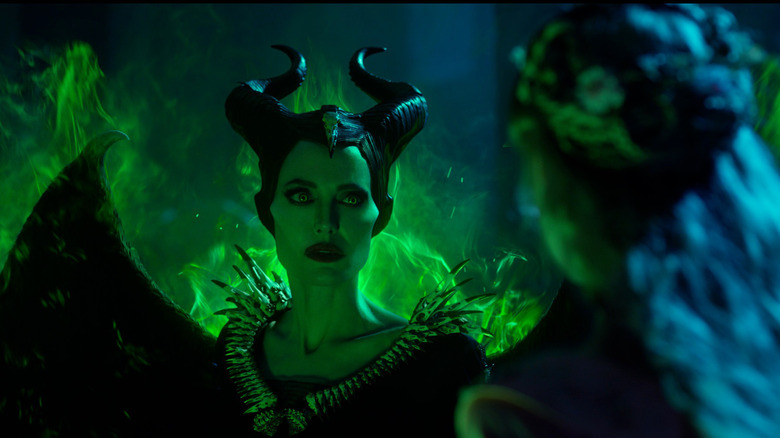 Disney
One of Temple's most recognizable roles was as the green fairy Thistlewit in 2014's "Maleficent." She appeared in both the character's human and fairy form, where she starred alongside a stellar cast including Elle Fanning, Sharlto Copley, Imelda Staunton, and Lesley Manville. Undoubtedly, the biggest star of them all was Angelina Jolie, who portrayed the titular character and self-proclaimed Mistress of Evil.
Even though Thistlewit and Maleficent shared some screen time in the movie, Temple never acted in a scene with Jolie present. In a conversation with IndieWire, Temple said, "I didn't get to do any actual filming with her because all my scenes that are with her are with a giant Styrofoam version of her." Still, she added that Jolie was "lovely" in real life and they did manage to meet.
Despite the over reliance on CGI, Temple stated that her experience on "Maleficent" was highly rewarding and educational, as she learned a lot more about the technology and got to challenge herself as an actress as well. And at least Thistlewit's CGI looked better than, say, the Scorpion King from "The Mummy Returns," right?
Juno Temple's Harry Potter history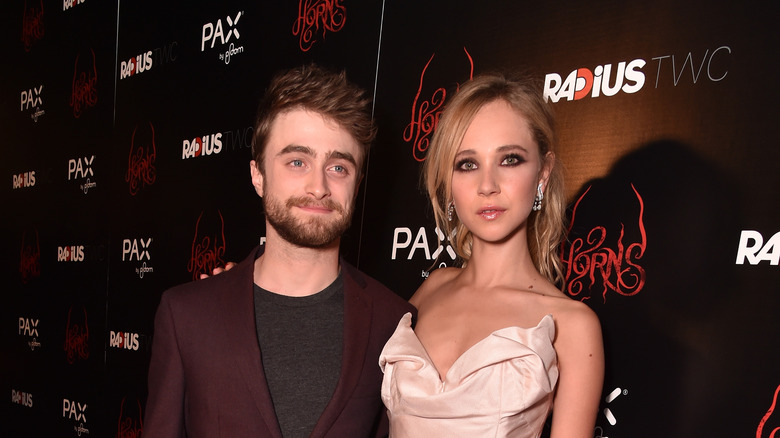 Alberto E. Rodriguez/Getty Images
As one of the biggest franchises of all time, many actors tried their luck at being cast in the "Harry Potter" movies. Around 300 children auditioned for the part of the boy wizard alone, not to mention the rest of the cast across eight films. Unfortunately, there were only so many roles to go around and a litany of talented performers didn't make the cut — including Juno Temple.
"I don't remember what the character was," she told The Star about her past audition. "It was way back when."
Thanks to some super-sleuthing from Potterheads, however, it's believed that she read for the part of Luna Lovegood, which ultimately went to Evanna Lynch in "Harry Potter and the Order of the Phoenix." Temple has admitted that she wasn't the biggest "Harry Potter" fan in the world to begin with, so it doesn't appear as if she was too perturbed about losing out on the coveted role. Nevertheless, she finally got the opportunity to star next to Daniel Radcliffe in 2013's "Horns."
The Batman: Year One influence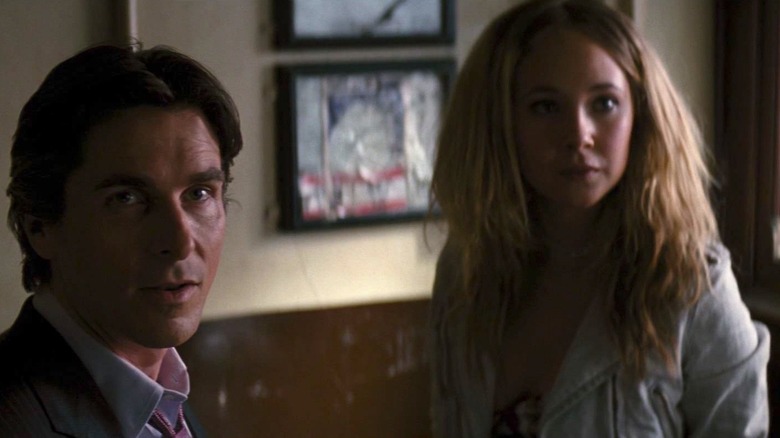 Warner Bros.
Juno Temple received her big moment on the comic book movie stage by appearing in "The Dark Knight Rises," the epic conclusion to Christopher Nolan's Dark Knight trilogy. When her casting was announced, fans speculated that she would be portraying Holly Robinson, Selina Kyle's infamous sidekick in DC Comics. However, when she appeared in the movie, she was known only as Jen.
Even though the name was different, it's clear that Nolan took inspiration from the comic book source material when creating Temple's character. He did something similar with Joseph Gordon-Levitt's John Blake and the Robin mythology, choosing to change things up a little while still having more than a few nods and winks to the knowing audience.
In the comics, Holly was created by Frank Miller and David Mazzucchelli for the "Batman: Year One" storyline in 1987. Initially seen as an accomplice and friend of Selina's, Holly eventually took up the mantle of Catwoman at one point in the continuity as well. Considering all the multiverse madness taking place in DC films at the moment, would it really be outside of the realm of possibility to see Temple return as some other Earth's Catwoman in the future?
The bare necessities of life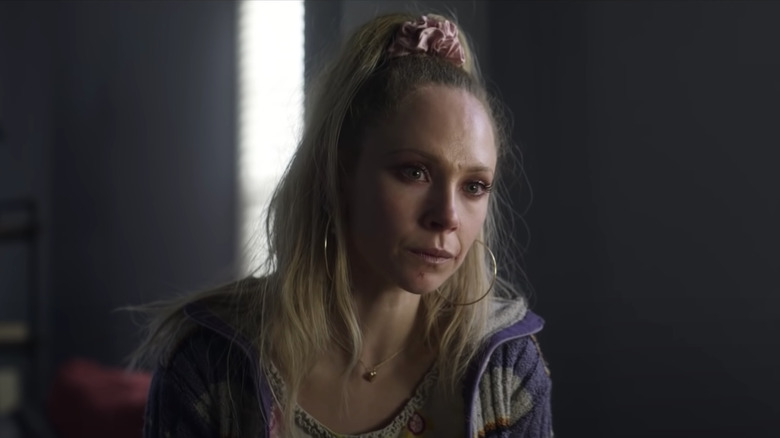 Apple TV+
If the role calls for it, Temple isn't afraid of showing some skin on screen. However, as she revealed to The Independent, she does believe she's been penalized for it as people formulate opinions about her. She isn't concerned about their perceptions, though, since she finds nude scenes easier to film than certain other acting challenges.
"Actually, doing a sex scene is less terrifying than doing a scene where I have to give up my child," she said, referring to her performance in Apple TV+'s "Palmer," in which her character Shelly does exactly that. For Temple, taking off her clothes on screen is a source of empowerment and confidence. She believes nudity allows deeper insight into a character's state of mind and isn't just a sexual thing.
At the same time, Temple credits her bohemian upbringing for making her so comfortable in her own skin. She experienced different people and different lifestyles from an early age, ensuring that her worldview was shaped by several influences and not one singular perspective.
Her other big dream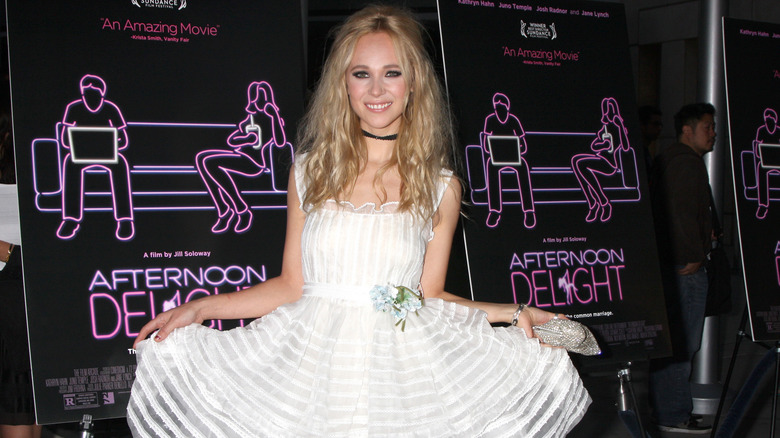 Kathy Hutchins/Shutterstock
Much like any other artist, acting is only one of Temple's many passions. She admitted numerous times that lingerie design is something she'd love to try in her future — and she even has a specific design that'll blow people's minds if they see it.
In an interview with IndieWire, Temple said, "I'm obsessed with lingerie. I want to design lingerie one day. I really do. I almost went to fashion school. I got accepted into London College of Fashion two years running, but then kept taking movie roles instead. Definitely acting is my passion, but I love lingerie."
Her obsession with lingerie doesn't stop there, though. In a separate interview with the Independent, Temple revealed that she actually buys lingerie for each new character she portrays. It's something that she's done for quite a while and considers as part of the process to get into the character's headspace. 
She won't pull a Jared Leto on you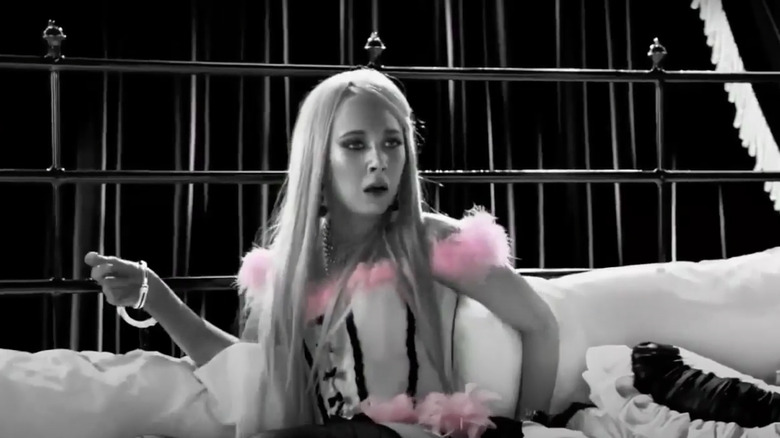 YouTube
In Hollywood, there are many actors who swear by method acting, believing it's the only way to fully get into character and deliver a convincing performance. Daniel Day-Lewis has won an envious number of Oscars due to his unwavering commitment to his roles and willingness to disappear into whomever he plays on screen. However, there have been more than a few instances where people have questioned how far is just a little too far, such as Jared Leto's weird "gifts" to his "Suicide Squad" castmates while playing the Joker.
If you star alongside Juno Temple, you have nothing to worry about in that department — she isn't a method actor at all. She told the Independent that if she went method she'd "be dead seven times over," though she admitted that it's easy to get caught up in a character. "It can sometimes get a bit lonely, because you can get so wrapped up in another person's life that you forget yours for a second," she said. "You abandon yourself."
Temple believes acting is something of a give-and-take relationship in which the actor will give a part of themselves to the character and they'll take something back from the role into the real world. Sounds fair — and at least she isn't sending dead rats to her co-stars.
Ted Lasso changed her life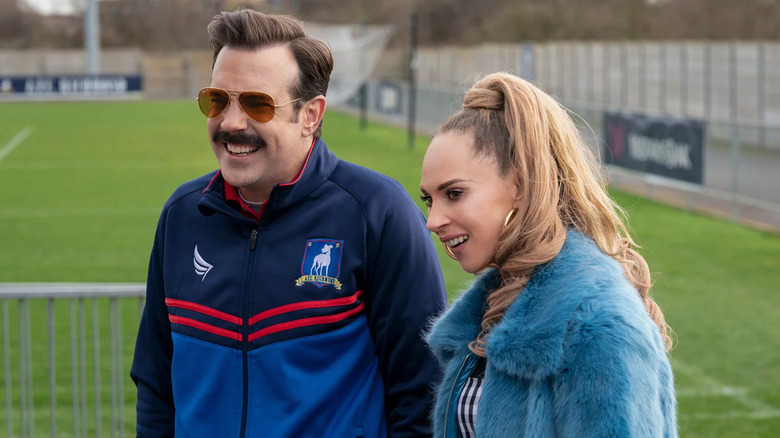 Apple TV+
No one could've expected the influence that "Ted Lasso" would have on everyone. The show carries such a pure and positive message that it's practically impossible to dislike it. For many fans, it's been the shining light in recent dark times as it not only brings the laughs but also contains heart.
Being involved with the show has had an equally positive impact on Temple as she portrays one of the most optimistic and bubbly characters, Keeley. She revealed to Marie Claire that when she first read the script, she thought it was genius and loved that it didn't feel "corny" or "preachy" in the slightest, but "human." As a result, she found the show's earnestness and positivity rubbing off in her own personal life.
Her co-star Brett Goldstein, who plays Roy Kent, added that he sees the light in Juno Temple and how she carries herself both on and off screen. "Her eyes are giving everything," he said. "She's alive and she's excited to be with whoever she's with, and she cares about them. I always think there's a thing with some actors ... where you just sense they have goodness in them, even if they're playing a bad guy."