Sylvester Stallone's Mob Boss Is Out Of His Element In The New Trailer For Tulsa King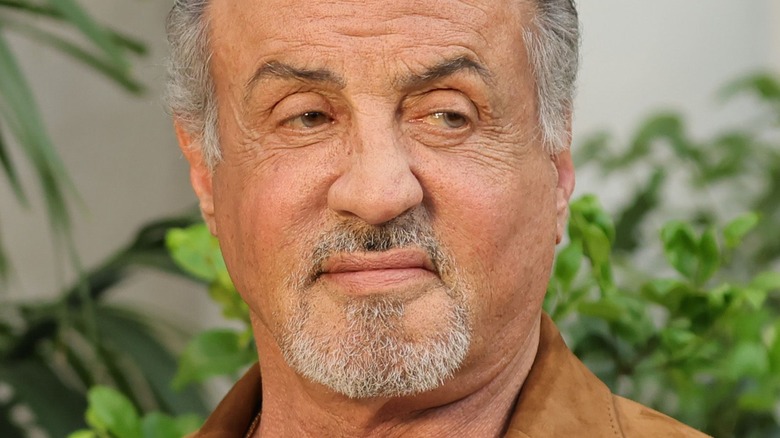 Amy Sussman/Getty Images
Sylvester Stallone got his start in Hollywood in an unusual way. According to a 1977 interview with the BBC, the actor had a handful of small roles before 1976 and only had $106 to his name when he forced his way into Hollywood by writing his own movie and offering to star in it for cheap. The film he wrote and starred in was "Rocky," which went down as one of the greatest films of all time and launched him as a bona fide movie star. Stallone has only done movies for most of his life, though, until he found a new home on the small screen in the upcoming Paramount+ series "Tulsa King."
In the series, Stallone stars as a New York mafia boss who, after getting out of prison, is forced to relocate to Tulsa, Oklahoma, where he gets back to his old tricks, starting an organized crime syndicate in his new home (per Deadline). In a video that Stallone posted to Instagram of what appears to be the show's wrap party, the "Rocky" star tells the cast and crew, "I've never worked so hard in my life and had so much fun." Perhaps moving to television gave him a bit more of a strenuous schedule, but he seems to be happy with the new series. And, with the November 13 premiere date fast approaching, the first full trailer for "Tulsa King" dropped recently, and Stallone really shines in it.
Meet The General
In the new trailer, audiences are introduced to Dwight "The General" Manfredi (Sylvester Stallone) as he returns from prison, and his boss in the mob informs him that he's going to be relocating to Tulsa. "There's nobody doing nothing; you can do whatever you want," the boss tells him. Manfredi then goes around Tulsa, establishing his new criminal empire, finding that there are no competing gangs and still offering protection to a dispensary, who insist they have no need for protection. Stallone isn't necessarily known for comedy outside of a few films like "Stop or My Mom Will Shoot" or "Guardians of the Galaxy Vol. 2," but he shows a great talent for comedy in the trailer. In one scene, he's shipping a box at the post office and is asked if there are any "flammable liquids or firearms," to which Manfredi responds, "In the box? Nah."
Fans took to social media with mixed reviews. "Stallone is a machine," wrote u/Royaourt in the discussion in the r/trailers subreddit. In the Twitter thread responding to the trailer tweeted by the official Paramount+ Twitter account, @Mask_dm pointed out that "Tulsa King" is not the first of its kind but part of a fun genre of television shows. "I love shows where a mob guy goes to a small town without mob guys, but he does mob stuff in the small town." However, u/Syjefroi in the r/television subreddit had a more cynical take on the show. "Wait so Stallone plays a piece of s*** mobster who goes south to terrorize civilians but the trailer makes him look like the bada** hero?" Fans can decide for themselves if the show matches their first impressions when it debuts on Paramount+ on November 13.