The One Keanu Reeves Sequel We're All Waiting For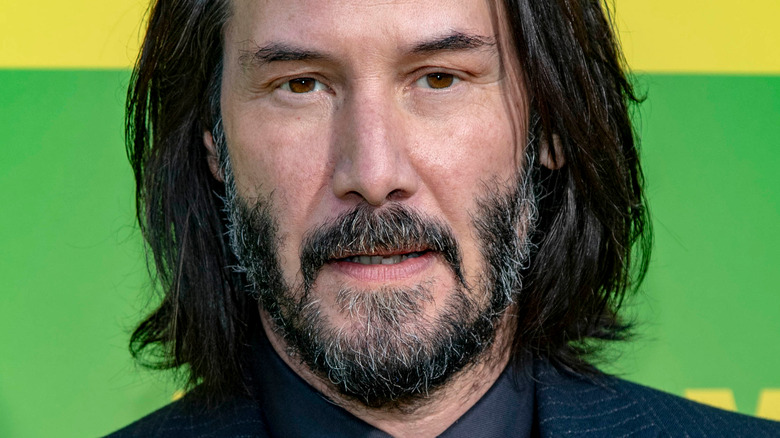 Eugene Powers/Shutterstock
For anyone else, Keanu Reeves' last batch of live-action films would fit the bill of a comeback tour. In reality, though, Reeves never really left. The man that seems to be Hollywood's most humble dude has kept going at a decent pace. Sure, there were occasional misfires, but his filmography boasts a genuinely impressive number of beloved franchise characters.
Currently, his biggest role is probably a certain hitman who never misses his targets (including, as it may be, the box office). With his fourth installment ready to let rip next year, "John Wick: Chapter 4" sees Reeves' return to the franchise that has already made over half a billion dollars at the box office (via Forbes). His seasoned gun-for-hire has had a tremendous critical track record, with none of the "John Wick" films dropping below 80% on Rotten Tomatoes so far, which is a claim that not even "The Matrix" films can match. 
However, even though audiences have thrilled at the return of Wick and Neo, there's another iconic protagonist in the star's catalog that couldn't be better suited for a comeback. One that comed from a film that broke all the rules of comic book adaptations, and somehow succeeded anyway.
Well, to hell with the rules. We still want John Constantine. And we want Keanu Reeves to play him again.
Constantine broke every comic book movie rule -- and that's not a bad thing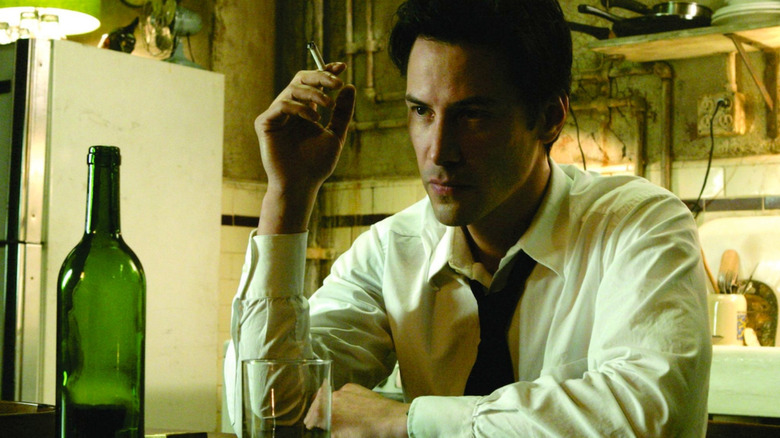 Warner Bros. Discovery
Even before it was announced that Keanu Reeves and original director Francis Lawrence would be revisiting John Constantine in a sequel, the man that brought him to life in 2005 had wanted to get back in the role for some time. In 2021, during an interview with Stephen Colbert, Reeves expressed hopes to revisit the LA-based exorcist in the future.
The cult popularity that "Constantine" has earned today is something of a surprise. Back when it came out, the film was met with mixed negative reviews (via Rotten Tomatoes). The fact that fans have come to embrace this movie is even more impressive considering the sacrilegious sins it committed as a comic book movie. For one, the Constantine we got looked nothing like the one from the comics, who was modeled on music icon Sting and sounded like a Beatle (that is, Constantine originates from Liverpool, England). Instead, this new Constantine was Neo with an attitude, albeit smelling like an ashtray (the latter point, though, being faithful to the comics). Dressed like a pallbearer and sounding like Keanu Reeves, he didn't check the essential boxes regarding comic book movie accuracy. 
And yet, there was something about this Americanised chain-smoking exorcist that clicked, and it was all thanks to Reeves' performance. Looking back, "Constantine" feels like a role ahead of Reeves' professional curve. This iteration delivered a bitter, dry-witted warrior against evil — one who had years on the job and a glass-half-empty sense of humor to match. Left unattended for 17 years, that glass has probably aged just right, especially with how Reeves has grown as an actor.
Constantine 2 could be the ultimate Keanu Reeves role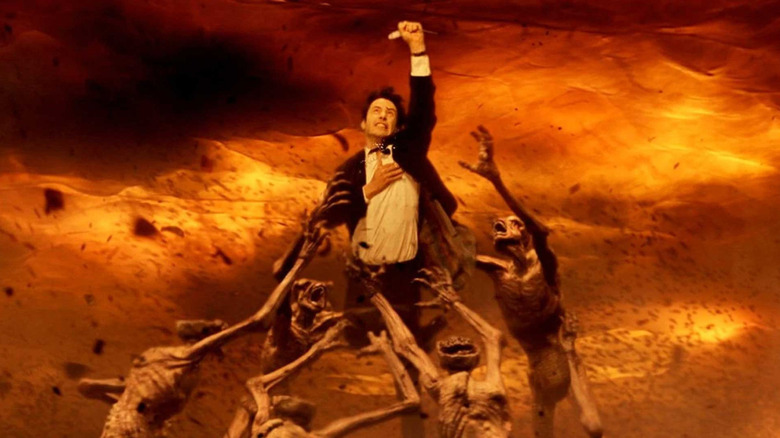 Warner Bros. Discovery
With almost two decades having passed since John Constantine dodged giving the devil his dues (an encounter elevated thanks to Peter Stormare's Lucifer), Keanu Reeves has become even more of a Hollywood favorite than he already was. Given his iconic take on the afterlife and just being an all-around great guy, he's still drawn audiences in by the bucket load with "John Wick" ... and it's that role, specifically, which may have warmed him up for the one he's set to return to. 
As the Baba Yaga, he's elevated the whole "worn-down hero pulled from retirement" trope to an artform (albeit spread across three films so far), which absolutely sounds like Constantine. After all, Constantine may have outsmarted Satan, but the forces of darkness would undoubtedly have taken their toll on the one soul fighting for the City of Angels after all this time. Doing so could give Reeves more to play with than we've seen him do in years and end up in what may essentially be his "Logan."
Just picture it: Curmudgeon Constantine still walking the holy war-torn streets of Los Angeles. To go back to that realm, with that dark and unsettling lens — in what has every reason to be John's final outing before meeting his maker — would be a demon-riddled rumble worth seeing, especially given the potential backup that could come with him.
Keanu Reeves isn't the only star that could make a brilliant comeback for Constantine 2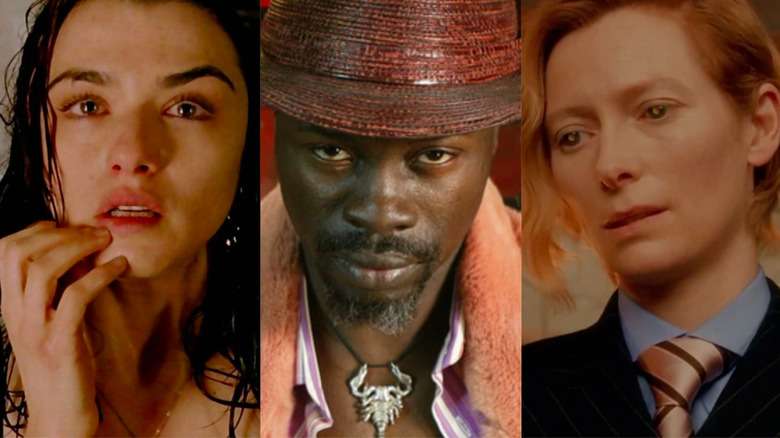 Warner Bros. Discovery
Besides Reeves having issues with the Almighty, it's the supporting cast that joined him on the first "Constantine" film that made it work. Rachel Weisz — no stranger to supernatural adventures herself, after breaking out with "The Mummy" – was the LAPD cop Angela, converted to seeing the world of both angels and demons thanks to our hero. And given how things ended, there's still space for her to return, like a handful of others that have also made a name for themselves since.
The original film also starred two great talents as a pair of fallen angels, one dropping lower than the other and loving it. Tilda Swinton was the duplicitous Gabriel, last seen having their wings clipped and given a firm hit with humanity after trying to make a deal that would dethrone Peter Stormare's Lucifer. As for the latter, his neck-cracking slithering iteration of Satan was a highlight of the first film and one worthy to stoke the fires again for another appearance. Finally, there's the middle man between domains in the form of effortlessly enigmatic Djimon Hounsou, as Papa Midnite, who stole the screen from Reeves more than once. 
However, depending on Warner Bros. Discovery's plans, it's also possible that this return to Constantine could be more than a one-off sequel.
Keanu Reeves' Constantine could join the DCEU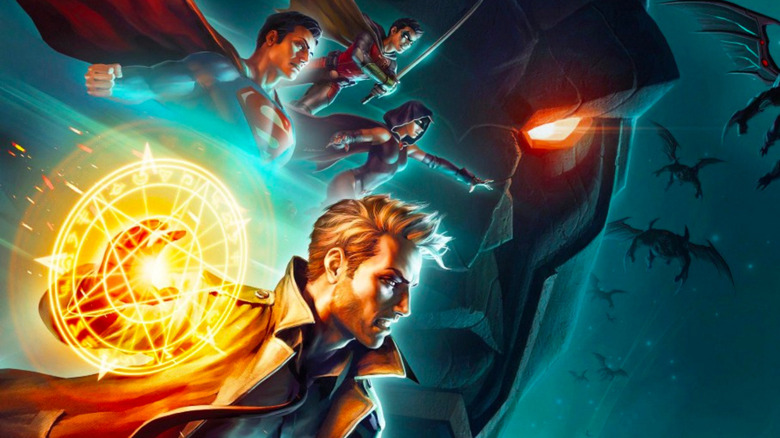 Warner Bros. Discovery
With Marvel dipping their toe into horror with "Werewolf By Midnight," the race for live-action superhero supremacy has shifted into supernatural territory. Should Warner Bros. Discovery be even more worried, given they're still trying to fix their own universe while Marvel is venturing into a genre they've never touched before? 
Heck no, especially when they've got their own supernatural hero that could easily fit alongside their costumed heroes. After all, Marvel Studios aren't afraid to bring back forgotten heroes to the fold, even ones from other universes. Why should the same tactic not be applied to Constantine?
In the grand scheme of things, "Constantine 2" would be a perfect entry point to reintroduce its protagonist among the potential return of Superman and the soon-to-be debuting Black Adam (Dwayne Johnson). As a hero that's part of the DC universe, seeing Reeves' exorcist hero blow vape smoke into Kal-El's face would make for an excellent encounter and could work as a pathway for the introduction of other heroes that battle beasts from beyond the grave, such as the Spectre and Deadman. 
The only downside is that Reeves' return did put the last nail in the coffin of the J.J. Abrams-produced "Justice League Dark" project for HBO Max (via Variety), which was supposed to star a new version of Constantine. If such a major cinematic culling has been put into effect, god only knows what plans are in place for Reeves' forgotten hero, going forward. But make no mistake — it's going to be biblical.