How Jamie Lee Curtis' Dislike Of Horror Moves Helped Her Become Hollywood's Scream Queen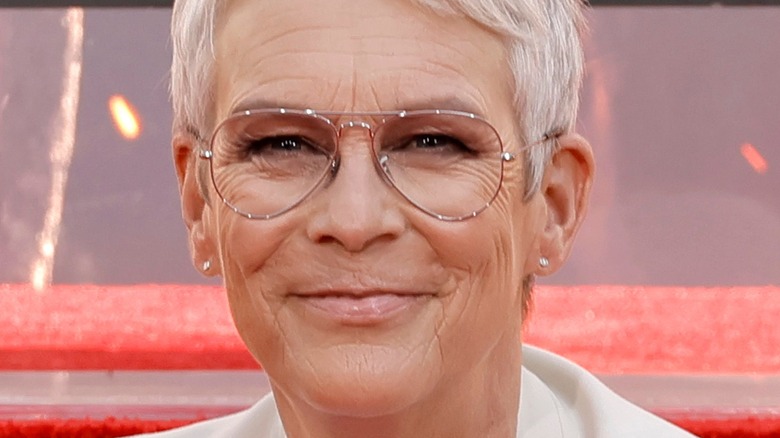 Kevin Winter/Getty Images
As the horror genre has evolved over the years, many performers have become famous figures, either as the villain in slasher movies or being the sole survivor, with the latter often being dubbed a Scream Queen. The release of John Carpenter's 1978 film "Halloween" made Jamie Lee Curtis a fan favorite among horror viewers, as her character Laurie Strode survived the rampage of serial killer Michael Myers, thanks to a last-minute intervention by Dr. Loomis (Donald Pleasance).
Curtis has reprised the character in numerous sequels to the film over the years, with 2018's "Halloween" bringing a new spin on Laurie Strode as a survivalist especially equipped to fight back against Michael Myers, both with weapons and booby traps around the house. This marked the beginning of a new trilogy, culminating in 2022 with "Halloween Ends."
Ahead of the film's release, Jamie Lee Curtis spoke about her dislike of the horror genre and how that particular dislike made her so well-suited to it, allowing her to become one of Hollywood's most famous scream queens. This is what she had to say.
Curtis is unable to even watch her own movies
In an interview on the Chris Moyles Show (via Radio X), Jamie Lee Curtis revealed that she's not a fan of horror films. She added that this was a well-known fact among her friends, who would often dissuade her from watching certain films because they know it'll be too scary for her.
Curtis, however, noted that this was a strength, not a detriment when it came to making her a horror icon. She noted that her being "naturally afraid" meant that her reactions did not require coaching or rehearsing. "Whatever I do, I do. I have no preconceived idea," Curtis said.
Curtis said that her natural aversion to horror movies even extended to her own films, noting that she was unable to watch her latest film, "Halloween Ends," in its entirety and lived through it vicariously instead. She spoke about watching the film on her own in a preview show, with only a security guard in the theater to make sure she wasn't pirating.
When the movie got too scary, however, Curtis, who had the ability to control the volume, turned away from the screen and lowered the volume. The guard, however, kept watching, and so Curtis' knowledge of those scenes is tied to the guard's reactions, which she noted were "very vocal."