These Will Be The Worst Movies Of 2018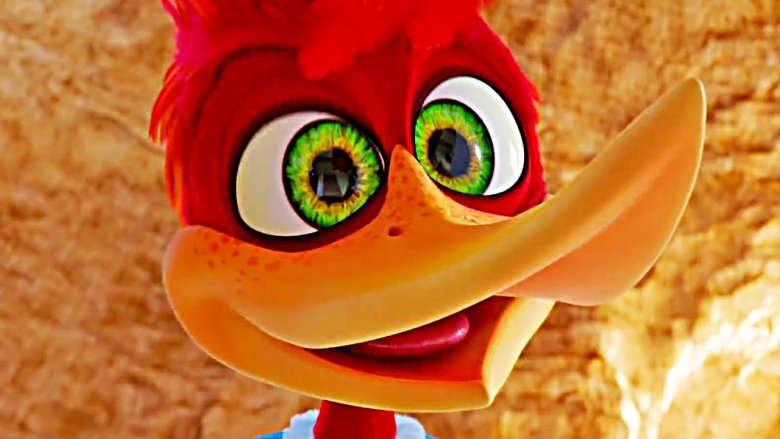 2018 is shaping up to be quite the year at the cineplex, with numerous superhero movies as well as Stars Wars and Harry Potter spinoffs on the horizon. Steven Spielberg (Ready Player One), Wes Anderson (Isle of Dogs), and up-and-coming sci-fi director Alex Garland (Annihilation) all have new releases dropping in the next 12 months—but for every film worth getting excited about, there's another that we're absolutely dreading. You simply won't be able to avoid a number of these movies, while some of the others mentioned here might have flown under your radar entirely (we apologize in advance for notifying you of their existence). From sequels and reboots that nobody asked for to biblical B-movies and poorly-timed horrors, we're betting that the following films will be the worst of the worst in 2018.
Woody Woodpecker
If you're a fan of the classic Woody Woodpecker cartoons from the 1940s, then you'll definitely want to give the upcoming live-action hybrid from Universal a wide berth. Due for release in February, this family-friendly adaptation of Walter Lantz and Ben Hardaway's screwball 'toon pits a CGI Woody against a big-city lawyer who intends to tear down his woodland home to create space for a new development. Woody decides to takes matters into his own hands and violently defends his home, taking snaps on his smartphone as he does. Apparently, his social media game is on point.
The trailer truly is the stuff of nightmares, with Woody's traditional laugh (performed here by seasoned voice actor Eric Bauza) taking on a far more sinister tone as he goes about assaulting the innocent tradesmen hired to clear out the forest. The whole thing is clearly meant to be cheap and cheery, but in the end it just comes off as cheap, with the character so poorly rendered in CG that his presence is simply jarring. Bizarrely, the film is already a hit in Brazil, where an early release inexplicably grossed more than $6.5 million. Go figure.
Samson
The faith-based production company behind the God's Not Dead trilogy are back with a all-new biblical blockbuster this year, bringing the tale of Samson to the big screen. Pure Flix has been making inroads in the Christian market over the past few years, thanks largely to the success of their family-friendly home streaming service. "We've been blessed with really strong growth," chief executive Greg Gudorf told the New York Times. "Our God-given dream was to provide content on a consistent basis to be an alternative to what Hollywood was putting out."
Gudorf was inspired to get into film after being horrified by Grease as a child ("Olivia Newton-John came out in black tights and I thought for sure I was going to hell"), though money has always been a stumbling block. While the God's Not Dead films didn't require much in the way of visual effects, Samson relies on them heavily, and the lack of funding is highlighted by the substandard CGI.
According to the Bible, the Hebrew strongman slew 1,000 Philistines and fought a lion with his bare hands, all of which is included in the trailer. Sadly, the effects on show in these pivotal moments seem pretty dated—the whole thing looks like it was put together using deleted scenes from The Mummy Returns. The presence of Billy Zane wearing what appears to be a toy crown makes the outlook even grimmer.
Teen Titans Go! to the Movies
Cartoon Network's Teen Titans Go! has divided DC fans since it started airing in 2013, with many viewers of the opinion that the show is an insult to both the original Teen Titans animated series (2003-2006) and the much-loved comics of the same name. Some have even petitioned the network to cancel Teen Titans Go!, citing the bad messages it sends to young viewers (encouraging cheating and sexism to name a few) and the fact that it more or less ignores the source material.
Co-producer Michael Jelenic told Comics Alliance that he's well aware of the "internet hate," though the vocal detractors have never slowed him down. He and his team have managed to thrash out over 200 episodes in just four years, but the move to the big screen will likely prove to be a step too far. Teen Titans Go! to the Movies will follow Robin, Starfire, Cyborg, Raven and Beast Boy to Hollywood as they go in search of a director to make them famous with their very own superhero movie—an idea that probably would have worked better as a double episode rather than a full-length feature film.
Slender Man
In 2009, a Something Awful user with the handle Victor Surge posted a made-up horror story and some doctored photos to the website's forum, unaware of the chain of events he'd set in motion. The thread invited people to create their own paranormal urban legends, and when Surge started plugging his creation Slender Man, it caught on fast. Before long, the faceless man with the ability to turn children against one another—among other powers—had become a genuine meme and, tragically, would go on to inspire a real-life attempted murder.
In 2014, Wisconsin schoolgirls Morgan Geyser and Anissa Weier lured Payton Leutner into the woods and stabbed her 19 times. All three girls were 12 at the time—and Geyser and Weier claimed to be under the influence of the Slender Man. In a letter to the judge sentencing the pair (both were institutionalized, according to The Guardian), Leutner's mother said she "deserves to be allowed to heal in an environment where she feels safe." Unsurprisingly, people have reacted angrily to the news of a Slender Man movie.
Even if it wasn't a totally insensitive move by the studio, Sony still wouldn't be coming out of this well, because the trailer makes the movie look downright awful. From creaking doors and jerking heads to creepy forests and screaming schoolgirls (yes, they really went there), they break out every worn-out trope a horror fan could think of, and then some.  
Alita: Battle Angel
Robert Rodriguez changed the way indie filmmakers thought about GCI when he created the stunning visuals in 2005's Sin City from his home studio, beautifully—and faithfully—adapting Frank Miller's beloved graphic novels. The director's taken a similar approach to the upcoming Alita: Battle Angel, his live-action take on Yukito Kishiro's manga Battle Angel Alita. The titular cyborg heroine is being played via motion-capture by Rosa Salazar, whose eyes have been enlarged to look as though they're straight out of the pages of the manga.
"The early artwork I saw that Jim [Cameron, producer] had, before it was even technically possible, had that in her," the helmer said of the bizarre concept. "It was so striking and so arresting, I thought, 'My god, we have to do that. We have to be the first to bring a true manga and anime character to life.'" While their intentions might have been good, fans of the source material have reacted with a mixture of confusion and anger.
"From what we can gather, it looks less like her uncomfortable anime eyes ... were put there just to signify that the movie is inspired by manga," Waypoint's Carli Velocci said. "Alita looks to be going down the same path as Ghost in the Shell, not only in its whitewashed nature but in how it fails to realize where the art came from in the first place."
Peter Rabbit
While it's now considered a classic of children's literature, British author Beatrix Potter actually had trouble getting The Tale of Peter Rabbit published when she wrote and illustrated it in the late 1800's, most likely because of her gender. In 1901 she decided to self-publish 250 copies of the book and it went on to become a hit via word of mouth, prompting one of the publishing houses who'd previously said no to come crawling back. In the years that followed, Potter—known for being famously proud of her work and unwilling to alter it for anyone—turned down plenty of offers to turn Peter Rabbit into a feature film, even rejecting the overtures of Walt Disney himself.
We'll never know what Disney's Peter Rabbit might have looked like, but it's safe to say Potter would have hated the twerking party animal that Sony have turned him into. "Beatrix Potter would be turning in her grave," relative and actress Nadine Hanwell told The Mail on Sunday (via MailOnline). "I hope parents don't take their children to see the film. She would absolutely loathe this." Peter (voiced by The Late Late Show host James Corden) was always mischievous in the books, but this interpretation is less cuddly critter and more arrogant frat boy. Judging by the early reaction to the trailer, this one is likely to be another miss for Sony.
Hotel Transylvania 3: Summer Vacation
Like the majority of Adam Sandler movies, 2012's Hotel Transylvania went down pretty badly with the critics, only managing to score 44 percent on Rotten Tomatoes. Predictably, reviews for the 2014 sequel didn't fare much better. "Hotel Transylvania 2 is marginally better than the original, which may or may not be enough of a recommendation to watch 89 minutes of corny, colorfully animated gags from Adam Sandler and company," the Rotten Tomatoes Critics Consensus states. Why, then, are we staring down the barrel of a third installment in this franchise? Money.
The first two films were made for around $85 million each, yet they've pulled in staggering amounts ($358 million and $473 million, respectively) at the worldwide box office. When hackers hit Sony in 2014, they leaked emails that confirmed Sandler and the studio had fallen out over Hotel Transylvania 2, with the star apparently wrestling control of the project away from director Genndry Tartakovsky.
Despite this mess, Sandler, Tartakovsky and Sony all came back together for a third Hotel Transylvania, putting financial gain over professional pride. Sandler recently signed an extension to his Netflix deal, meaning he has little reason to do anything other than phone it in this time around. Expect Summer Vacation to be the worst Hotel Transylvania yet.
Fifty Shades Freed
Mocking the terrible dialogue littered throughout the Fifty Shades of Grey novels was the internet's favorite game for a while, and even though the net can be a cruel and vindictive place at times, it's hard to argue against the haters when you actually sit down to read these books. To be fair to author E.L. James, she spotted a gap in the market and plugged it, cleverly tweaking her Twilight fan fiction for the mom audience. A big-screen adaptation seemed inevitable after the success of the raunchy trilogy (it's now sold over 100 million copies), and many hoped that the books' kinks would be ironed out in the process. It hasn't happened.
"While creatively better endowed than its print counterpart, Fifty Shades of Grey is a less than satisfying experience on the screen," the Rotten Tomatoes Critics Consensus says of the first film, and the second picture went down just as poorly: "Lacking enough chemistry, heat, or narrative friction to satisfy, the limp Fifty Shades Darker wants to be kinky but only serves as its own form of punishment." The reaction to the trailer for final installment (for now, at least), Fifty Shades Freed suggests that many of the people paying to see the film will be doing so to laugh at it. Stars Jamie Dornan and Dakota Johnson must be just as eager to put this to bed as the rest of us.
Viy 2: Journey to China
Viy 2: Journey to China pits action stars Jackie Chan and Arnold Schwarzenegger against one another. In Russian. And Arnie is Captain Hook. Confused? Well, to properly explain this wacky looking Russo-Chinese production, we need to first mention that the previous movie, Viy: Forbidden Empire, was the highest-grossing Russian film of 2014. The swashbuckling fantasy epic (based on a classic horror novella first published in 1853) was even on track for a U.S. release until a lawsuit between co-producers derailed it, though the few American critics that actually got to see it weren't exactly blown away.
"The teetering balance between a dark that isn't dark enough and a light that's too bright translates into confused performances by most actors, and a horridly overdubbed soundtrack [...] accentuates every tonal trip-up," Matt Donato wrote for We Got This Covered. A sequel was inevitable, though instead of concentrating on the positive parts of the original (the performance of British star Jason Flemyng as adventurer Jonathan Green, for example), they seem to have embraced the crazy. Chan and Schwarzenegger take top billing over Flemyng, appearing more than him in both trailers despite being supporting characters in the continuation of his tale. The first film was guilty of favoring style over substance, and that doesn't seem to have changed for the sequel.