Are The Stars Of Modern Family Friends In Real Life?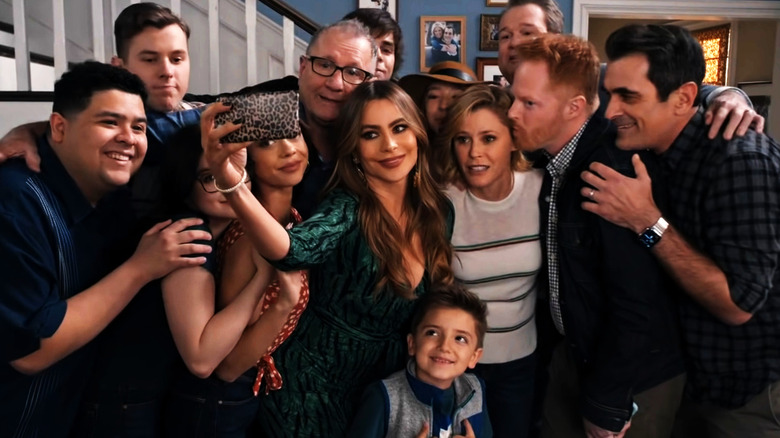 ABC
For 11 seasons, "Modern Family" was a hit sitcom on ABC. Steve Levitan and Christopher Lloyd co-created the Emmy-winning series that ran for 250 episodes until its finale in 2020 (via IMDb).
The "Modern Family" tree required a supersized cast. Ed O'Neill played patriarch Jay Pritchett, a successful businessman who had a gorgeous Colombian-born wife, Gloria (Sofia Vergara), and stepson, Manny (Rico Rodriguez). Mitchell (Jesse Tyler Ferguson) and Claire (Julie Bowen) were Jay's grown children from his first marriage, and their spouses were Cameron Tucker (Eric Stonestreet) and Phil Dunphy (Ty Burrell), respectively. The Dunphy marriage spawned three kids, Haley (Sarah Hyland), Alex (Ariel Winter), and Luke (Nolan Gould), while the Tuckers became doting dads to two children. Jay and Gloria also had a son together, Joe, and by the series' end there were some twin Dunphy grandchildren in the mix (per TV Insider).
While the show was set in a Los Angeles suburb, the finale had the clan going in different directions, but ending with the suggestion that the porch light at the Dunphy residence would always be left on for whoever wanted to come home, per The Hollywood Reporter. But did the end of the show mean the end of the cast's real-life relationships?
The cast of Modern Family remain close today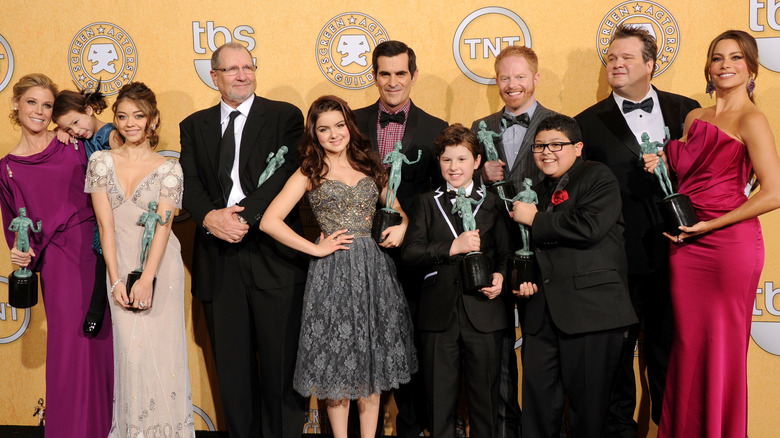 Jason Merritt/term/Getty Images
When "Modern Family" ended its 11-season run, star Jesse Tyler Ferguson admitted he couldn't comprehend not seeing his TV family regularly. "I can't even imagine how it's going to be a part of this world where 'Modern Family' has happened but I don't get to see those people every day," he said in 2011, per Entertainment Tonight.
In a separate interview, Ferguson explained that the cast felt like a real family, complete with normal arguments. "We all really do love each other," he told Today, before adding that his TV dad, Ed O'Neill, is a real-life father-figure to him. "He will send me random emails in the middle of the night checking in on me, or wants me to know what he is doing," Ferguson said. "It's just like my dad would do."
Ferguson's TV sister, Julie Bowen, has also dished about how close she is with her co-stars, especially the young actors who played the Dunphy children. "I love my fake children," Bowen told Us Weekly. "I love them so much ... Watching those kids grow up has taught me so much about my own kids growing up. Nolan [Gould] used to come over all the time and swim with my kids."
More recently, it was a "Modern Family" affair when the cast reunited for a friend's wedding in September 2022. According to People, Ferguson, O'Neill, Sofia Vergara, Eric Stonestreet, and Sarah Hyland posed for photos at a mutual pal's nuptials just a few weeks after they had their own family wedding. That's right, in August 2022, Ferguson officiated Hyland's wedding to "Bachelor in Paradise" star Wells Adams, so it's safe to say this family bond was not just made-for-TV.